At orientation you will:
Meet with an academic advisor from your department and register for courses
Have a three-day experience to prepare you for your college career
Learn about University services
Take placement exams (as needed)
Make connections and socialize with other incoming UNE students, current UNE students, faculty and staff
Become familiar with our beautiful, ocean-front campus
Become immersed in the intellectual, social and cultural climate of UNE
Learn what it means to be a Nor'easter!
---
---
UNE's New Student Orientation provides the opportunity for you to prepare for the academic, social and personal aspects of university life. Orientation is mandatory for new undergraduate students.
TRAILBLAZER PRE-ORIENTATION PROGRAM & TRADITIONAL FIRST-YEAR SUMMER ORIENTATION
The Trailblazer Pre-Orientation Programs allow you to engage in our community before attending one the three Traditional First-Year Summer Orientations or the Fall Orientation. Registering for a Trailblazer Pre-Orientation Program will also register you for its associated Orientation session.
You can choose a Trailblazer program to:
Connect through Community Service with other students, staff and community members
Experience Maine's great outdoors through activities like kayaking, camping, sailing, etc.

Engage with fellow students in cross-cultural experience throughout our greater community. (This program is only available during Fall Orientation)
*Trailblazer Pre-Orientation Programs come at an additional cost.
Sea Kayak Overnight
Are you interested in meeting new friends on a true wilderness camping trip? If so, check out our Trailblazer Sea Kayaking Overnight program.
Island and Kayaking Overnight Adventure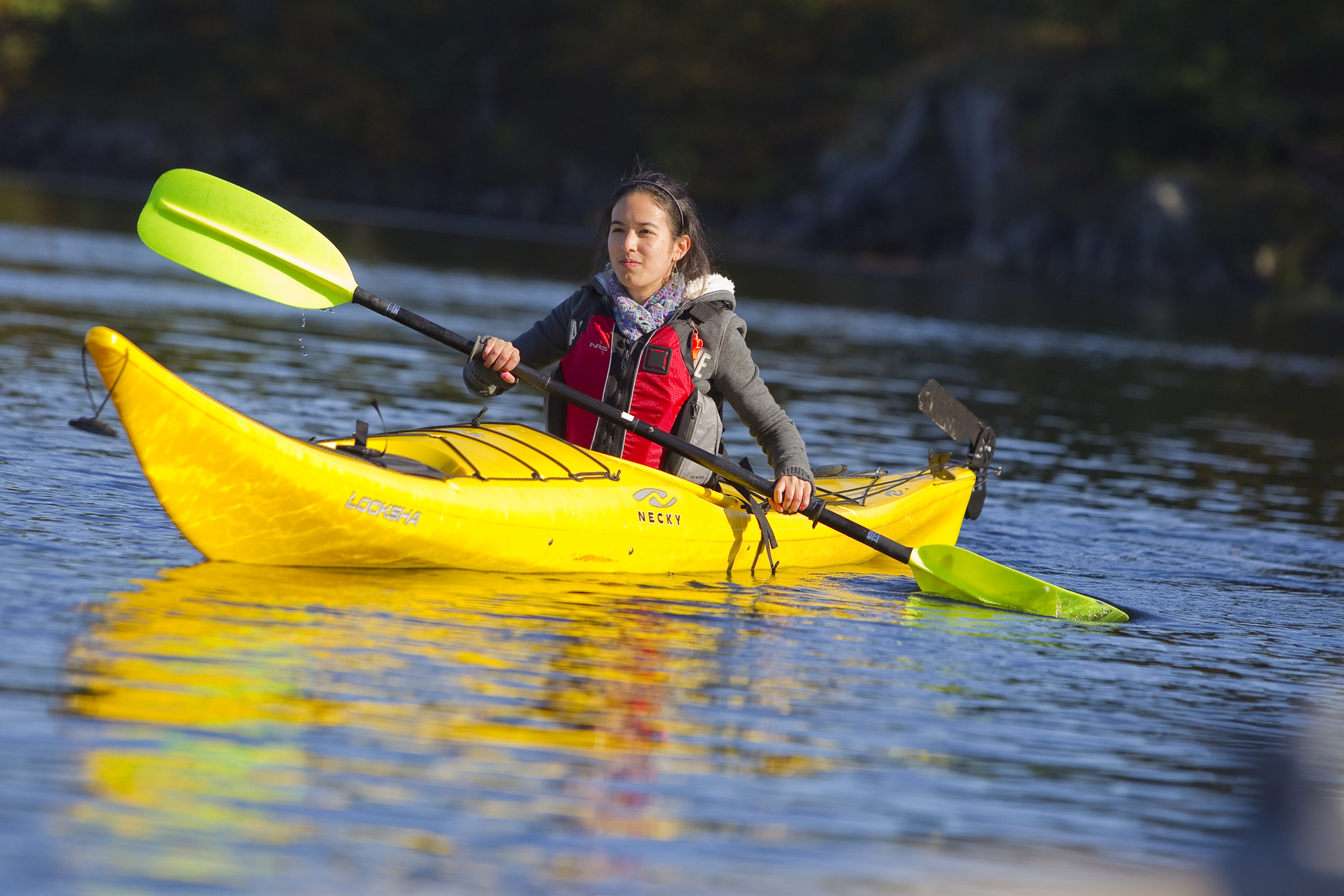 Are you interested in learning how to sea kayak, in having an incredible overnight island adventure, and in meeting new friends? If so, check out our Trailblazer Rippleffect program.
One-Day Kayak
Are you interested in kayaking down the Saco River near UNE while meeting fellow incoming students? If so, check out our Trailblazer One-Day Kayak program.
One-Day Sailing
Are you interested in connecting with fellow new students while exploring coastal Biddeford by sail? If so, check out our Trailblazer One-Day Sail program.
Community Service Overnight
This program provides you with the chance to participate in a greater range of projects over an extended period of time.
Community Service One-Day: UNE in the Community
Our Trailblazer One-Day Community Service program offers you the opportunity to participate in projects that not only connect you to other incoming UNE students, but provide service to our community partners.
Community Service One-Day: UNE of the Sea
This program offers you the opportunity to participate in projects that revolve around UNE's coastal environment.
TRAILBLAZER INTERCULTURAL EXCURSION
The Office of Multicultural Affairs and Diversity Programs offers a one-day Intercultural Excursion to first-year students from traditionally under-represented backgrounds, as well as any first year student interested in a cross-cultural experience.
If you have any questions, please contact the Orientation Advisors at orientation_advisor@une.edu or (207) 602-2885.
---
Housing
Your residential experience is an important aspect of the university experience, therefore UNE has a three-year residency requirement. If you are a deposited student, beginning on Experience UNE Days, you will have the opportunity to complete a Housing and Dining Service Application and Contract.
Housing and Dining Contracts are due for full consideration by June 26, 2015
Roommate Requests are accepted until June 26, 2015
Housing Assignments will be available July 15, 2015

New students participating in January Orientation should contact the Office of Residential Education and Housing at housing-office@une.edu or (207) 602-2272 for further information.
Important Housing Dates are helpful to have on hand over the summer and throughout the academic year so that you know when the halls open and close around holidays and breaks in the academic schedule.
Not sure what to pack in the fall? Check out this helpful list, and be sure to coordinate with your roommate so you don't end up with duplicates!
If you have questions, please contact the Office of Residential Education and Housing at housing-office@une.edu or (207) 602-2272.
Meal Plan
As a residential student, you are assigned a meal plan. The plan includes:
A set number of meals per week in our dining hall
Flexible spending dollars for on campus dining
Nor'easter Dollars for select off campus restaurants in the area
If you like, you can change your meal plan at the beginning of the semester.
For more information about the dining facilities and details on meal plans and different options, please visit Dining Services.
---
Immunizations
As a new student, you are required by the State of Maine and UNE to complete and submit the following:
A photocopy of your health insurance card
All of these are due by July 1 for Traditional First-Year Summer Orientation. If you have questions, or are participating in an Orientation after this deadline, please contact Student Health Services at (207) 602-2358 or visit their website.
Health Insurance
As a UNE student, you are required to have health insurance. You have the option to:
---
Worried about getting around while on campus? Don't be! The following options are available to you as a first-year student at UNE.
Zipcar
UNE offers two all-wheel-drive Zipcars that can be rented online by the hour. As a first-year residential student, over the age of 18 who opts not to bring a car to campus and become a Zipcar member, you receive an electronic gift card for free hours.
After you become a member, contact UNE Safety and Security for your free hours.
Bike
A select number of incoming students, determined by your deposit date, will receive a free bicycle, lock and helmet. This bike is yours to keep, even after you graduate!
How do you know if you will receive a free bicycle?
Safety & Security will contact you directly if you are selected.
Parking Permit
If you opt out of the free Zipcar hours and the free bike program,
you are eligible to register for a parking permit beginning
August 1st through thepermitstore.com.
Nor'easter Shuttle
Regardless of which of the options you choose, we have the Nor'easter Shuttle that runs through campus every half hour. The shuttle runs from UNE to the local train station in Saco, to the charming downtowns of Biddeford and Saco, as well as to Biddeford Crossing, where you find a variety of restaurants and shops. The shuttle is free to use with your UNE student ID card and runs seven days a week. Check out the schedule in our Campus Center lobby when you arrive on campus or visit our website.
Interested in visiting the Portland Campus? Take advantage of UNE's intercampus shuttle from the Biddeford Campus to the Portland Campus!