Image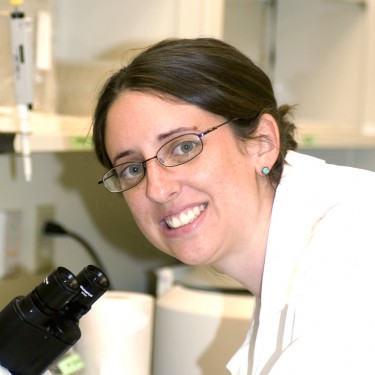 Jennifer Malon, M.S., M.P.H.
COBRE Program Coordinator
Location
Stella Maris Hall 304
Biddeford Campus
Contact
Jennifer received her B.A. in 2004 from Colby-Sawyer College in New London, NH. Soon after graduation she started graduate school at the University of New Hampshire, in Durham, NH. She graduated in 2007 with her Master's in Animal Science. After graduation she began working in UNE's microbiology department in the College of Osteopathic Medicine for Ling Cao, M.D., Ph.D., and James Vaughn, Ph.D. She went on to manage Dr. Cao's lab for 7 years. In December 2014, she earned her M.P.H. though UNE. Jennifer is now the Program Coordinator and Evaluator for the COBRE grant under Ian Meng, Ph.D., where she carries out administrative duties for the grant. She also assists Dr. Meng in the daily management of the Center for Excellence in the Neurosciences. Jennifer brings with her many years of lab experience but also her interest in public policy and advocacy to public health issues. 
Credentials
M.P.H.
University of New England
2014
Selected publications
Mecum NE, Cyr D, Malon J, Demers D, Cao L, Meng ID. Evaluation of Corneal Damage After Lacrimal Gland Excision in Male and Female Mice. Invest Ophthalmol Vis Sci. 2019 Aug 1;60(10):3264-3274.
Wakley AA, Leeming R, Malon JT, Arabatzis TJ, Yuen Koh W, Cao L. Contribution of CD137L to Sensory Hypersensitivity in a Murine Model of Neuropathic Pain. eNeuro. 2018 Nov 8;5(5).
Malon JT, Shah P, Koh WY, Cattabriga G, Li E, and Cao L. Characterizing the demographics of chronic pain patients in the state of Maine using the Maine all payer claims database. BMC Public Health. 2018. 18:810.
Cao L, Malon JT. Anti-nociceptive Role of CXCL1 in a Murine Model of Peripheral Nerve Injury-induced Neuropathic Pain. Neuroscience. 2018 Jan 6. pii: S0306-4522(17)30938-7.
Malon JT, Cao L. Preparation of Primary Mixed Glial Cultures from Adult Mouse Spinal Cord Tissue. J. Vis. Exp. 2016 (117), e54801.
Malon JT, Cao L. Calcitonin gene-related peptide contributes to peripheral nerve injury-induced mechanical hypersensitivity through CCL5 and p38 pathways. J Neuroimmunol. 2016 Aug 15;297:68-75.
Malon JT, Grlickova-Duzevik E, Vaughn J, Beaulac H, Vunk TR,  Cao L. Microglial content-dependent inhibitory effects of calcitonin gene-related peptide (CGRP) on murine retroviral infection of glial cells. J Neuroimmunol. Feb 15;279:64-70, 2015. Normal 0 false false false EN-US X-NONE X-NONE                                            
Malon JT, Maddula S, Bell H, Cao L. Involvement of calcitonin gene-related peptide and CCL2  production in CD40-mediated behavioral hypersensitivity in a model of neuropathic pain. Neuron Glia Biol. 7(2-4):117-28, 2011.
Cao L, Palmer CD, Malon JT, De Leo JA. Critical role of microglial CD40 in the maintenance of mechanical hypersensitivity in a murine model of neuropathic pain. Euro J Immunol. 39(12):3562-69, 2009.
Research topics
Neuroscience
Pain