Faculty-led short term travel courses are another way to study abroad. You meet with faculty throughout the semester to academically and practically prepare for travel through readings, lectures and coursework. Then you travel during a semester break or during the summer.
Many of the travel courses fulfill requirements of the Latin American Studies minor.
Application Process
Enrollment in a faculty-led travel course requires submission of an application to the Global Education Program in Decary 126.
You are encouraged to apply for a Global Education Scholarship when applying for a faculty-led program.
---

Dominica
ENV 376 ADV Caribbean Sustainable Development +
CIT 420 Global Citizenship
Dr. Thomas Klak
You study throughout the Fall semester on campus, then travel to Dominica for two weeks in January to experience first-hand the challenges of, and progress toward, sustainable development in the self-proclaimed "Nature Island."

Components of the course include exploration of tropical island ecosystems, engagement with Dominican partners who are working to achieve sustainable development, and hands-on participation in development projects.

ENV 376 + CIT 420 fulfill Advanced Studies and the Citizenship core requirements.
Fulfills the travel requirement of the Latin American Studies minor
Health science majors will find the following of particular interest.
Dominica has:
Among the highest number of centenarians per capita on earth
A way of life that includes bush teas, herbal medicines and traditional remedies
Rivers and streams clean enough to draw drinking water
Per capita health expenditure of only $487
Belize
BIO 421 Marine Topics: Coral Reef Studies
Dr. Jeri Fox
This course presents an in-depth study of the biology and taxonomy of corals while examining the ecology of the coral reef system and the future of reefs. The course concludes with a field lab carried out entirely on the reefs of Belize in January. You snorkel in the beautiful lagoons of Ambergris Caye, the Hol Chan and Bacalar Chico Marine Reserves. The group is housed in a remote field station on the northern tip of Ambergris Caye with access to the reef ecosystem, mangroves, sea grass beds, and jungle.
Fulfills the travel requirement of the Latin American Studies minor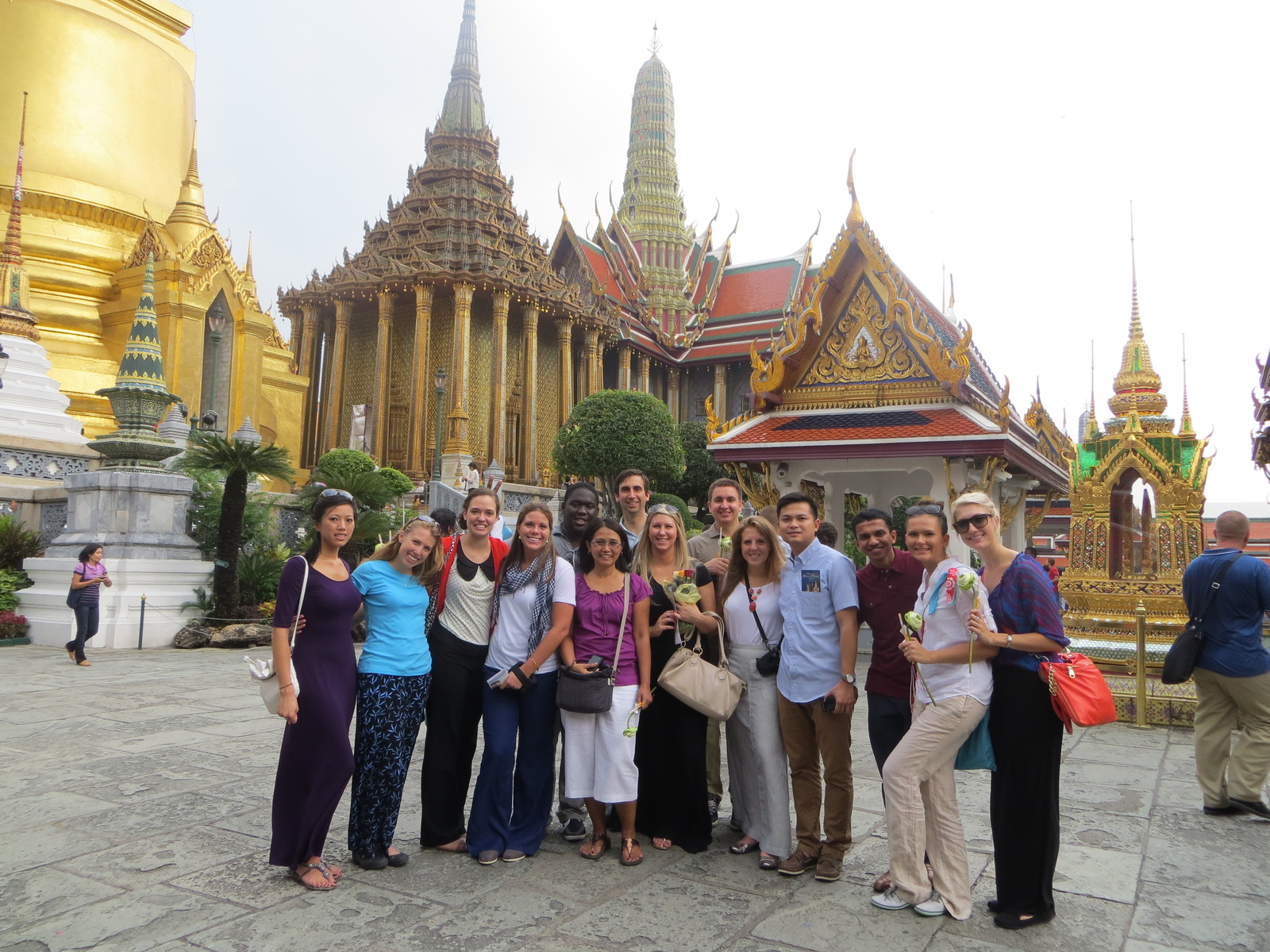 Thailand
PHP 405 Global Health
Dr. James Krebs
This Advanced Pharmacy Practice Experience offered each fall explores the concepts of global health as well as contemporary health issues in Thailand. Through lectures and experiential learning, you will learn about unique topics such social and environmental healthcare in the tropics, traditional and alternative medicine, border health and care of displaced persons, as well as clinical diseases in the tropics such as tuberculosis, avian flu, leprosy, dengue fever, malaria, and HIV/AIDS.
You will travel throughout Thailand visiting a variety of healthcare settings, including large urban hospitals, research laboratories, refugee camps, hospices, orphanages, rural clinics, government public health facilities and non-governmental organizations that work diligently to improve the health of the Thai people and boarding populations. Culture highlights include the Grand Palace, Ayuthaya, Chiang Mai Night Bazaar, Koh Samet Island, and many more! This course is open to fourth year pharmacy students.
For more information contact Dr. James Krebs at (jkrebs@une.edu) or (207) 221-4322
---
Italy
BIO 290 Anatomy in Italy
Professors Kash Dutta & Mary Schwanke

Travel to Italy in May as part of this semester-long seminar examining the fascinating origins of anatomical study in Renaissance Italy! During the 10-day trip you will tour historic sites in Rome, Florence, Bologna and Padua, representing the birthplace of modern anatomical science in some of Europe's oldest universities. During the weekly seminars and the May travel experience you will discover the intriguing connections between human anatomy and the art of the Renaissance masters, including Leonardo Da Vinci, Michelangelo, Caravaggio and Bernini.

The travel fee includes round-trip airfare and all travel within Italy, hotel accommodations, breakfast and dinner each day, and all fees for museums and tour guides.
Nicaragua
CIT 420 Global Citizenship
Donna Gaspar Jarvis and Richard Anderson-Martinez
Through this course you spend spring break in Nicaragua teaching English to children in the small community of Jinotega, referred to as the City of Mists. You'll work with the grassroots community organization Outreach 360, and through the course satisfy the UNE core curriculum Citizenship requirement. The program is of particular interest to Education majors, Latin American Studies minors and those wishing to improve their Spanish language skills — though Spanish is not a prerequisite. You and the other volunteers are responsible for developing and facilitating curriculum, and creating learning games and activities to engage children ages preschool through high school.
Through evening programs, discussions and films, you learn more about the culture and history of Nicaragua. You also have the opportunity to visit a pottery cooperative, a coffee plantation, visit markets and hike the Peña de la Cruz mountain.
Kenya
ENV 348 ADV Environment, Health, and Community Development in East Africa
+ CIT 420 Global Citizenship (Optional)
Dr. Richard Peterson
This course introduces you to the history of Kenya and the environmental, health and community development challenges it faces today.
During the field lab in Kenya, you meet the incredible people and organizations that are working to tackle these complex issues, and you work alongside them. The field lab includes lectures at the University of Nairobi and the National Museums of Kenya, a visit to Nairobi National Park, exploration of the capital city, a trip through the Great Rift Valley to Kisumu on the shores of Lake Victoria, hands-on learning with a variety of community service, health, environmental, research and government organizations, weekend home stays with Kenyan families, and a two-day visit to one of Kenya's wildlife reserves.
You attend class throughout the spring semester and travel to Kenya in late May. Students may opt to add CIT 420 Global Citizenship, 1 credit, to satisfy the core curriculum.
Panama
BIO 421 Conservation & Ecology of a Caribbean Island
Dr. Jeri Fox
This course covers topics in history and geology of the Caribbean with an emphasis on the island of Boca del Toros in Panama and includes topics such as terrestrial, island and marine biodiversity, and the ecology and evolution of populations. Discussions include the impact of an agriculturally-based economy versus a tourist economy on the environment in general and the reef in particular. The course examines NGOs and international environmental treaties, and focuses on particular national and international conservation approaches using the Caribbean as an example. Other topics include community-based management and local wildlife policies, the history of the establishment of a rainforest as a natural preserve, ethnobotany, and the natural history of the region.
The course culminates with ten days of travel and field work in Panama at the end of May. Activities in Panama include snorkeling on reefs, canopy access training, caving, a tour of the Panama Canal Zone, and lectures by the Institute for Tropical Ecology and Conservation faculty.
Fulfills the travel requirement of the Latin American Studies minor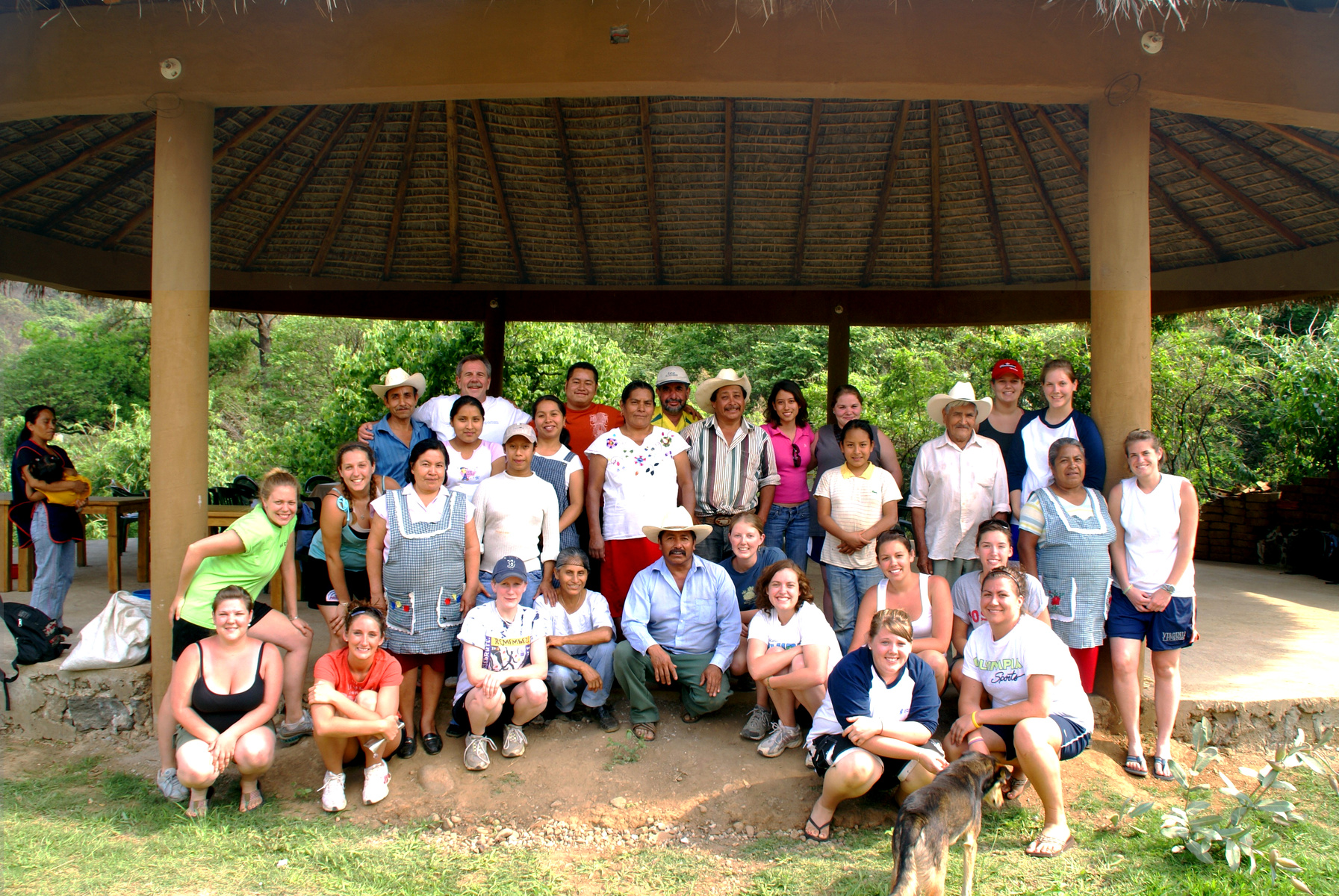 Mexico
CIT 420 Global Citizenship
Dr. Samuel McReynolds
This spring travel course fulfills the Citizenship graduation requirement and includes spending nine days in late May in Mexico. You will stay in both Cuernavaca, an important cultural center in Central Mexico, and in Amatlán, the birthplace of Quetzalcoatl, the primary Aztec god. In Cuernavaca, you will receive presentations in Mexican culture, history and politics. In the village of Amatlán you will engage in hands-on service including teaching English in the local school, helping farmers plant crops, and working with the local cooperative to prepare products for market.
You will be immersed in Spanish language and stay with local host families in Cuernavaca. The course also includes a city tour of Cuernavaca, a visit to the Cortez Palace, and a visit to the ancient pyramid of Xochicalco.
Iceland
BIO 334 Environmental Physiology
Dr. Lara Carlson
This is a spring semester course that includes travel to Iceland for a field lab in mid-May after final exams. The course focuses on learning about the various forms of environmental stress and how the resulting human organism responds physiologically to them. Through lectures and labs, you will study how physical performance is affected by environmental stressors such as heat and cold, as well as hypobaric, hyperbaric and microgravity environments.
In Iceland, you will have hands-on experience studying acute cold exposure on the cardiovascular, respiratory and neuromuscular systems. Highlights of travel in Iceland also include hiking on Thorsmörk and Valahnúkur Mountain and the Tindfjöll trail, canyoning and ice climbing on the Eyjafjallajökull Volcano and Glacier, exploring the city of Reykjavik and relaxing in the Blue Lagoon. This course is open to sophomores, juniors, and seniors with a particular interest in human physiology or health science.

Prerequisite: BIO 345 or EXS 320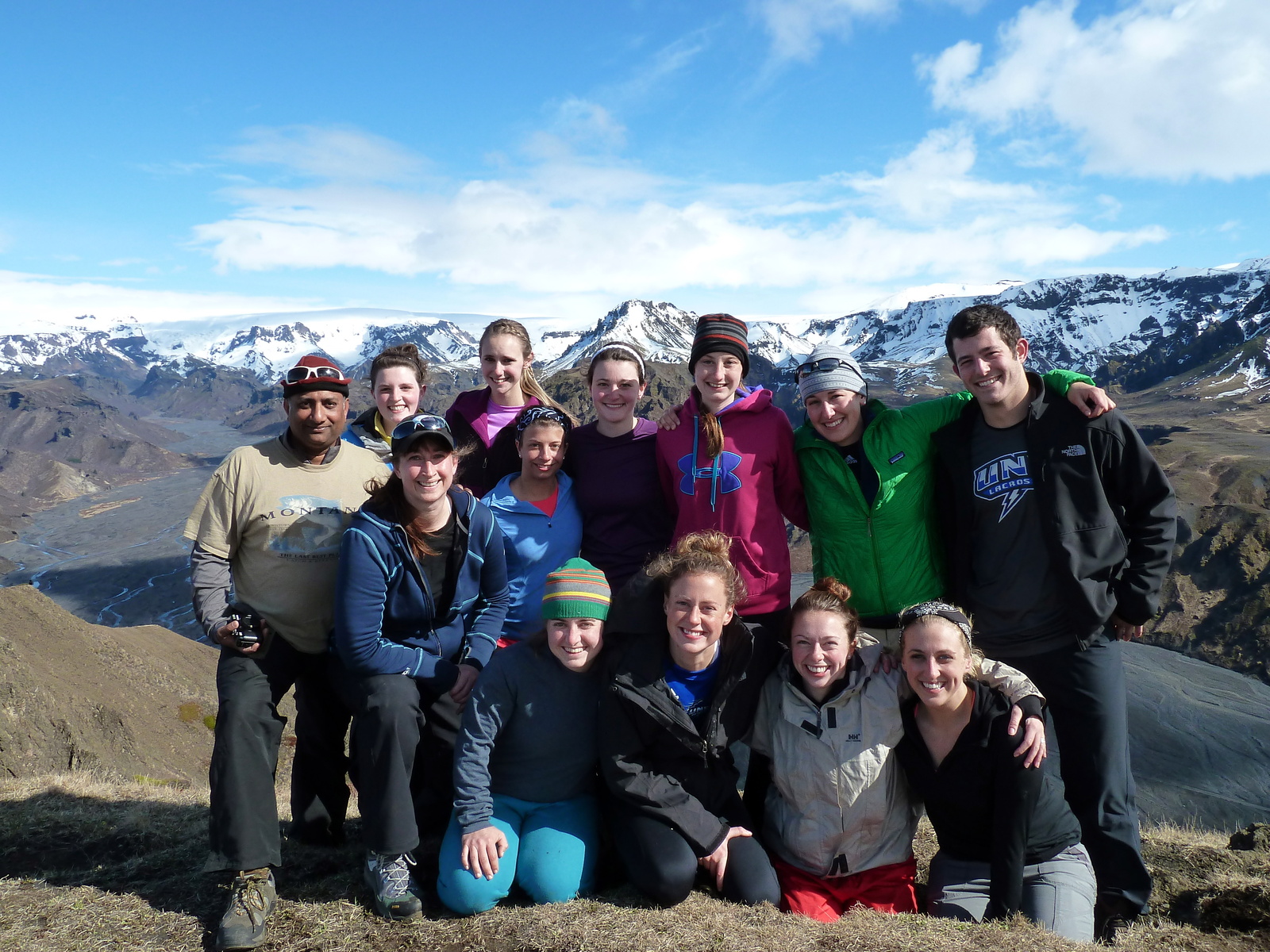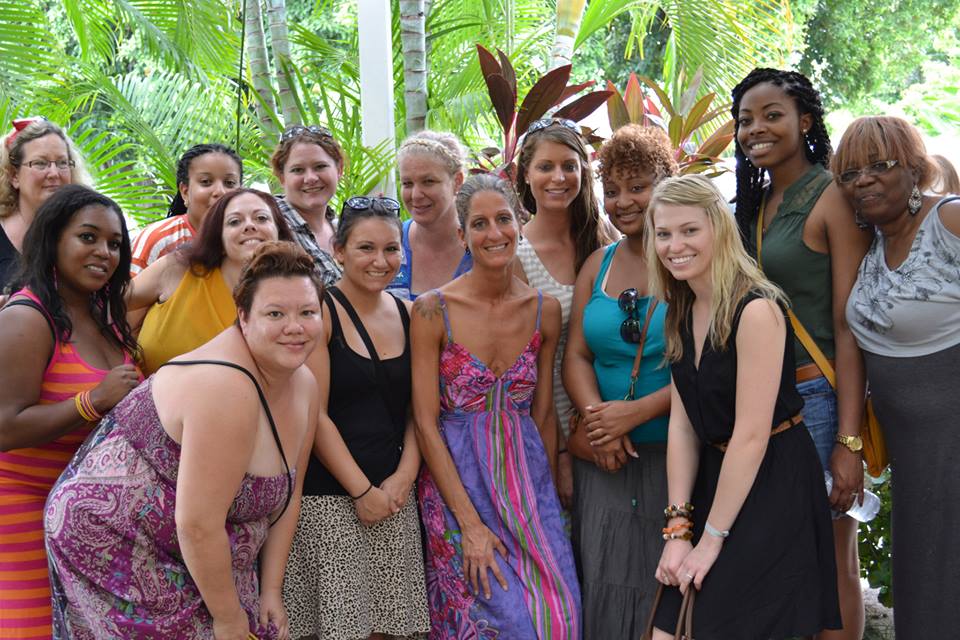 Jamaica
SSW 646 International Social Work in the Caribbean
Dr. Leslie Yaffa
The focus of this course is preparing you for international social work practice, or for work with immigrant populations, by looking at the challenges the Caribbean nations face in improving the lives of their citizens given current economic and social circumstances. The course identifies numerous strategies and skills social workers have used to collaboratively build interventions within the social welfare, education, healthcare and sustainable community development arenas. Participants will be exposed to alternate views of the professional and personal transformation processes via the method of social development, as it relates to individual, societal and international change.
The course includes a week-long experiential travel component in Kingston, Jamaica during January in collaboration with the University of the West Indies. Open to all UNE School of Social Work students.
For more information contact Dr. Leslie Yaffa.
---
Granada, Spain
PHP 405 Global Health
Dr. James Krebs
This Advanced Pharmacy Practice Experience (APPE) is offered during the May-June "Block 1" and provides you with a Spanish language and cultural immersion experience, as well as two courses taught by the Faculty of Pharmacy at the University of Granada, one of Europe's oldest colleges of Pharmacy. Course titles: "Perspectives and Organization of the Spanish Health Care System" and "Importance of Nutrition in Health Status." Through Spanish language education delivered by faculty from the Center of Modern Languages at the University of Granada, living with Spanish-speaking host families, participating in guided cultural tours as well as recitations and journaling under the guidance of UNE faculty, you will explore concepts relating to cultural humility. Through lectures and experiential learning, you will examine the Spanish healthcare system within the European and U.S. context and reflect upon the changing healthcare landscape in the U.S. and abroad. The course includes programmed visits to pharmacy distribution centers, and shadowing Spanish pharmacists in hospital and community pharmacy settings. Finally, you will learn about the nutritional needs of the human body in health and disease and the role of diet in health. The nutrition course consists of lectures; a laboratory practical and programmed visits to nutritional companies and research institutions.
You will experience living in the vibrant medieval city of Granada and will have the opportunity to experience Andalusian culture. Additionally they will visit a variety of healthcare and research settings including hospitals, community pharmacies, pharmaceutical and biomedical research institutions. Cultural highlights include visits to the Alhambra, the Albayzin, Cordoba, Alpujurra and the Corpus Christi festival. This course is open to fourth year pharmacy students.
For more information contact Dr. James Krebs, jkrebs@une.edu or (207) 221-4322
Ghana
GHANA IMMERSION IN HEALTH CARE
Dr. Jennifer Morton
This program offers a health care immersion experience in which you work alongside Ghana Health Service, Community Health Educators and the community. Since 2008, UNE students, faculty and staff have been part of this long-running partnership in the twin cities of Sekondi and Takoradi Ghana, West Africa. You engage in direct health services, interprofessional collaboration, community education, and academic and cross-cultural exchange.
---
Brazil
CIT 420 Global Citizenship
Dr. Paul Burlin
Dr. Paul Burlin, who has lived and taught in Brazil, accompanies you on this life-changing service-learning course which fulfills the Citizenship core curriculum.

The program includes classes at the Federal University of Rio Grande do Norte on the history of Brazil and an introduction to the Portuguese language. You spend four days volunteering in poverty-stricken neighborhoods.
Fulfills the travel requirement of the Latin American Studies minor
Galapagos Islands
MAR 451 Natural History and Evolution of the Galapagos Fauna
Dr. Kathryn Ono
Imagine earning advanced biology credits while cruising aboard a private yacht in the Galapagos Islands. This 4-credit course meets throughout the Spring semester on the Biddeford Campus and is followed by travel to Quito, Ecuador and the Galapagos Archipelago, May 21-31, to cruise throughout the islands and conduct the field lab.
The lecture portion of the course is designed to familiarize you with the biota of the Galapagos Islands, as well as island history, ecology, and the behavior and evolution of the animals that inhabit them.

Following the success of the 2009 and 2011 expeditions, the course is now being offered every other year. You trace the steps of Charles Darwin, whose 1831 exploration of the archipelago inspired his revolutionary theory of evolution. While exploring the islands, you encounter blue-footed boobies, Galapagos tortoises, marine iguanas, sea lions and Antarctic penguins.
Fulfills the travel requirement of the Latin American Studies minor
---
University of New England
Office of Global Education
Decary Hall 126
11 Hills Beach Road
Biddeford, ME 04005
USA
Emily Dragon, Director, Global Education Program
(207) 602-2451 | edragon@une.edu