Image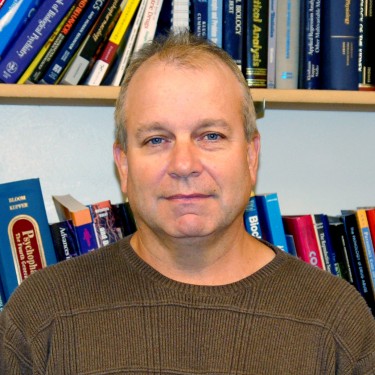 David W. Johnson, Ph.D.
Associate Professor, Physiology
Location
Stella Maris Hall 432
Biddeford Campus
Contact
Dr. Johnson received his Bachelors Degree from the University of Vermont, his Masters Degree from UMASS Amherst, and his Ph.D from Virginia Tech. After receiving his Ph.D, he did a one year fellowship in the Department of Pharmacology at Mt Sinai Medical Center in Manhattan, NY, studying the pharmacology of drugs of abuse under Dr. Joe Goldfarb. After that, he trained for two more years as a post-doctoral fellow in the Department of Pharmacology and Neuroscience at Albany Medical College under Dr. Stanley Glick. Dr Johnson continued his research on drugs of abuse after arriving at UNECOM in 1993, using microdialysis techniques to measure neurotransmitter release in the brain during drug administration. He also researched how learning behaviors were affected by drugs of abuse, and had an ongoing collaboration with Boston University studying the role of NMDA receptors in mediating damage in the ischemic brain.
Dr. Johnson stopped doing research in 2004. He now focuses on teaching and administrative work, with his primary teaching interests being in renal physiology, renal pathophysiology, reproductive physiology and reproductive pathophysiology. He also teaches an online medical physiology course for the University of New England, and has written two books: 'Feel 30 For the Next 50 Years' (Avon Books, 1998) and 'Medical Tests That Could Save Your Life' (Rodale Press, 2004). Dr. Johnson maintains a Coast Guard Charter Boat Captain's license and does occasional collaborative research with the University of New England's Marine Science Center, working on tagging sharks offshore.
Credentials
Post-Doctoral Training, Pharmacology and Neuroscience
Albany Medical College (Albany, New York)

Post-Doctoral Training, Dept. Pharmacology
Mt. Sinai Medical Ctr (Manhattan, New York)


Selected publications
BOOKS
Feel Thirty for the Next Fifty Years. 1998. D.W. Johnson. Avon Publishing Co. Manhattan, N.Y. Medical Tests That Can Save Your Life D.W. Johnson and D. Sandmire. 2004. Rodale Press  
PAPERS/ABSTRACTS  
Mokler, D.J., LaReviere, D., Johnson, D.W., Theriault, N., Bronzino, J., Dixon, M., and P.J. Morgane. 1998. 5 Hydroxytryptamine neuronal release from dorsal hippocampus following electrical stimulation of the dorsal and median raphe nuclei in the conscious rat. Hippocampus. 8:262-273.  
Johnson, D.W., Eodice, P., Winterbottom, H., and D.J. Mokler. 2000. Decreased accumbens dopamine release after cocaine challenge in behaviorally sensitized female rats. Pharmacology Biochemistry and Behavior. 65(4):659-664.  
Sadri, G., Johnson, D.W., Janis, G.C., Gibbs, T.T., Pierce, R.C., and D.H. Farb. 2003. Inhibition of NMDA-induced striatal dopamine release and behavioral activation by the neuroactive steroid 3_-hydroxy-5_-pregnan-20-one hemisuccinate J. Neurochemistry. 86(1):92-101.  
Farb, D.H., Sadri, G., Johnson, D.W., Janis, G.C., Gibbs, T.T., and R.C. Pierce. 2000. Inhibition of dopamine release through modulation of excitatory amino acid receptors by a neuroactive steroid. Soc. Neurosci. Vol 26. pg 1132.  
Johnson, D.W., Jalbert, J., and J. Novotny. 2003. The Synthetic Neurosteroid Pregnenolone Hemisuccinate Modulates mRNA Expression of the Neurotrophins BDNF and NT-3 in the Dorsal Hippocampus of Male Fischer 344 / Brown Norway F1 hybrids. Soc. Neurosci. Vol . 29.
Research interests
My expertise in the area of drug abuse and drug mechanisms of action comes from my research

Research topics
Addiction
Brain
COM Medical Education
Distance Education
Psychopharmacology