Center for Global Humanities Lecture/Seminar Series
What Makes Systemic Racism Systemic?
Eduardo Bonilla-Silva
In this talk, Professor Bonilla-Silva will explain how we should conceptualize the terms "systemic racism" and criticize the loose way in which the term is used in public discourse. Second, he will describe the "New Racism," or the aggregate of practices that produce White privilege in contemporary America. Third, based on his book Racism Without Racists, he will describe color-blind racism, or the hegemonic racial ideology in the United States since the late 1970s. Fourth, he will provide one example of how systemic racism operates at the organizational level by describing HWCUs—historically white colleges and universities. Lastly, he will bring his points home by probing how we all participate, mostly unconsciously and in habituated fashion, in systemic racism. He will end with a call for challenging systemic racism at all levels and in all spaces.
Biography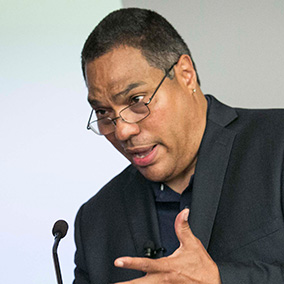 Eduardo Bonilla-Silva is a Professor of Sociology at Duke University. His book, Racism Without Racists (5th edition in 2017), has become a classic in the field and influenced scholars in education, religious studies, political science, rhetoric, psychology, political science, legal studies, and sociology.
His research has appeared in journals including Sociological Inquiry, Ethnic and Racial Studies, Journal of Latin American Studies, Critical Sociology, American Sociological Review, and Sociology of Race and Ethnicity. Science. Professor Bonilla-Silva has published five books: White Supremacy and Racism in the Post-Civil Rights Era (co-winner of the 2002 Oliver Cox Award), Racism Without Racists: Color-Blind Racism and the Persistence of Racial Inequality in the United States (2004 Choice Award and again in 2015) (the fifth edition came out in July 2017), White Out: The Continuing Significance of Racism (with Ashley Doane), in 2008 White Logic, White Methods: Racism and Methodology (with Tukufu Zuberi and also the co-winner of the 2009 Oliver Cox Award), and in 2011 State of White Supremacy: Racism, Governance, and the United States (with Moon Kie Jung and João H. Costa Vargas).
From 2017-2018, Professor Bonilla-Silva served as President of the Southern Sociological Society and the American Sociological Association.
Image
This website uses cookies to understand how you use the website and to improve your experience. By continuing to use the website, you accept the University of New England's use of cookies and similar technologies. To learn more about our use of cookies and how to manage your browser cookie settings, please review our Privacy Notice.