June 16, 2015
BIDDEFORD, Maine
UNE is doing its part to prevent trash from making its way into Maine waters where it can pose as a threat to wildlife due to ingestion, entanglement, habitat damage and non-native transport. Marine debris can injure, suffocate, and even kill marine wildlife, especially when it is gathers into highly concentrated areas. While many people are familiar with the Great Pacific Garbage Patch (GPGP), a vortex of marine debris located in the central North Pacific Ocean, it is not as well known that a similar problem exists in the Gulf of Maine.
Around 30 volunteers, including community members and UNE faculty, staff and students, gathered on the morning of Thursday June 11 to help clean up the coastline alongside UNE's Biddeford Campus for World Ocean's Day. This coastal clean up honors this year's theme "Healthy Oceans, Healthy Planet" by eliminating debris from the beach to protect marine life.
Not only was this an opportunity to help clean and protect our oceans and marine life, it was also a research opportunity for Lauren Bien, a UNE Marine Sciences master's degree candidate. Her thesis research focuses on the "accumulation, abundance, and composition of marine debris in the Gulf of Maine." To conduct her research, she partnered with the Rozalia Project for a Clean Ocean, a non-profit organization based in the Gulf of Maine dedicated to protecting and restoring our oceans.
The volunteers were able to remove 2,732 items from the beach, ranging from small pieces of plastic to entire lobster traps. Bien explained that coastal clean ups, such as this one, are important because they eliminate the possibility of the debris getting out to the ocean where they become a bigger issue.
This year's World Ocean's Day theme focused specifically on eliminating plastic pollution because of the immense threat it poses to marine life. Ingestion of plastic can lead to injury, starvation or death, but it can also lead to the transport of pollutants.
---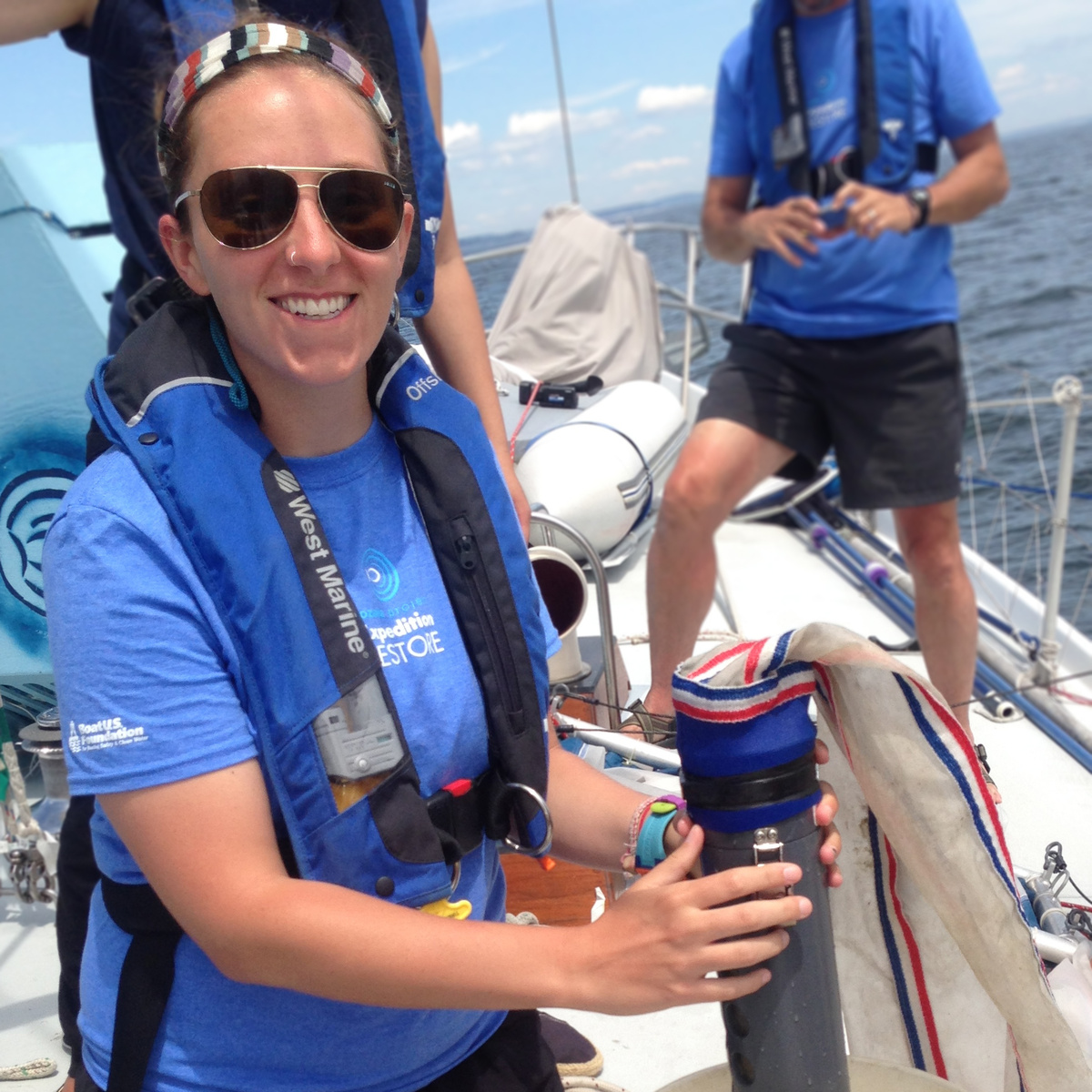 Plastic also acts as a sponge, absorbing pollutants to it, transporting those pollutants to other locations or introducing them into the food web if ingested by marine organisms.

- Lauren Bien
---
Plastic doesn't biodegrade; instead it photodegrades, which means that it becomes increasingly smaller without ever really dissolving. Such debris gathers in the oceans to form highly concentrated areas of trash like the GPGP, called gyres, which are formed mostly out of microplastics, the small pieces of photodegraded plastic, rather than larger solid pieces of trash.
Bien sampled areas of heavily accumulated debris off the coast of Maine while she was guest scientist aboard the Rozalia Project's boat the American Promise. The most abundant sample had nearly double the average amount of debris found in the GPGP with 41,000 pieces of debris per square kilometer.
As the second part of her thesis, Bien is currently working on a "particle model that simulates the conditions in the Gulf of Maine to predict areas of persistent marine debris accumulation." Organizations, such as the Rozalia Project, can benefit from this information, as it provides a more accurate idea of the location of these concentrated areas of trash. This will make cleaning efforts easier and more effective.