Image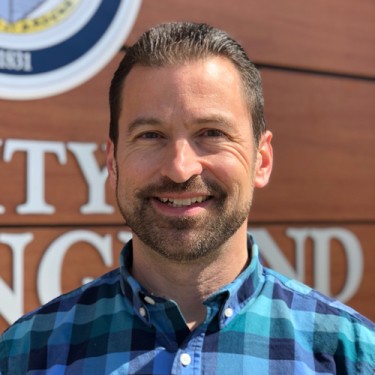 Christopher Rizzo, DAT, LAT, ATC, CSCS
Clinical Professor; Coordinator of Clinical Education
Professor Rizzo is is in his 17th year of teaching and serving as the Coordinator of Clinical Education for the Master of Science Athletic Training (MSAT) Program.  He was promoted to the rank of Clinical Professor in the spring of 2021.  His primary teaching responsibilities include  Examination of Orthopaedic and Athletic Injuries, Clinical Reasoning in Athletic Training and Physical Agents in Athletic Health Care.  
In addition to teaching, Professor Rizzo coordinates and maintains the MSAT Program's clinical affiliations.  He has successfully established clinical experiences for MSAT students representing a variety of practice settings including those of a  traditional (high school / college) and non-traditional (physician extender) nature.  He has also developed  educational opportunities for MSAT students in conjunction with students from other health care programs as well as UNE's College of Osteopathic Medicine.  
Professor Rizzo has presented both locally and nationally on the use of simulation to enhance student learning and experiences.  In 2013, he received the Mike Linkovich Professional Grant through the Maine Athletic Trainers' Association.  With the funding from the grant, he conducted an on-ice spineboarding simulation using a high fidelity patient simulator dressed in hockey equipment.  The Interprofessional simulation included Athletic Trainers, Athletic Training Students, as well as local EMTs.   
Credentials
Doctor of Athletic Training
AT Still University
2022
M.S.
Indiana State University
1998
B.S.
Hartwick College
1996
National Strength and Conditioning Association (NSCA) - Certified Strength and Conditioning Specialist
State of Maine - Athletic Trainer