Welcome to the Northeast Osteopathic Medical Education Network (NEOMEN-OPTI)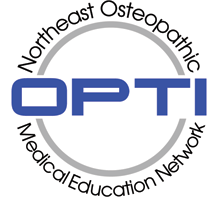 We are delighted to provide useful information about our organization, our members and, most importantly, our extensive network of osteopathic postdoctoral training opportunities. We invite you to tour our website and get to know us. 
Please visit each of our members to learn about the unique characteristics that make our training programs distinctively osteopathic and educationally outstanding. 
We have provided direct links to individual training sites containing descriptions of our osteopathic intern and residency programs and the names of key contact people with whom you may discuss your continued interest.
NEOMEN prides itself on its solid foundation of primary care training programs. Internal Medicine, Family Practice, OMM, and Emergency Medicine are our strengths. We excel in distance-learning technology and distinguish ourselves from other OPTIs by offering you the opportunity to become part of a leading-edge organization committed to conducting primary care research. We are truly an organization dedicated to"putting the right medicine in the right hands."
OPTI Contact
University of New England
11 Hills Beach Road
Biddeford, Maine 
04005-9599
Philip Heywood
Executive Director
NEOMEN
Phone: (207) 602-2229
Fax: (207) 602-5931
pheywood@une.edu
Elaine M. Simard
Director of Administrative and Educational Services
NEOMEN
Phone: (207) 602-2564
Fax: (207) 602-5931
esimard@une.edu