Professional Staff
Emily joined the UNE Global Education Program team in August 2011. Prior to working at UNE, Emily was the director at an international language school in Boston, where she mananged intensive English programs, activities, a residence, and homestays for hundreds of students from 70 countries. She also worked for many years managing programs abroad for faculty and students.  Emily has travelled extensively and is eager to share her passion for breaking... Read More
Expertise
International education opportunities for students; study abroad
volunteer abroad
intern abroad
International student services
F-1 student advising
Coordinator of Global Education
David came to UNE's Global Education Program in November 2018. Originally from Minnesota, David completed his Bachelor's Degree in Sociology, with a minor in Health Communication at Bethany Lutheran College in Mankato, Minnesota. During his undergraduate studies, David spent a semester studying abroad at United International College (UIC) in Zhuhai, China. Upon graduating, he returned to UIC and worked in the English Language Centre and the Centre for Advanced Professional Studies.
After spending several years living and working in China,... Read More
Expertise
Safe Space Certified
International student services
Teaching Abroad
Study Abroad
Working Abroad
Study Abroad Scholarships
TEFL/TESOL Certification
F-1 student advising
international education
---
Peer Advisors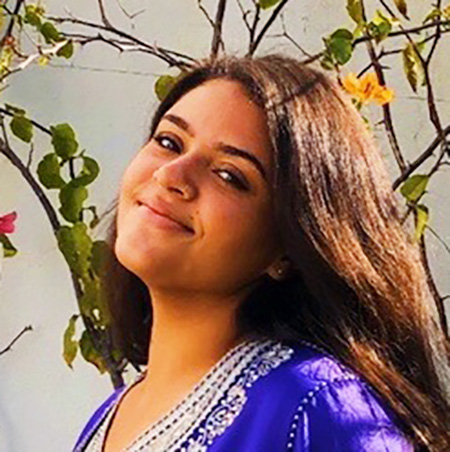 Alexandra Fowler
Major: Nutrition
Program: Tangier, Morocco
Grad Year: 2022
Email: afowler1@une.edu
Ask me about:
Being a student athlete abroad
Leaving my phone in a taxi
Being safe in a new city
Family coming to visit
Budgeting
Packing
Homesickness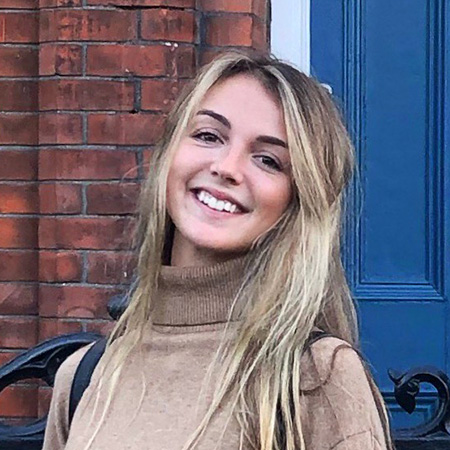 Amanda Gagne
Major: Public Health
Program: Paris, France
Grad Year: 2021
Email: agagne4@une.edu
Ask me about:
Balancing school & travel
Living with a host family
Solo female travel
Meeting new people
Traveling almost every weekend!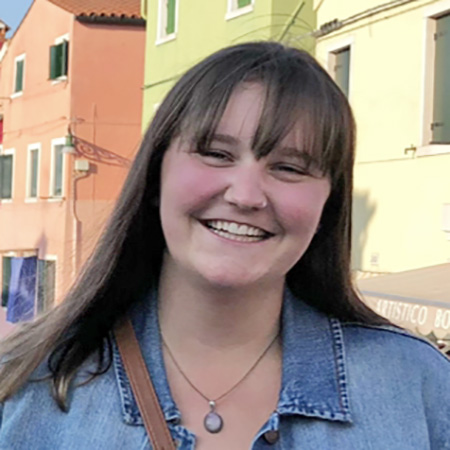 Becca Paradis
Major: Educational Studies
Program: Seville, Spain
Grad Year: 2020
Email: rparadis@une.edu
Ask me about:
Living with a host family
Being an LGBTQ+ student abroad
New found independence
Living in a city for the first time
Learning a new language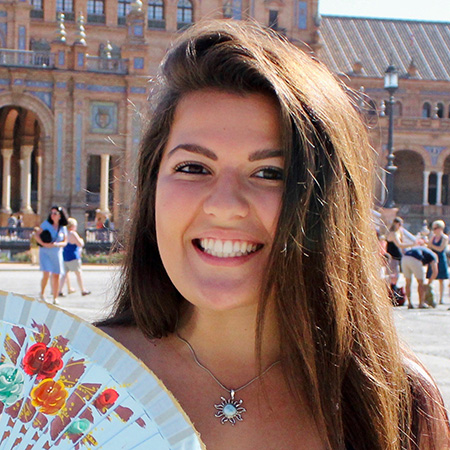 Callie Intonti
Major: Nursing
Program: Seville, Spain
Grad Year: 2020
Email: cintonti@une.edu
Ask me about:
Taking lab classes
Volunteering at a nearby school teaching English
Family visiting
Living and communicating with a host family
Being an LGBTQ+ student abroad
Packing and budgeting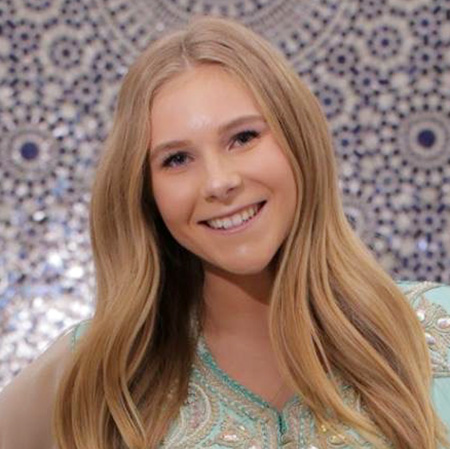 Cerina Marcinkowski
Major: Medical Biology/Pre-PA
Program: Tangier, Morocco
Grad Year: 2020
Email: cmarcinkowski@une.edu
Ask me about:
Taking lab classes abroad
Packing
Parents who were hesitant about me studying abroad
Solo female travel
Financing a semester abroad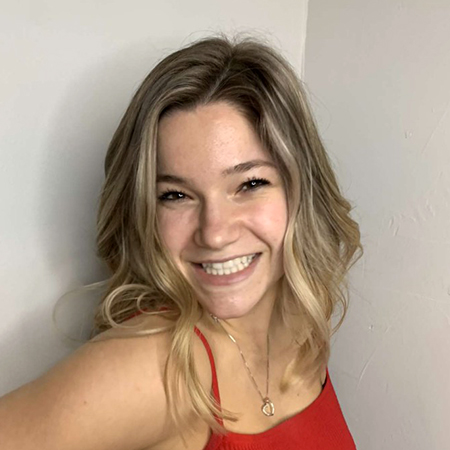 Courtney Dumont
Major: Medical Biology/Pre-PA
Program: Tangier, Morocco
Grad Year: 2020
Email: cdumont2@une.edu
Ask me about:
Volunteering at Croissant Rouge
Being a first-generation college student abroad
Being a low-income student abroad
Solo female travel
Packing
Financing a semester abroad
Taking lab sciences classes abroad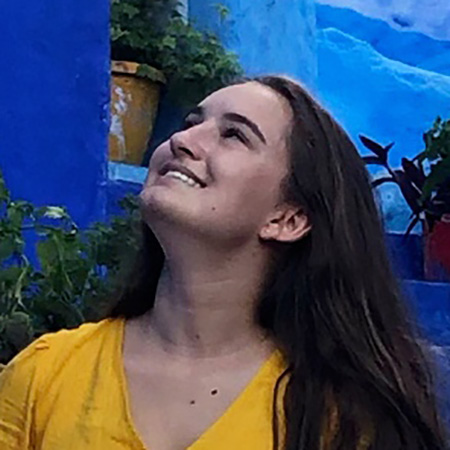 Emma Horne
Major: Nursing
Program: Tangier, Morocco
Grad Year: 2022
Email: ehorne1@une.edu
Ask me about:
Family coming to visit
Financing a semester abroad
Packing
Volunteering
Taking a lab science course abroad
Being an LGBTQ+ student abroad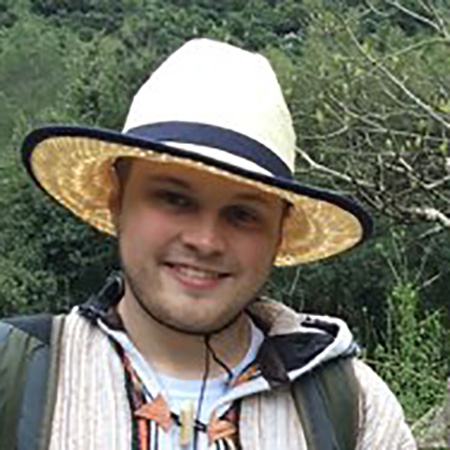 Garrett Almeida
Major: Aquaculture & Aquarium Science
Program: Tangier, Morocco
Grad Year: 2020
Email: galmeida@une.edu
Ask me about:
Hiking Mount Toubkal
Fishing in Tangier
Visiting Gibraltar
Traveling with just one backpack
Going to Fes for a weekend
What to see and do in Lisbon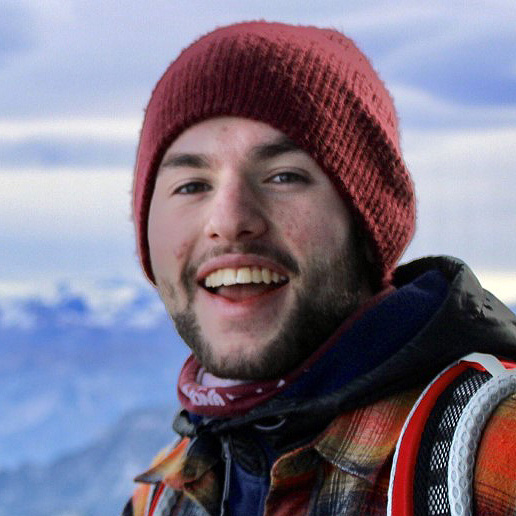 Jack Allsopp
Major: Communications
Program: Tangier, Morocco
Grad Year: 2021
Email: jallsopp@une.edu
Ask me about:
Solo travel
Staying in hostels
Budgeting for travel around Europe
Volunteering at the American School of Tangier
Developing relationships with community members in Tangier
Overcoming personal obstacles
Making the most of your study abroad experience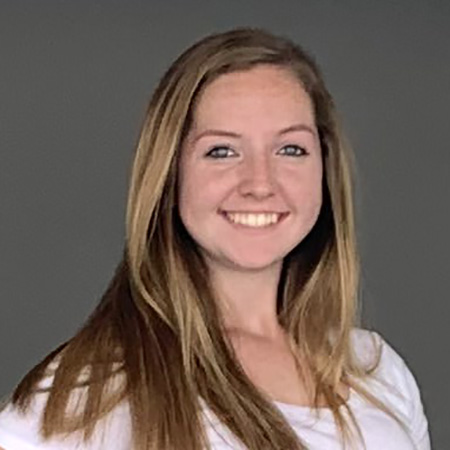 Jaimie Lynch
Major: Dental Hygiene
Program: Tangier, Morocco
Grad Year: 2022
Email: jlynch12@une.edu
Ask me about:
Life on campus in Tangier
Handling a heavy course load abroad
Helping parents navigate culture shock during their visit to Morocco
Adjusting to a new teaching style
Staying healthy abroad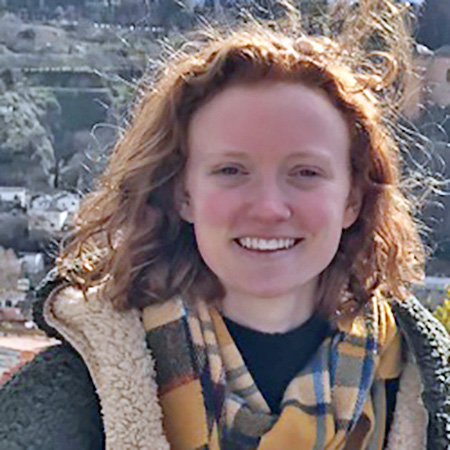 Jessica Maywalt
Major: Psychology
Program: Seville, Spain
Grad Year: 2020
Email: jmaywalt@une.edu
Ask me about:
Living with a host family
Being a student athlete abroad
Traveling by bus
Traveling on a budget
Solo female travel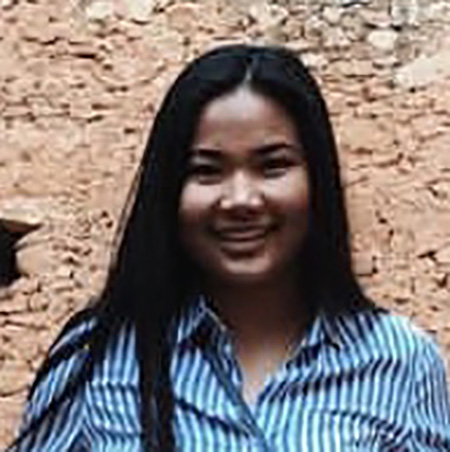 Khelin Virak
Major: Medical Biology/Pre-Med
Program: Tangier, Morocco
Grad Year: 2021
Email: kvirak@une.edu
Ask me about:
Being a pre-med major abroad
Traveling tips
Bartering in the medina
Packing
Volunteering in the operating room at a clinic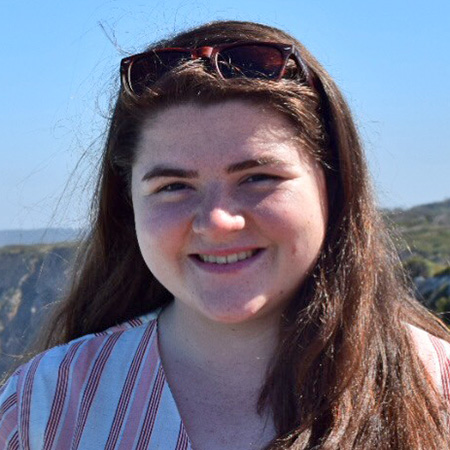 Maddy DeRosa
Major: Medical Biology
Program: Tangier, Morocco
Grad Year: 2020
Email: mderosa@une.edu
Ask me about:
Weekend trips
Traveling solo
Being a student-athlete abroad
Packing for a full semester
Renting a car abroad
Traveling after a semester abroad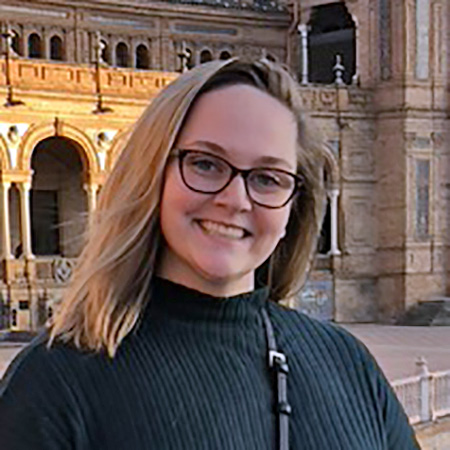 Michaela Godzik
Major: Dental Hygiene
Program: Seville, Spain
Grad Year: 2022
Email: mgodzik@une.edu
Ask me about:
Being a first-generation college student abroad
Taking lab science classes abroad
Traveling by train
Living with a large host family
Being a student-athlete abroad (rugby)
Financial a semester abroad
Planning for weekend travels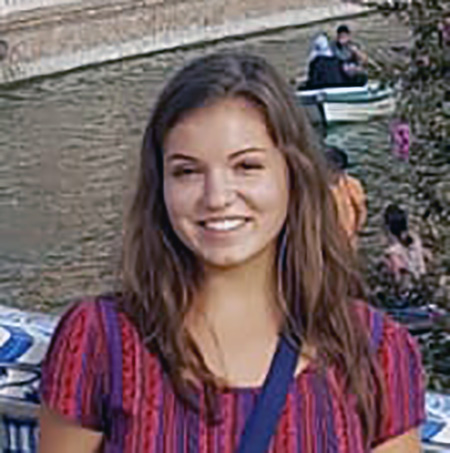 Rachel Potter
Major: Nursing
Program: Seville, Spain
Grad Year: 2021
Email: rpotter2@une.edu
Ask me about:
Special diet while abroad (vegan)
Living with a host family
Solo female travel
Speaking Spanish when you don't speak Spanish
Packing
Family coming to visit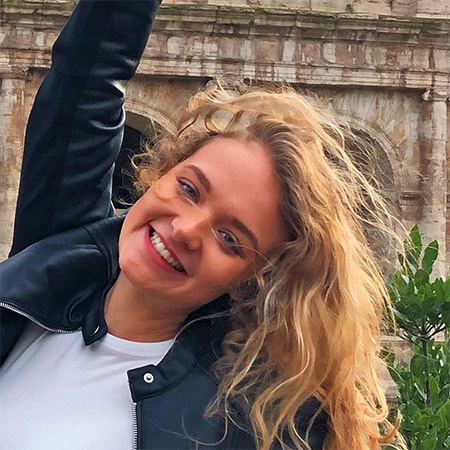 Sarah Mayrose
Major: Pre-Pharmacy
Program: Tangier, Morocco
Grad Year: 2022
Email: smayrose@une.edu
Ask me about:
Navigating new cities
Parents who were hesitant about me studying abroad
Volunteering
Language barriers
Getting hair/nails/eyebrows done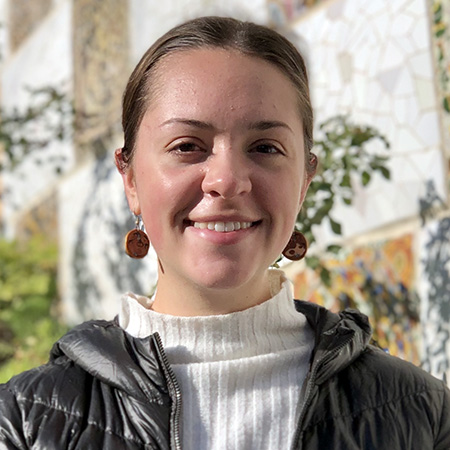 Sarah Woodford
Major: Animal Behavior
Program: Tangier, Morocco
Grad Year: 2021
Email: swoodford@une.edu
Ask me about:
Hiking Mt. Toubkal
Packing
Family coming to visit
Volunteering at an animal shelter
Learning Arabic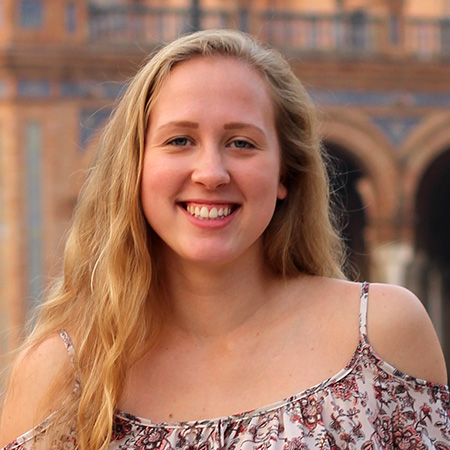 Shania Clark
Major: Nutrition
Program: Seville, Spain
Grad Year: 2020
Email: sclark11@une.edu
Ask me about:
Living with a host family
Learning Spanish
Budgeting
Special diet while abroad (vegan)
Being a first-generation college student abroad
Taking weekend trips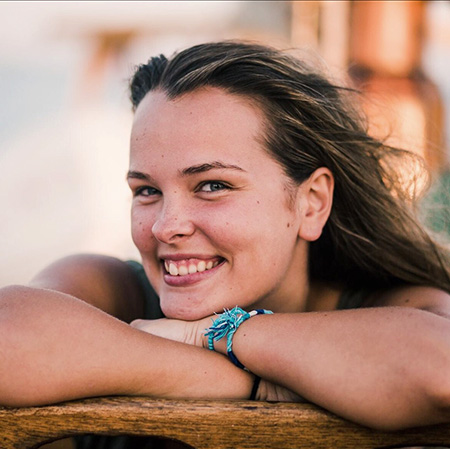 Sierra Pepper
Major: Nursing
Program: Seville, Spain
Grad Year: 2021
Email: spepper@une.edu
Ask me about:
Budgeting
Being a first-generation college student abroad
Being a woman abroad
Living with a host family
Settling into a new routine