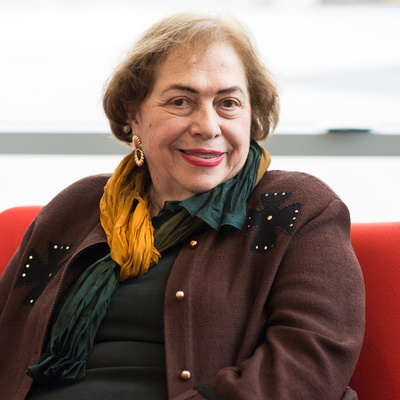 The fourth president of UNE, Sandra Featherman, Ph.D., served from 1995 through 2006, presiding over UNE's merger with Westbrook College in 1996 to create today's Portland Campus — and a larger, more diverse educational institution. 
A trailblazing leader for the University, Featherman was one of the first women to serve as president of a coeducational higher education institution. During her 11-year tenure, UNE added several academic programs and majors, and student enrollment increased from fewer than 2,000 students to 4,000.
President Featherman also oversaw multi-million dollar renovations to academic and residential buildings on both the Biddeford and Portland campuses; helped build UNE's operating budget from $26 million to more than $100 million; and grew the endowment from $2 million to $24 million. She accomplished all of this while expanding UNE's liberal arts programs and activities and transforming UNE into a nationally recognized leader in the education of health care professionals.
It is very special to be involved in higher education. It is truly a noble calling, for those of us who work daily in its service, but also for those who help us provide outstanding programs and experiences. —Sandra Featherman, Ph.D.
Prior to UNE
Featherman was born in Pennsylvania and received her B.A., M.A., and Ph.D. in City and Regional Planning from the University of Pennsylvania. Her career in academia prior to her arrival at UNE spanned more than four decades, and included roles as vice chancellor for academic administration and professor of political science at the University of Minnesota Duluth and director of the Center for Public Policy at Temple University. Trained as a political scientist, Featherman's areas of expertise are urban politics, ethnic voting, diversity issues, women's leadership and health care. She has authored more than 50 scholarly publications, as well as numerous magazine and newspaper articles.
Highlights and Awards
The Girl Scouts of Maine honored Featherman with its annual Woman of Distinction Award in 2006.
In 2005, Featherman received the Maine Osteopathic Association's Board of Directors Award for her work in "creating the best learning environment for osteopathic medical students."
Featherman was named a Distinguished Daughter of Pennsylvania by the Governor of Pennsylvania in 2004. Read more about the award.
The International Women's Forum named Featherman as a Woman of Distinction in 2004.
The Maine Development Foundation awarded Featherman as the 2002 Champion of Economic Development for her work in driving Maine's economy forward.