---
The Past, Present, & Future of Social Work
In this Issue
---
Congratulations May 2018 M.S.W. Graduates!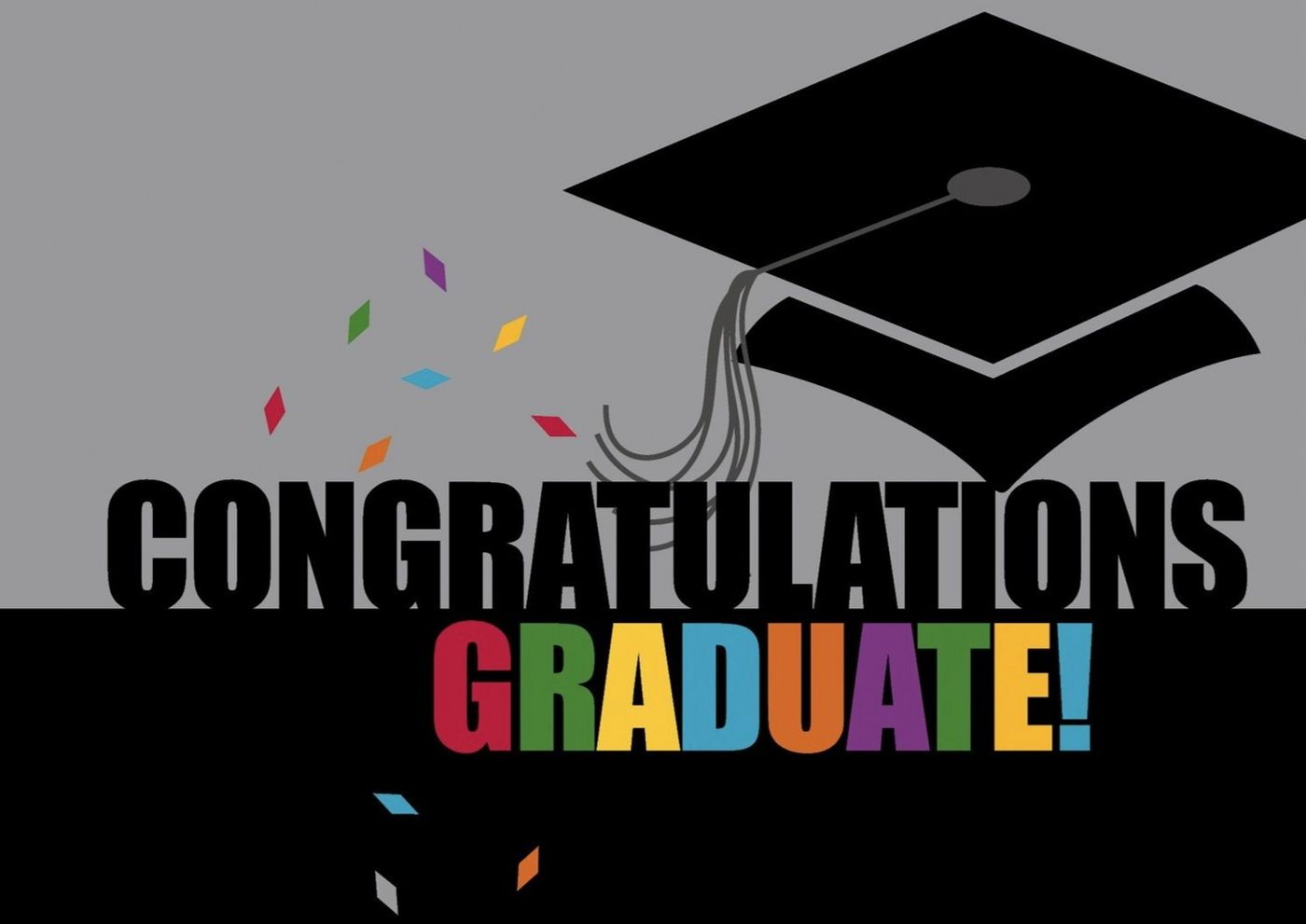 Our sincerest congratulations to our graduates from all of the Faculty and Staff at the School of Social Work!
Congratulations to our wonderful future colleagues. Wishing you the best in all your endeavors.

–Shelley Cohen Konrad
UNE M.S.W.'s First triad cohort
The School of Social Work is honored to have been awarded our third US Health Resources Services Administration (HRSA) grant in the past seven years. This is a four year grant through 2020–21 from the Behavioral Health Workforce Education and Training (BHWET) program that allows us to offer $10,000 stipends to approximately two dozen M.S.W. students in their advanced specialization year of enrollment with us in each of the four years of the grant.
The title of our grant is "Training in Aging Diversity" (TRIAD), and is a training-in-place program for students passionate about the health & well-being of older adults. It has a strong focus on diverse and underserved populations such as the rural poor, immigrants, refugees, members of the LGBTQ community, veterans and those with behavioral health and substance use disorders, and those living with developmental differences. We are pleased to share this photo of several members of our first cohort of TRIAD award students, with our congratulations to them! There are still stipends available for the 2018-2019 academic year. Please contact Robert Chance in the UNE School of Social Work for information about the stipend for the coming academic year, and the award years following.
My advanced-year TRIAD placement will be with Maine Medical Center's geriatric psychiatric unit — "P6" — where I'll interface with older adults living with dementia and co-morbid mental health issues in an in-patient environment. My goal with this placement is to gain assessment, motivational interviewing, and direct-care skills for supporting patients and their families during their brief yet critical stays on the unit. P6 uses an interdisciplinary team model, so I'm also excited to build upon my communication and team-work skills as I represent the social work perspective on such a team. –Nina Williams
I will be doing my Advanced Year Clinical Placement at the Cedars Retirement Community in Portland, Maine and utilize both the TRIAD grant and my Applied Arts and Social Justice certificate in this unique placement opportunity. The placement will focus on creating relationships with clients on an individual basis through the use of legacy work, group interventions using art, music and movement within the occupational therapy program, and the creation of groups for clients and family that address grief, loss and end of life. Our society has fallen into a pattern of seeing the aging population as a burden, useless and as something to be feared because it represents our own mortality. Therefore, we often avoid talking openly about death and how life may change as we grow older. My intention while at the Cedars is to bear witness to this population's resilience as they age, assist them as they explore their developing identities, and find creative ways to share their experience with family members, caregivers and the community. I also want to expand my ability to work collaboratively with other healthcare professionals and will be working closely with the Occupational Therapist Director of Life Enrichment and the medical team at the Cedars to insure that client's physical, mental, emotional and spiritual needs are being met. –Lila Maycock
Faculty Spotlight: Judith Boudman
By Monique Gaudet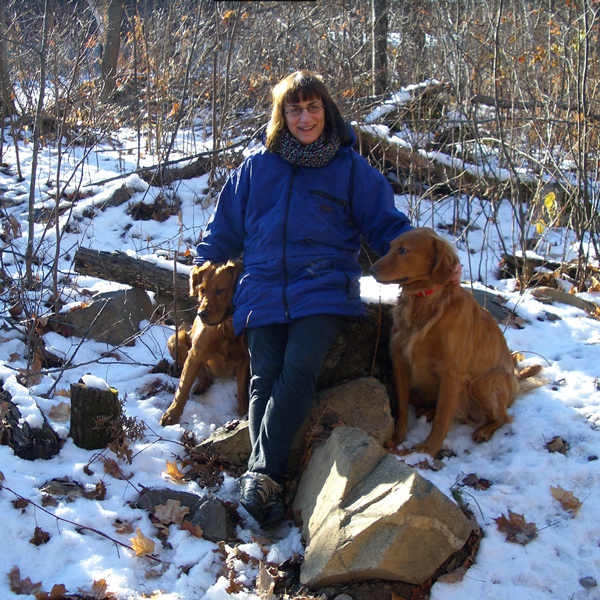 Community service has been part of Judith Boudman's family for centuries. "Most of my ancestors were doctors," she explained. "I feel as though community service is in my genes."
Her intrinsic passion for improving public welfare has translated to a number of roles within the realm of social work, proving that not only does one have the power to make a difference in people's lives, but there are innumerable ways to do it.
A Dynamic Journey
As a college student during the '60s, Judith was affected by many events that sparked discussion about social issues: the Women's Movement, the Kent State shooting, the assassinations of John F. Kennedy and Martin Luther King, Jr. – just to name a few. "The decade was really traumatic, and it ignited a passion in me that I wanted to do something," Judith said.
After earning her degree in anthropology, she started on what would make for a rich resume years later: she sailed Southeast Asia, participated in a tribal government and worked with youth before founding and directing a foster grandparent program in Portland, Maine. From there, she learned how to read and write grants for a nonprofit, then became director of a program for battered women, earned her Master's in Social Work, managed a crisis intervention program, and became a clinician. "I couldn't sit still very long," she said.
Although her initial focus was on direct service to minority and oppressed individuals, she progressively broadened her scope toward a macro approach to social work.
Bringing Her Experience to UNE
In 2010, after six years teaching at the University of New England, Judith drew upon her various experiences to develop courses for what was, at the time, the only accredited online social work program. "A lot of the courses were about how to be a better therapist. But I wanted students to have a different experience," Judith recalled.
From conflict resolution to social work in a rural environment, Judith's curriculum exposes students to ways in which social work applies to more than just therapy. "A lot of the time, the person that clinical social workers deal with is distressed because of a greater environmental problem: lack of employment, exposure to violence and drugs, no access to health care, and pollution. These are common problems we can't fix in a one-to-one therapy session," she said.
Judith instructs her students how to lobby, write policy briefs, testify before Congress — essentially, "how to stand up for people who don't have the power to stand up for themselves," Judith explained. "The country has never needed social workers more than now."
Where Advocacy Meets Technology
Just as UNE's online M.S.W. program uses technology to extend its reach, Judith encourages her students in policy classes to amplify their advocacy efforts via online platforms. "During my graduate years, we testified and lobbied at the capitol," Judith explained. "But I can't mobilize my students all over the country, so I instruct them to build advocacy websites. And the results are really outstanding."
She also uses discussion forums to facilitate dialogue for students to discuss current social issues. "The issues I fought for in the 1960s and beyond," she said. "Things have been difficult in this country. Students are upset about health care, transgender rights, immigration, and environmental degradation and needed a place in the online milieu to vent."
Judith advances her own advocacy efforts through technology as well. Most recently, she created a Facebook page that addresses current social issues, from gun laws to immigration and environmental justice. "I'm not content with the way things are," she said. "I want to make them better."
After years of serving oppressed populations through various roles, Judith still finds new ways to contribute to the greater good — even as a restaurant owner. "We do fundraising dinners where we donate to the battered women's project or local hospitals," she said. "We let people know we're here to serve the community."
Nexus Summit Guest Blog: Shelley Cohen Konrad and Ted Meyer
Introduction by Barbara Brandt: In 2016, in a standing room only workshop at All Together Better Health at Oxford University, I was mesmerized by how two unlikely colleagues had come to know one another and began working together to create experiences that demonstrate and teach about the importance of art in storytelling and raising awareness of the uncertainty and complexity of living with a chronic illness.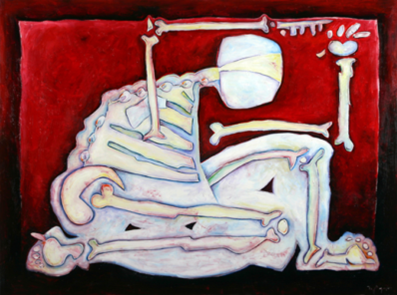 Empowering Cultural Education: Event highlights pioneering UNE course on culturally informed practice
May 02, 2018
The University of New England School of Social Work recently partnered with the Justice for Women lecture series at the University of Southern Maine School of Law to present a meet and greet with Mariam Jalabi, director of the Syrian National Coalition's Office at the United Nations in New York.
The event highlighted the pioneering work of a team at UNE that developed a pilot course called, "Empowering Cultural Education." The course, which was designed by a core team of immigrants, African and Latinx Americans and UNE School of Social Work faculty, focuses on preparing social workers for practice with people from diverse backgrounds: refugees, immigrants and historically oppressed groups such as Native and African Americans.
"When you bring theory and community together, we're constantly learning," said Empowering Cultural Education faculty member Regina Phillips, M.S.W. '17. "You have community leaders helping to teach educators, researchers and administrators who have been in the field for a very long time, and then of course you have professors or colleagues engaging community leaders on something about informal theory and research. And, all of that rich conversation is happening while mutual admiration and respect go back and forth. It's wonderful."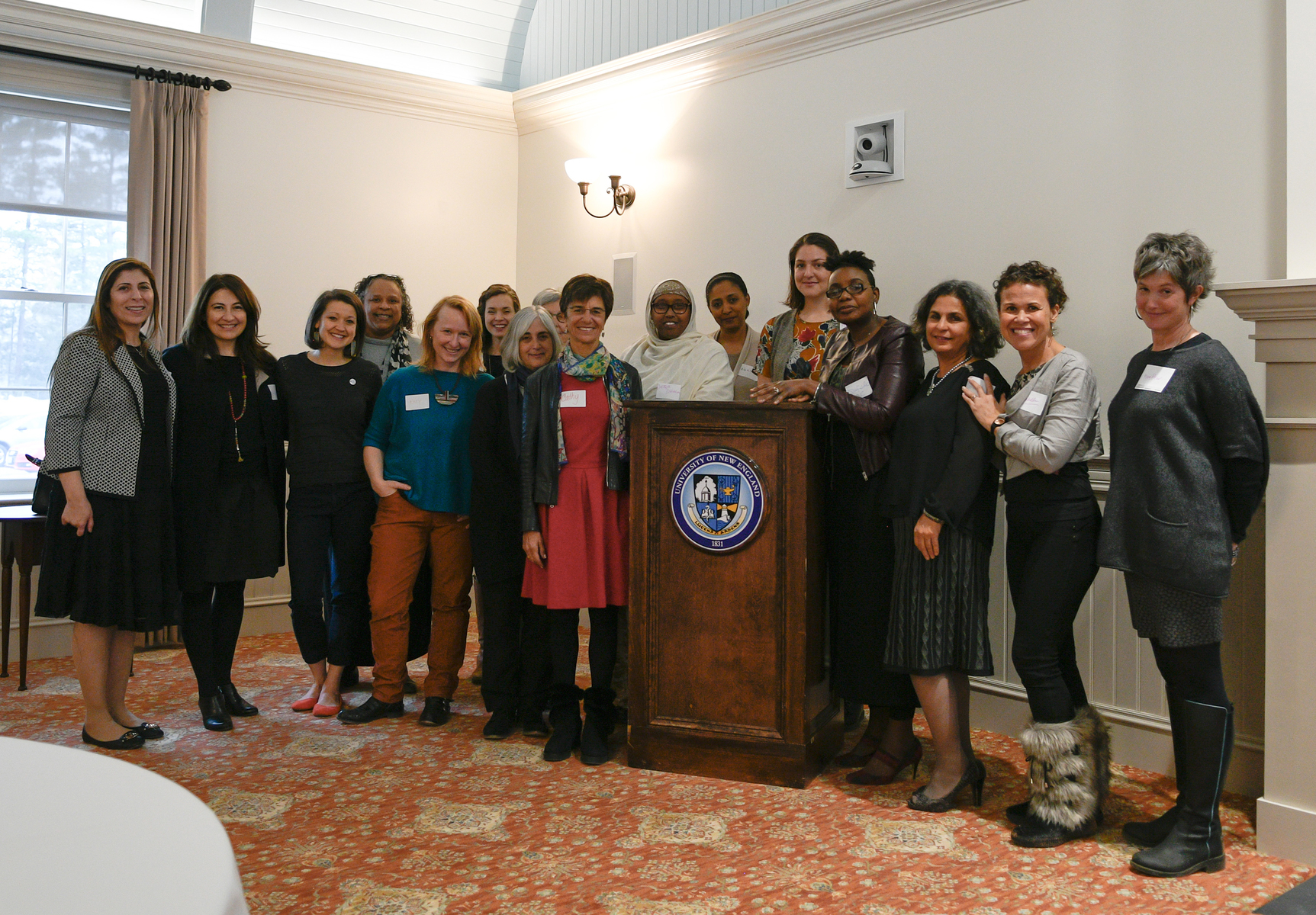 Through this course, students learn about the experiences of immigration, assimilation, forced enslavement and historical trauma in partnership with members of these diverse communities, who provide instruction and first-hand knowledge.
"I think this course should be a requirement for all professions," stated Alyssa Wyman (M.S.W., '18). "I think you're amiss as a health professional if you don't engage in these conversations and know what populations you're serving and how to best serve them."
"This course has completely exceeded what I thought it could be," said Hattie Welch (M.S.O.T., '18). "It's gone in so much depth and covered so much breadth of human experience – it just completely blew my expectations out of the water."
At the event, Jalabi showed great interest in the new course. The dinner also provided participants, who represented a broad range of health disciplines and interests in social justice issues, the chance to connect and discuss future opportunities for collaboration. The UNE Empowering Cultural Education team plans to host a similar event with USM's JFW speaker each year.
---
 Creating Comics on the Curb: Collaboration in Art & Social Work 
Katy Finch, M.S.W. student, was placed at the Preble Street Resource Center in Portland for her first year of field work. It was there that she met Bob Bergeron, a client at the Center who was experiencing homelessness for many years. They discovered that they shared a passion for provocative books, punk music and comics. After a few months of trading books and stories, they decided to create a comic of their own. They both came from many years of working collaboratively on creative projects — whether it be playing in a band, editing a documentary, shooting a film or even painting a public mural. Finding in each other a fellow storyteller and illustrator, it seemed only natural to join forces. A mutual love of the comic book medium became a labor of love. That love of story has evolved into a regular publication, with over 400 copies of the 1st two issues sold and a third issue scheduled to be released this spring. Stories allow us to peek into unknown worlds and gain a greater understanding of the human experience, and documenting the stories of those who feel forgotten is a powerful tool for validation and awareness. With the added element of visual storytelling, the hope is that the audience can be broadened and the message more easily digested. The intent was to never do anything more than share what they knew about the people they knew at Preble Street, after all, they had provided the source material. The stories are peopled by the homeless; the downtrodden, the mentally ill and the addicted. A joyous bunch, truth be told. Without their stories, the richness of the lives they led would never be known to the folks who cannot or will not see beyond the stereotype 'normal' people have of these folks. These are lives that are construed by some as insignificant, they thought it was important for there to be a record and to make sure people knew these stories. The School of Social Work celebrated the start of Social Work month with an Applied Arts and Social Justice reception featuring "The Pirate Ship," a comic written, illustrated and produced by Bob and Katy.
Katy Finch was invited to present at the Graphic Medicine Conference at the Center for Cartoon Studies on August 18 about the collaborative process of making the comic, and that the project was awarded the Runner Up prize for the Social Work Education: The International Journal student activism awards 2018.
You can purchase a copy of The Pirate Ship on Etsy.
Websites built by Policy II Online Students
The following websites were built by the University of New England Master of Social Work Online students. They address Immigration Issues and Health Care as a Human Right. Please enjoy these valuable resources.
Maya williams mural
In the Fall of 2017 M.S.W. student Maya Williams and the Intercultural Engagement Office director, Richard Anderson-Martinez met with students in the Interfaith Prayer and Reflection Room in Alexander Lounge biweekly for spiritual check-ins. The Interfaith Prayer and Reflection Room is a space on the Portland campus to pray, meditate, whatever people need spiritually, as a group or individually. This is regardless of religious, nonreligious, and irreligious worldview. 
A great deal of the feedback received from the check ins was that the room felt "sterile." The space seems space hidden, and there are still students who don't know the room exists, so it didn't help that it didn't feel like a welcoming space. Therefore, after receiving approval from Student Affairs, Maya, with the help of other students, took the last two weeks of April to create a mural of a tree with students' handprints painted many colors to create a sense of openness and vibrancy. Maya is graduating in May with the Applied Arts and Social Justice Certificate.
Erin King with the UNE-cumberland county jail collaborative initaitve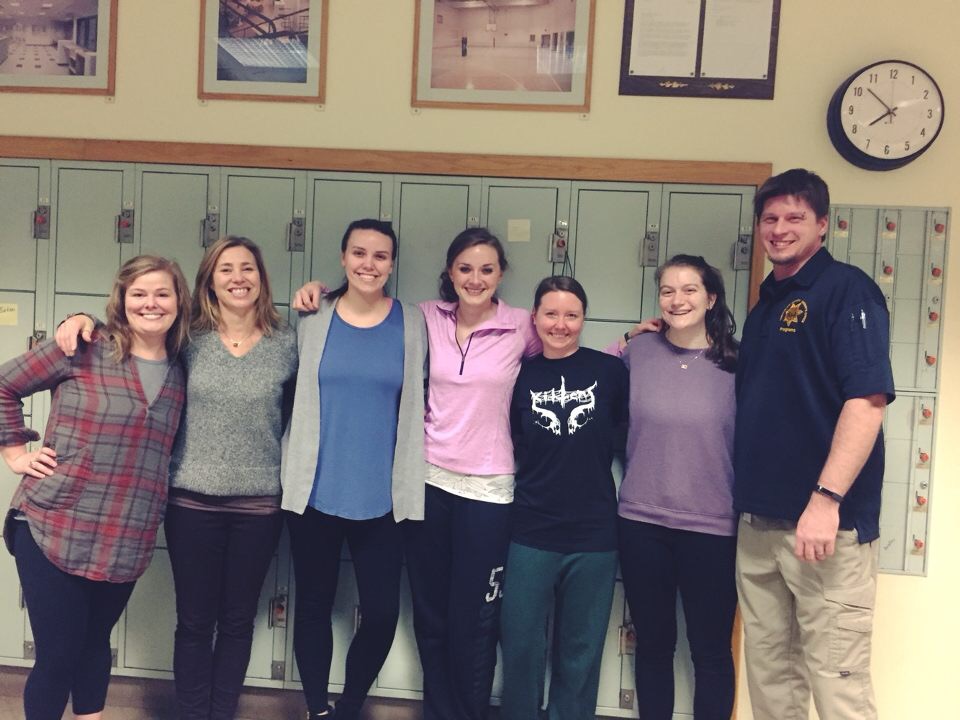 Engaging in inter-professional teamwork through the UNE-Cumberland County Jail Collaborative Initiative was one of the best experiences I've had at UNE thus far. For those unfamiliar with the CCJ-UNE Collaborative Initiative, a group of students across various professions come together and meet weekly with a group of incarcerated individuals currently staying at CCJ for a period of five weeks. During the initial session, students and inmates work with one another to identify certain topics or themes of wellness that might be most beneficial to learn more about.
Through our sessions, we were able to target the following subjects: Sleep Hygiene, Nutrition, Physical Exercise, Mindfulness and Yoga. Having various professions represented was incredibly beneficial. Our group consisted of two OT students, one PA student, one SW student and one ABSN student. While our focuses might be different in technicality, it quickly became clear that all professions have a (whole) person-centered approach. We were able to tie in aspects of each profession, ultimately tying our sessions all together by emphasizing that the concept of 'health' is tied to all areas of life — from sleep to diet to exercise to mental health.
These past five weeks have taught me more about the other professions that inhabit UNE's campus (it's amazing how closed off we can be from one another on a daily basis!), some of the stark realities of spending time in jail and how crucial it is when working with others, to check personal biases at the door and to embrace new opportunities from a conscious state of 'unknowing'.
Erin King is a first-year M.S.W. student. Upon graduating, she hopes to continually examine ways she can use her role as a social worker to better serve the diverse aging population here in Maine. 
Field Placement Highlight: Pam Smith at Franklin Towers
By Megan Webster
The room is already set for guests when I arrive and the jazz from the speakers sets a mood similar to that of a 1920s New Orleans cafe du monde. Each Friday, UNE M.S.W. student, Pam Smith facilitates Conversation Cafes as part of her Field Placement at The Root Cellar. She holds them at Portland Housing Authority's Franklin Towers. It is our hope to empower and support this vulnerable population in their efforts to rebuild their community into a well connected and safe environment" Pam expresses, "the cafes should be a space where each person can freely express their narrative without fear of negative repercussions from those in positions of power." Pam organizes games, poetry readings, invites community members to speak about important resources available, and sometimes tenants just gather to share stories. Her eyes light up as she tells me about the group of tenants who have begun to organize around creating a tenant led council. Per usual, her smile is radiant as she scampers about to finish preparations. Alan, an ex-marine and seven-year Franklin Tower veteran, is a member of this budding council. He says they're currently drafting the bylaws. "I'd love to see a community garden" he tells me and describes a wall of wooden pallets alongside the towers abundant with lettuces, cucumbers, spinach, and radishes. "We could run it along that fence there" he says pointing out the window, "and so what if people come along and pick a radish or two from the side of the fence. That's what it's there for!"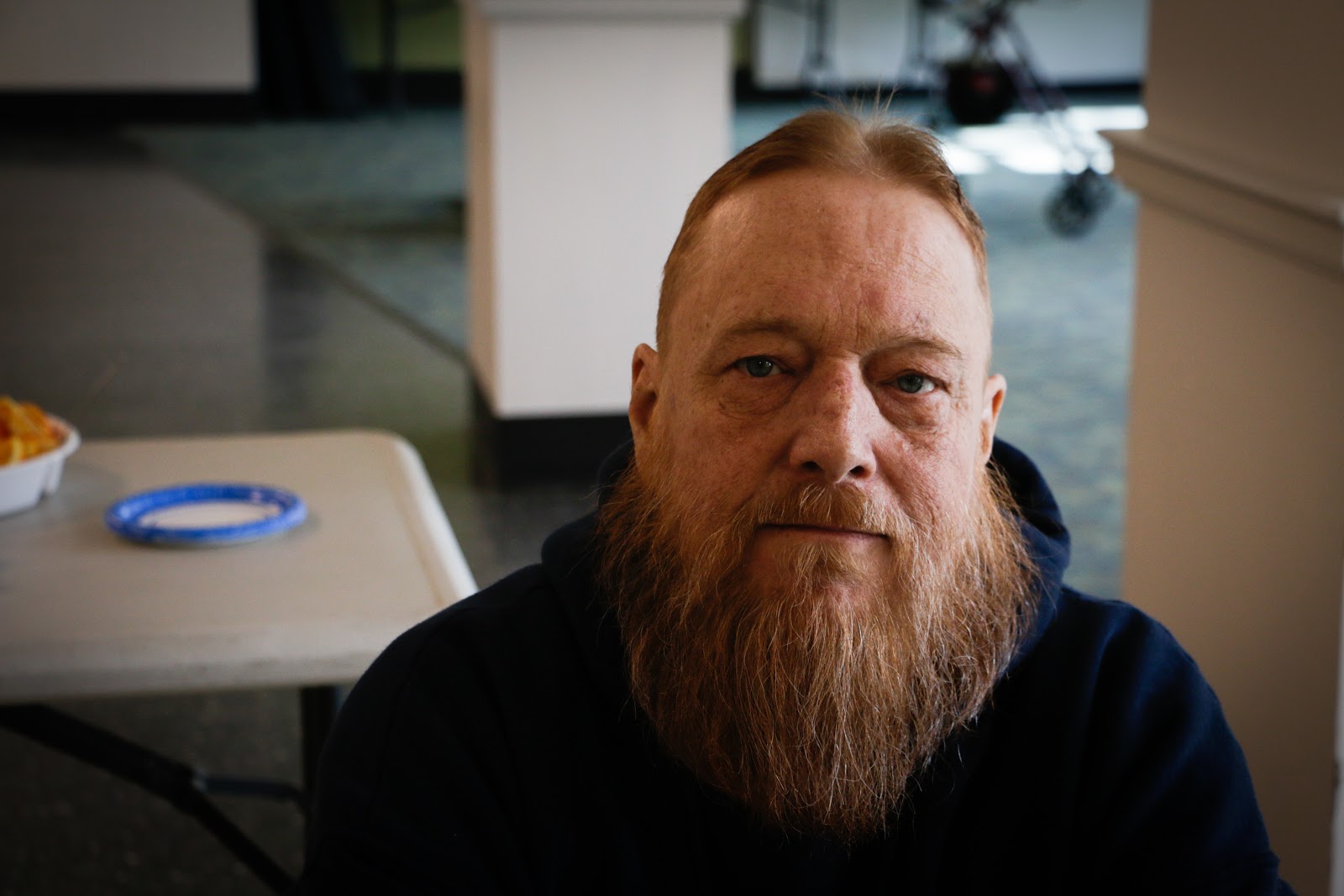 Tenants trickle in and fill their plates with homemade cookies, breakfast cakes, and fruit, and pour themselves fresh coffee. Steam clouds rise in concert. "What Pam's doing here is awesome" Alan tells me taking a bite of his breakfast cake. "It's bringing everyone in the building together. People are getting to know each other more. We're meeting our neighbors." Alan's glacier blue eyes are piercing. They look out from a face speckled with freckles, and a fiery orange beard runs thick and coarse around his weathered skin. He tells me about how he first met fellow resident, Kifah, a poet from Iraq. "He was prisoner of war in Iraq for 8 years...8 years." He pauses and looks at his hands, "hardly room to stand. He couldn't even lay down at times. Only as people died…Kifah, he's a great pal."
"Oh, he's on my floor," interjects Leanne as she grabs a seat beside Alan and tells me about what a great painter he is as well. Leanne was born and raised in Maine and joined the army as a young woman. She spent years abroad before returning to her home state. She's now a four year resident of Franklin Towers. She has two adult daughters. Both live out of state. She reflects on how scary and vulnerable it felt to move in. There wasn't anything like Pam's cafes when she first arrived. "Leanne's tough though" says Alan playfully, "she's an army gal, won't take anything from anybody." They laugh. Conversation about their military lives abroad leads to conversation about their local multinational neighbors. "Sharing a closeness with other cultures creates compassion — an openness to other," reflects Alan. Leanne nods in agreement, and though both she and Alan maintain their own set of challenges, their concern centers on their immigrant friends and neighbors. "You feel vulnerable when you're new, you know? Everything is new. You don't know anyone." Leanne tells me about her friend Sarah, another Franklin Tower resident, "a little Somalian woman," she describes her, famous for her triangle spiced meat pies. "I think we're privileged here, really, to have such nice neighbors."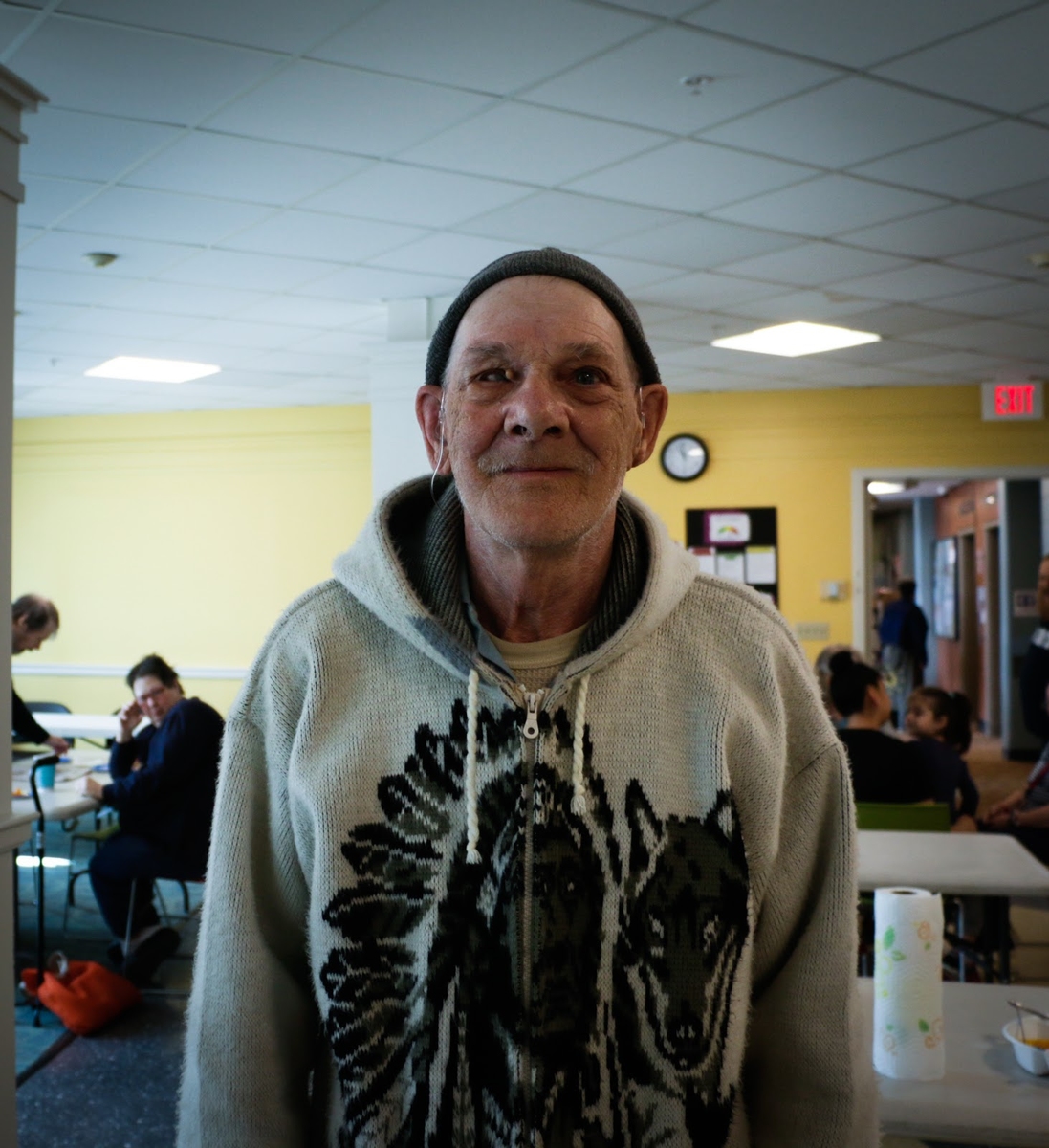 At a table across the room sits Christine, Georgia, and Beverly. Mr. Wesley stands beside them hovering over a walker. "I walk 10 miles a day!" Mr. Wesley exclaims as I approach, "and I'm 74 years old! My doctor says I'll live to be 100. If I live to be 100, well I'll be pretty happy!" Christine finishes up a poem then reads it aloud. The poem is about objects, meaning, and the difficulties of letting go. "I'm in a hoarding group." She shares. "These poems help me." Her handwriting is neat and tidy. Small cursive letters form orderly successive lines across the pages. Georgia sits beside her and leans on her walker to catch a glimpse of the poem. Upon telling me her name, Christine exclaims " I've been calling you Georg-IE all this time!" to which Georgia responds "Georgie, Georgiana, Georgia, I don't care too much what you call me." "As long as I don't call you late to dinner!" Christine proclaims and dissolves into giggles. Georgia tells me how much she enjoys Pam's cafes. "I used to just spend a lot of time in the lobby," she tells me. Now there is an established event to share in community.
Beside them, Beverly holds a letter addressed to "Donald." The opening reads: "As a retired operating room nurse, please walk with me into any operating room across the country — sit with me as I comfort an 8 year old boy who has shot his face while playing with his father's gun. Come with me. Sit with me while I try to comfort a man who has been cut in half with machine gun fire…." "I'm sending this to the president" she tells me. After years working as an operating room nurse, she worked years as a social worker. She graduated with the second cohort of UNE social work students in '91. She now works tirelessly on advocacy project from her Franklin Tower abode. This morning at Pam's cafe, she writes collaboratively with another tenant.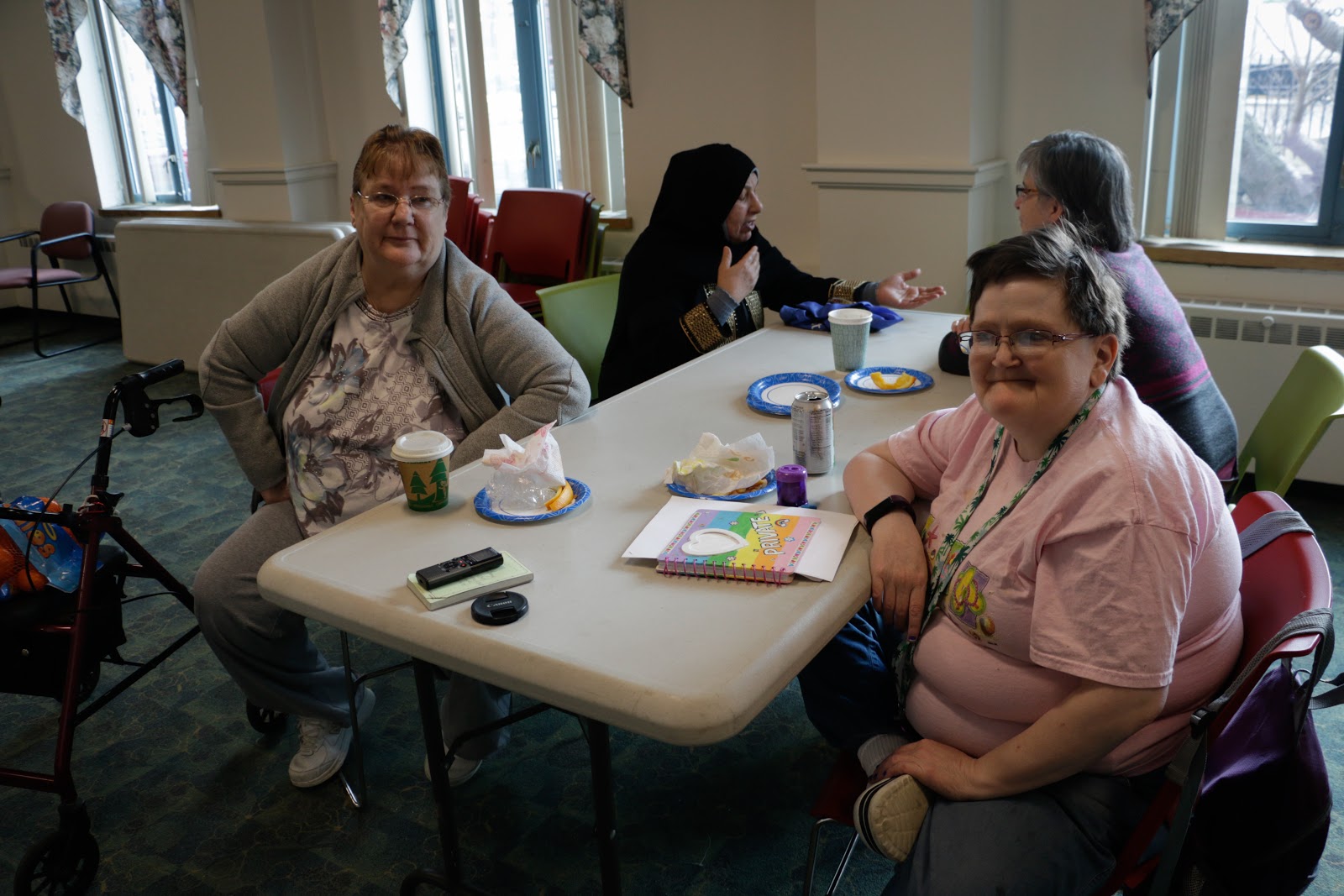 Alan beckons me back from the other side of the room. He introduces me to a young woman. She tells me she's visiting her mother, another tower tenant. I will call this woman Anya. Anya lost her husband to a drug overdose and only recently moved to Portland. She's here with her young daughter. She herself had been addicted to opiates and went through a rehab program. She is sober now and lives independently with her daughter. Community resources are still paramount. "She's a rockstar," Alan says. "So many stories...so so many stories here of adversity. I'm glad Pam...I'm glad you're all doing something."
"Pamela has been a Godsend," Peggy, Pam's supervisor from The Root Cellar, tells me. "She's just incredible. I was fortunate to get an intern with her kind of experience and ability. She's making a huge difference at Franklin." As a teenager, Pam dreamt of starting her own non-profit. She envisioned opening a center to support individuals suffering from neglect, rejection, addiction, depression and/or suicidal tendencies. She often volunteered throughout her youth and as a young adult joined the U.S. Army and volunteered to be a part of the US Armed Force humanitarian efforts in Iraq. The efforts of this team provided schools, food, fresh water, and basic survival skills training for thousands of natives and immigrants who resided in Iraq after Operation Desert Shield/Desert Storm. Her vision still clear in mind, she is now obtaining an M.S.W. through UNE's Social Work Program. She plans to incorporate her love of the arts (and BA in Theater) and her clinical social work training into her vision as she manifests the dream she conceived as a young woman. And one might argue, she's already doing it. "Pam is making a difference now, and she'll make a difference wherever she goes" says Peggy.
"I think we all like to think we're so different from everyone else, but the truth is we're not. I think we're all much more the same then we realize." Alan tells me. "Speak for yourself," cracks his buddy, Larry. "I try to make a mistake at least once a day just so people won't think I'm perfect!" He winks and they both chuckle and reach for their coffees.
Interview with M.S.W. Student Alyssa Wyman: Empowering Cultural Education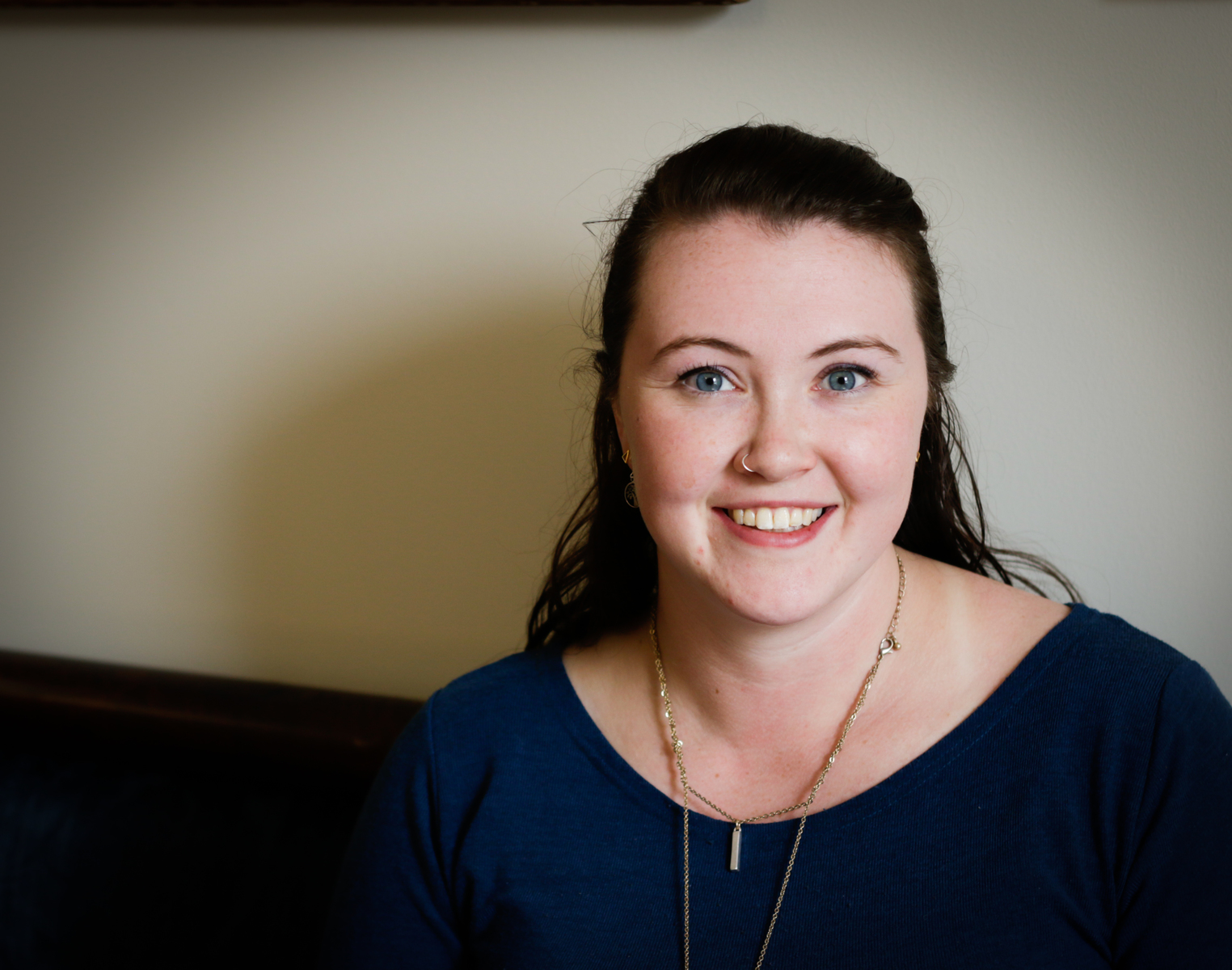 Alyssa: My name is Alyssa Wyman I am in the M.S.W. program here at UNE, clinical track. My field placement is at an alternative high school named the Katahdin program, which is part of RSU14 where I am an M.S.W. clinical intern.
Megan: Hi Alyssa, thank you! Can you talk a little bit about your professional goals?
Someday I would like to have my own alternative educational program, but more short term, I'd like to stay involved in the Alternative Ed world and get some sort of clinical position at an alternative school. 
What inspired you to take the empower course?
The main reason I decided to take the Empower course was because I was really looking to be challenged in my views a little bit. I think we get stuck in these comfortable bubbles of you know, our friends, our family, or whatever class or race that we belong to and I wanted to see other viewpoints and have different perspectives be able to affect my education.
Can you reflect a bit on some unexpected things you've learned from this course?
Yes, something I didn't necessarily expect but has been fabulous is we have these cultural experiences where we go into the community into these various spaces and the connections I've made in those sorts of situations have been really fabulous and people have been really open to talking with us and really want to increase that dialogue. I think I've also learned a lot about the logistics of the immigration process which has been really nice to have laid out. I think we all have this idea about what immigration looks like that are misinformed. There's a lot of health screenings and a lot of traumatizing things individuals go through in order to get here to become part of the community, so that's been really helpful to learn. And my role as a social worker, it's helpful to have that understanding of the clients coming to me with these experiences. I have a better understanding about how to approach these issues and conversations. We can help either heal or be of further detriment if we are not prepared for those conversations.
As part of that question, have you learned anything surprising about yourself your own biases or misunderstandings? 
Yes, we talk a lot about our personal biases and how that can influence our relationship with our clients. I think a lot of us come in to these situations with somebody who may have a different background than ourselves, specifically with immigrants, we have our own ideas about how to best serve them and help but sometimes my version of help is not the help that the person really needs. So I think that constant asking and understanding that our vision may look different from different cultural perspectives is so important. 
Have you learned anything surprising or unexpected about local Portland populations? 
One thing we've talked a lot about is comfort level in being with a professional who shares the same cultural identity as you. I've learned we have a very few number of clinicians or doctors who may share a culture with their health professional, say Somali for example or recent immigrants from other countries. That's kind of an eye opener. So even if someone may not be 100% comfortable talking with me — their options might be limited, so I think about that and how to create an environment that is as conducive to their healing process and their further growth within these circumstances?
What would you say have been the course highlights? 
We have had panels with the various health professionals and members of the immigrant community. We bring in experts from the field. Panelists are the experts of their experience and their community, so that's been a highlight as well as connecting with a lot of resources within the Portland community like Greater Portland Health, Maine Access Immigrant Network, that are doing really great work. Then the cultural experiences too have been really great. I visited a mosque and I also went to a Westbrook health and wellness community event, which was various professionals from the greater Portland area trying to come together to unite around issues like we discuss in class, so that's been a really great experience as well.
Can you talk a little bit about your trip to India and how it relates to this class?
Within our class structure we've been encouraged to explore another culture that we are interested in or have a connection with and tease out some of the stereotypes and some of the cultural experiences core values. I tied mine into work with a mini grant here at UNE where we studied micro-financing and women's empowerment in India and learned a lot about what women's empowerment looks like in India. We considered factors like domestic violence and financial independence, the ending, hopefully, of the dowry system and how these affect women and how the business sector is trying to kind of wrap around and create a platform for which women can go on to have that financial independence and ultimately empowerment. It was interesting going into this within the context of this class. Specifically, I had a few Indian women talk to me about the potential for immigrating to the U.S. It was fun to then talk to the class about that perspective — having that conversation with someone who really wants to come here and that dialogue about why they would hesitate to come and what they would want within a community in Maine or California or wherever they end up. That was really interesting. 
How do you plan to apply some of what you're learning now to your professional work?
I think one of the most obvious ways is resources and connections — knowing who to go to, even knowing who can be a reliable translator or cultural broker. Having those connections is invaluable, especially when working with high school students, particularly if they are recent immigrants to the US and may have no idea about how to find those connections. I also think just being able to take that step back and leave your biases at the door and to really be sure you're going in with the client's best interests at heart. Specifically with immigrants, to understand how hard they fought to get here. They've had to leave family and friends behind and careers, so how to be sensitive around those conversations as well as continuing to advocate for my clients, knowing what challenges they face how to advocate on a larger policy level, which is a huge part of social work as well. 
What would you tell other students who are thinking about taking this course in the future — both inside and outside social work as a profession?
I think this course should be a requirement for all professions, all programs, both at UNE and everywhere else. You get such a wide variety of knowledge, experience, and cultural context from all the different panelists and community members. I think you're amiss as a health professional if you don't engage in those conversations and know what populations you're serving and how to best serve them. I hope this course continues for a really long time and I hope more students throughout the university are able to participate.
Yeah, thank you, and lastly, is there anything you would change about the course?
It would be really interesting to open it up to more health professions. It's just OT and SW right now. I'd be really interested to get PA and the dental school and nurses and all on board, draw from an even larger interprofessional pool. I think the dialogue that could be created from that would be really interesting. I think the way that might spread out into the Portland community and greater Portland community would be a really interesting thing to be a part of.
Interview with UNE OT Student, Hattie Welch: Empowering Cultural Education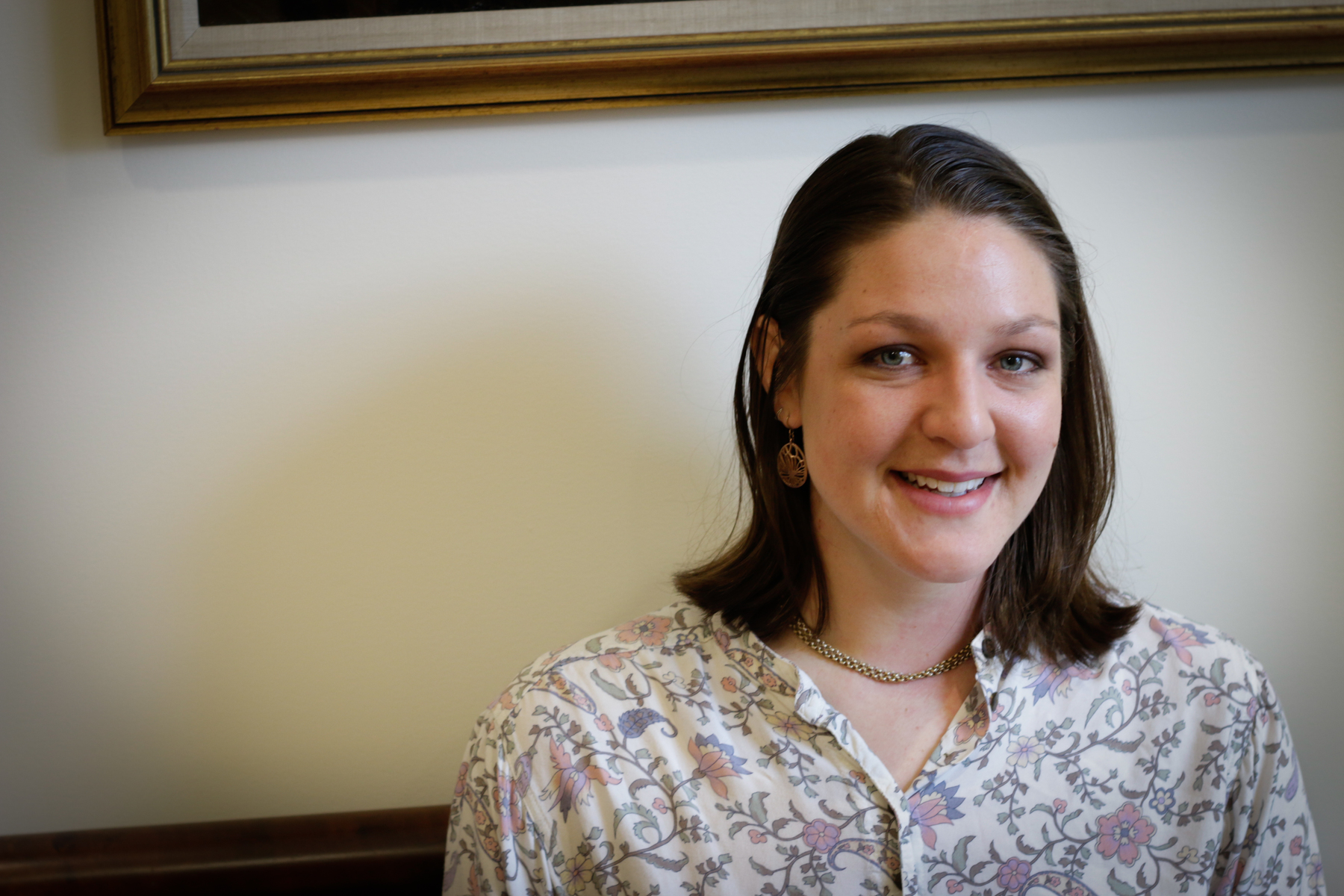 Hattie: My name is Hattie and I'm studying occupational therapy here at UNE. I'm in my last semester of my program and my professional goals are to revolutionize the mental health care system in Maine through occupational therapy as well as sort of work with OT to get into different programs that we're not in right now, areas such as chronic pain or outpatient mental health care. 
Megan: What inspired you to take this course?
I felt this need coming from doing a rotation at a forensic mental health hospital in inner city Boston where I worked with a very diverse group of people, professionally and client-wise and found that racial and ethnic education and understanding was something I needed to improve on and so I capitalized on this opportunity and jumped for it.
What were you hoping or expecting to get out of the course when you decided to take it?
When I decided to take the course I was knew I was hoping to engage in conversation around culture and race, but this course has completely exceeded what I thought it could be. It's gone in so much depth and covered so much breadth of human experience — it just completely blew my expectations out of the water.
What are some surprising things you've learned? About yourself? About local communities?
Through this course I've learned a lot of surprising things about myself. The first class we checked in about our personal bias. You don't know what you don't know so exploring my personal bias and bringing that to the table and being able to dissect that was very powerful for me as a person to learn that yes I hold these biases and yes I'm going to change them. Also to just engage in a vulnerable conversation and to have that courage to say this might be awkward but let's talk about it. Let's talk it through. Through this course , we've also connected with the Portland community — to so many different groups in the Portland community that I didn't even know existed. I got to go visit the mosque and I've never done that before. I've met members of like the new immigrant community or New Mainers community and just talking with them in terms of healthcare but also in terms of what's their day to day life, something that we look at a lot in Occupational Therapy, it's been profound.
Can you reflect on how you will use knowledge from this course in your profession as an OT specifically?
As an occupational therapist we're interested in the day to day living of folks lives. If there's something challenging that's going on, whether it be physically, mentally, emotionally or in the environment that they're in, we look at how we can make it a better fit so, taking this course is so important to understanding what is the life of someone that's not part of the cultural life that I know like what does cooking look like for someone? What does bathing and dressing look like? How is taking care of children look differently culture to culture? I wouldn't even be able to help them if I didn't know what that looked like from the get go. Especially if we don't speak the same language. As an OT, we go into folks homes and we help set them up for success. If I don't know what their version of success is or have some knowledge of that, I won't be able to help them achieve that best fit. So I think as an occupational therapist knowing about culture and knowing about different communities that are living in the Portland area is so important.
This past semester in OT, we've also been talking a lot about advocating and what we are supporting. What are we advocating for? What are we promoting within our profession, not only with OT, but also in the greater world. How can we make that difference in the greater world and bring an OT perspective to the table. In my mind, I always go toward mental health. I think there's a huge need for mental health and talking with and learning more about immigrant communities, there's a huge need for mental health care there, and so I've been drawn to learning about what does mental health care look like in the communities folks come from? What is their expectation of meeting their mental health needs? It's something I will definitely use in practice in the future. Also through this class, we've talked a lot about how to engage in difficult conversations. I feel much more comfortable as a practitioner to ask these questions to my clients, maybe ones I would have shied away from before.
 I also think it opened my knowledge of culture and what others' understanding might be of our professions. For example, for countries that have a more socialist society, the government may control more of their healthcare so some people may not want to disclose certain information to you as a health care provider because it might impact their rights in the government. There could be a lot of tension around introducing oneself as a social worker or an occupational therapist. So just perceptions, different cultural perceptions that I was unaware of, I've become more aware of.
What would you tell other students who are thinking about taking this course in the future?
For other students who might be thinking of taking this course in the future, I would say do it. 100% do it. I think this course should be a part of all professionals' education at the University. It's one of the most amazing courses I've taken in my time here.
---
 UNE School of Social Work partners with Sweetser for Education Discount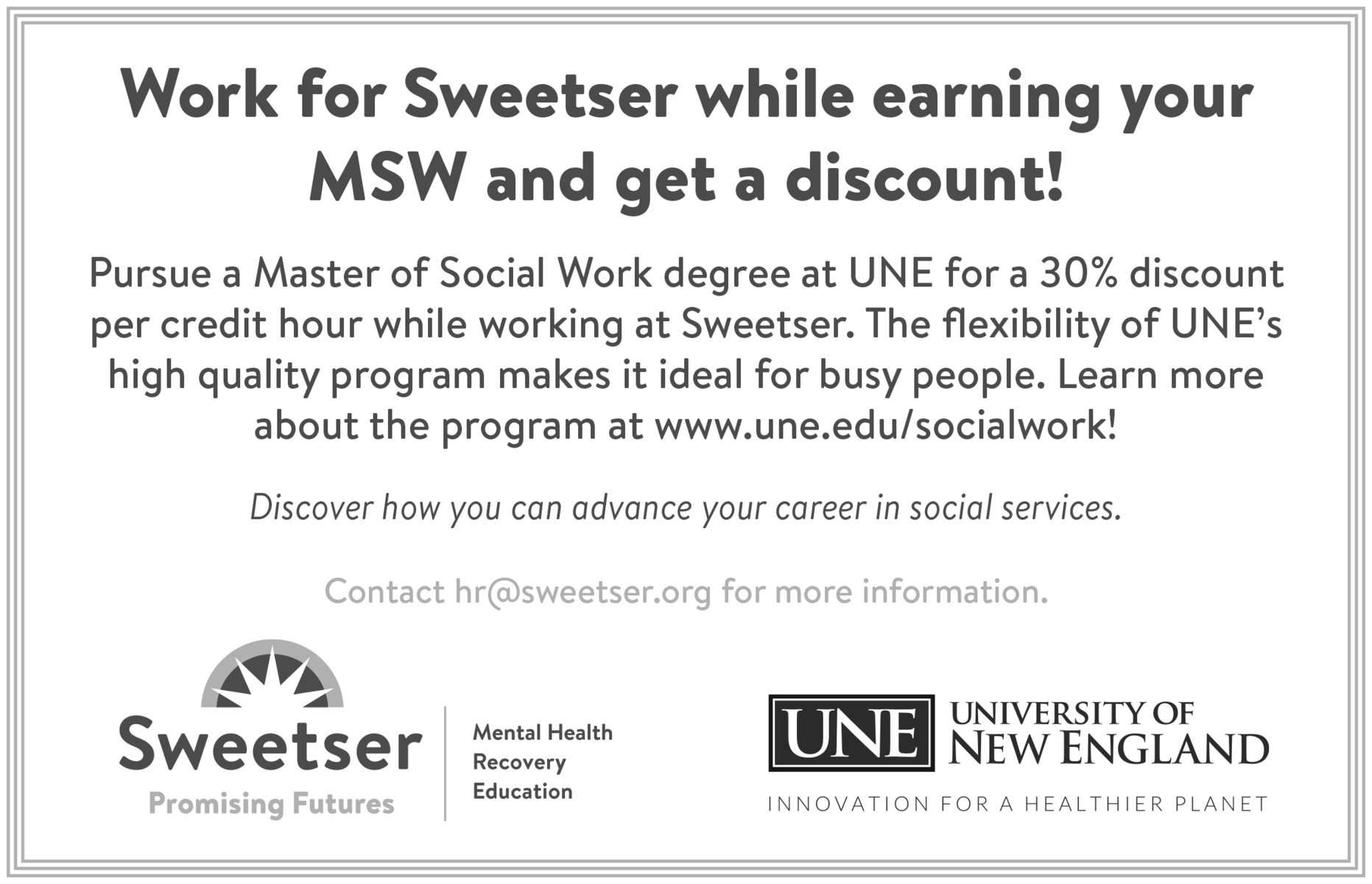 student organization meetings
The results are in for the new School of Social Work Student Organization's board members:
President: Abi Maycock
Vice President: Christine Brome & Erin King
Treasurer: Geoff Brewer
Secretary: Elizabeth Arsenault
GAPSA Senator: 

Aschel Gregory

GAPSA Councilor: Lila Maycock
Faculty Advisor: Frank Brooks
Your Social Work Student Organization (SWO) officers are excited for all that will unfold this year on campus and in the community. We want all SW students to come to our meetings and bring your ideas for events, resources to share with colleagues and thoughts on how to best incorporate advocacy, awareness and inclusion on our campus, in our community and in our world. As an organization we want to build a network for the students as they move through this journey. Come and join us for our biweekly meetings!
Please, come and talk with us about what you care about, what is bothering you, what is making you cringe, what is making you sad and what is getting you pumped up. We want to do things for the students and with the students, we can't do it alone.
SOCIAL JUSTICE ARTWORK NEEDED
Do you know of an artist or group whose art has a social justice theme? The art can address such themes as poverty, addiction, environment, gun violence, food security and many others! We need new art for the Hersey fourth floor hallway, and perhaps even the hallway near Parker Pavilion! If you, or an artist or group you know, would like to hang their art for a period of two or three months, please contact Lori Power, (207) 221-4493. Many thanks!
CALL TO ALUMNI: STUDENTS NEED YOUR HELP! 
If you have graduated from UNE with your M.S.W. two or more years ago, and are interested in a volunteer opportunity that will enhance your skills as a professional social worker, we need you! Our program is full of amazing students who need field instructors for their foundation and advanced field placements. As an alum, you understand the importance of field education and the expectations of students in our M.S.W. program. Our field instructors have flexibility in how field instruction is delivered. You may meet with your student by phone, video conference, or face-to-face. If you'd like to provide field instruction to one or more students, please contact Director of Field Education Kelli Fox. Thank you!
---
Upcoming Events
UNE School of Social Work Open Houses
All Open Houses 9–11 a.m., Alumni Hall 107 | Portland Campus | University of New England
Come learn about UNE's on-campus M.S.W. Program! Hear about our innovative and flexible programming, specifically designed to meet the needs of busy people!
At each Open House, individual faculty will present on a topic in their area of study. Field Faculty will provide an overview of our Field Education Program and social work curriculum at large. Current M.S.W. students and admissions staff will be available to answer any other questions.
Open Houses are available for viewing live online through zoom. If you are interested please RSVP to Megan Webster. We will send a zoom link to those who RSVP as online attendees. Be sure to check out our Facebook, Instagram and Twitter accounts to see what's new. (@UNE_social_work).
May 12, 2018 Open House
Learn about UNE's on-campus M.S.W. Program, in-person on our Portland Campus or live online! Arabella Perez, LCSW, coordinator of the Trauma-Informed Practice Certificate, will provide a brief presentation on Trauma-Informed Practice accompanied by a student currently enrolled in the program. 
June 2, 2018 Open House
Come learn about UNE's on-campus M.S.W. program in person or live online! Lori Power, M.A., Ed.D., Coordinator of the Applied Arts and Social Justice (AASJ) Certificate will present with currently enrolled M.S.W. AASJ students. The AASJ Certificate Program formalizes the relationship between the arts and healing and is the first program of its kind in the United States. Its approach is interprofessional, linking artists, art therapists, and community activists with social workers, social work students, and community members. Students who enroll in the AASJ Certificate learn how to utilize applied arts practice and theory to create social justice, change, and healing.
upcoming CECE events
The events developed by the Center for Excellence in Collaborative Education are geared toward students but are free and open to the public. For more IPEC events than are listed here, please check the CECE Events webpage.
​Wednesday, May 2
IPEC Poster Session
12–1:30 p.m.
Innovation 104 (PC)
Student teams from the Interprofessional Team Immersion, Student-Led Mini-Grants, and Service Learning community projects shared their research and scholarship with their peers.
Friday, May 4
Maine LEND Trainee Presentations
10:30 a.m.–12 p.m.
Parker Pavillion, (Portland Campus)
Tuesday, May 22
Discussion on the Future Direction of Interprofessional Practice: With International IPE Leader George Thibault, M.D. 
9 a.m.–1:30 p.m.
Alumni Hall (PC)
George E. Thibault, M.D., president of the Josiah Macy Jr. Foundation, will visit UNE to discuss interprofessional practice and its role in health care transformation. On-campus and clinical faculty, students, and community/ clinical partners are all invited to talk with Dr. Thibault about their work around clinical interprofessional education and practice.