This research program started with a simple question: "Is the squirrel that I see everyday outside my window the same squirrel?" This question has grown into an ecological research program conducted by students on the campus of the University of New England in Biddeford, Maine. Using mark-recapture techniques and radio telemetry, we explore movement patterns and survival of the Eastern Gray Squirrel on campus and in the surrounding community.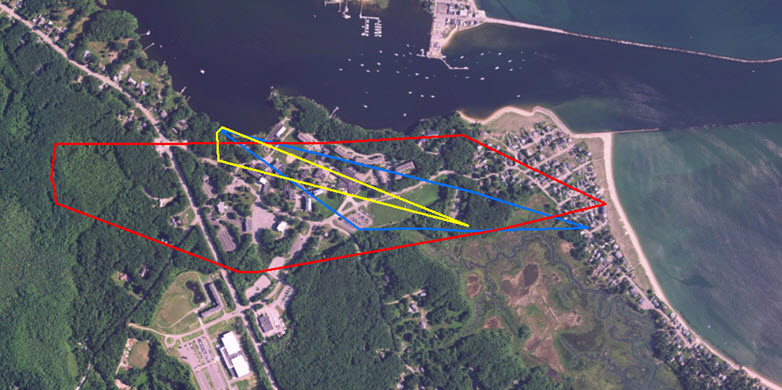 We have found that home range size varies significantly. The map below shows home ranges covering 2.1 acres (yellow: tracked 7/6/12 to 3/5/13), 6.1 acres (blue: tracked 8/21/12 to 6/24/13) and 24.1 acres (red: tracked 3/4/13 to 9/6/13). GIS analysis and map by Ryan Roseen, Environmental Science major, GIS minor, class 2017.
Squirrel Crew
The Spring 2017 Squirrelologists were: April Ater, Nicole Belknap, Hannah Buckley, Jordyn Cote, Chris Harlow, Sean Larner, Kyle Leblanc, Emily Murad, Erin Nakamura, Matthew Organ, Katherine Peterson, Ryan Roseen, Barrett Saint-Amour, and Carolyn Wawryznowski.
The Fall 2016 Squirrelologists were Jordyn Cote, Kylie Denny, Galen Dubois, Cody Duckworth, Nicole Greaney, Sean Larner, Jeremy Lessard, Erin Nakamura, Caleb Pulliam, and Carolyn Wawryznowski (pictured below).
The Spring 2015 Squirrelologists were: Alec Batcheller, Jonathan Brown, Kate Burgess, Andrew Diorio, Sarah Fleischmann, Shannon Gillen, Rocket Hart, Aurie Ingraham-adie, Scott Knox, Jeremy Lessard, Brian Miglorino, Shane Murphy, Zach Delorenzo, Shawn Nguyen, Sam Peterson and Dylan Price (pictured below).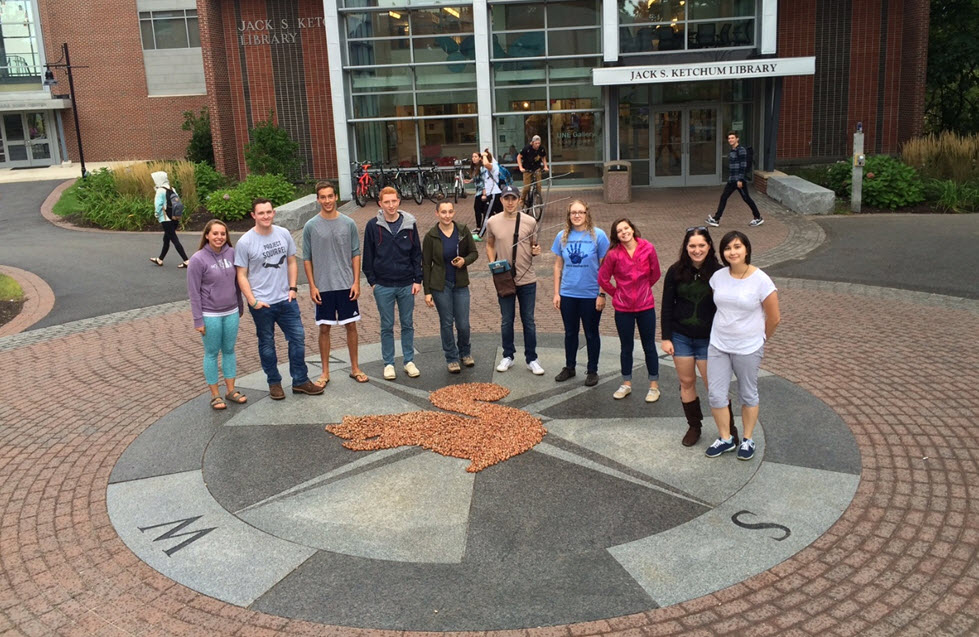 Members of Spring 2014 squirrel crew included: Alec Batcheller, Sarah Croston, Zach Delorenzo, Jacob Farrell, Ryan Fawcett, Sarah Fleischmann, Shannon Gillen, Rocket J. Hart, Chito Hernandez, Erika Iacona, Mathew Miller, Shane Murphy, Shawn Nguyen and Samuel Peterson.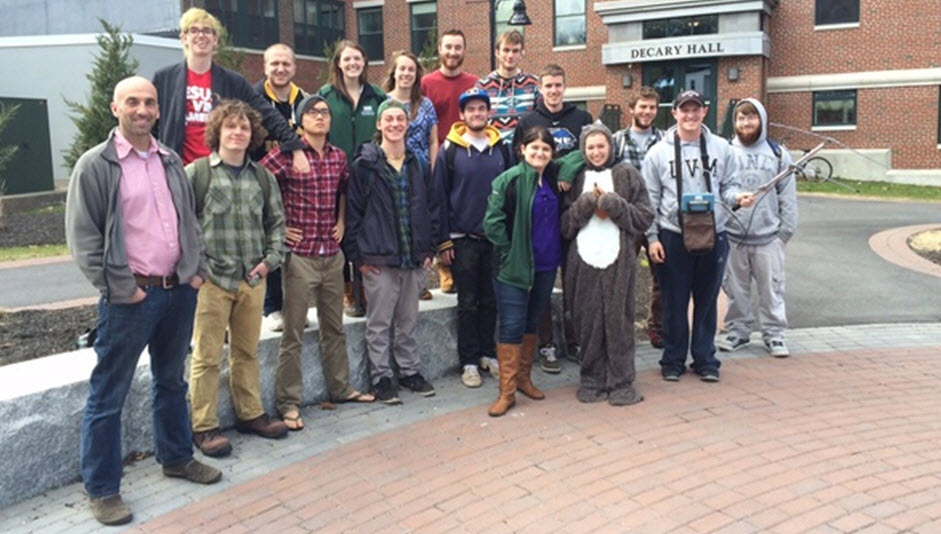 Members of the Fall 2011 squirrel crew included: Danielle Behn, Cody Chretien, Nick Cornetta, Chris Dracoules, Christopher Ferrante, Cory French, Brian Sargent and Scott Stevens.
Members of the 2010/2011 squirrel crew included: Chloe Crettian, Cody Chretien, Cory French, Emily Baisden, John Franceschina, Lindsay Kelly, Will Almeida, Brian Sargent, Chris Dracoules, Danielle Behn and Reilly Sullivan.
Members of the Spring 2010 squirrel crew included: John Franceschina, Cody Chretien and Steve Lutterman.