What is Planetary Health?
Planetary Health is an emerging trans-disciplinary field, encompassing the vast interconnections between human health and the natural/physical sciences, and broadly integrating the related fields of Public Health, GeoHealth, One Health, Global Health, etc.
"Put simply, Planetary Health is the health of human civilization and the state of the natural systems on which it depends." — Lancet Commission on Planetary Health, 2015 Report
A summative infographic was developed by The Lancet with funding from the Rockefeller Foundation.
"If you're not outside your disciplinary comfort zone, you're not being brave enough..." Watch Dr. Howard Frumkin of the University of Washington School of Public Health discuss the importance of planetary health.
---
Planetary Health Council Past Events
Sea Change: Maine's Warming Waters
In November, 2019, UNE's Planetary Health Council hosted a campus presentation on climate change and its potential impacts on sea life, fisheries, and marine law in the Gulf of Maine. Featured speakers included acclaimed underwater photographer, Keith Ellenbogen, and Susan E. Farady, J.D., UNE assistant professor of marine affairs. 50+ UNE students, professional staff, faculty, and local community members attended the event to see Ellenbogen's photography and learn about Farady's fisheries research.
Climate Change and Tick Expansion
UNE's Planetary Health Council hosted inaugural speaker, Charles B. Lubelczyk, M.P.H., vector ecologist with Maine Medical Center Research Institute's Vector-Borne Disease Lab and 2013 alum of the UNE Master of Public Health Program. In April, 2019, 70+ UNE students, faculty, professional staff, and community members attended Lublczyk's presentation about links between climate change and tick expansion, and ways to avoid Lyme and other tick-borne diseases.
---
Planetary Health Alliance
The Planetary Health Alliance (PHA) is a consortium of more than 70 universities, NGOs, and other partners with a shared mission — supporting the growth of a rigorous, policy-focused, transdisciplinary field of applied research aimed at understanding and addressing the human health implications of accelerating anthropogenic change in Earth's natural systems.
The PHA focuses its efforts on three areas: (1) Education: "to equip the next generation of planetary health scholars to address critical questions in this emerging field," (2) Research: to provide training and resources "for building a cadre of young investigators with the capacity and motivation to break new ground in this field," and (3) Policy: to "work with stakeholders to develop science policy approaches to inform decision-making, policy, and practice."
UNE and PHA
Why is UNE getting involved?
To promote interdisciplinary approach to health of people and the planet. Will involve many programs across all the colleges at UNE.
PHA's mission aligns with the global and innovative mission of UNE.
To provide opportunities for students to apply classroom work to real-life application and sharing with other institutions.
How is UNE engaging with PHA?
UNE joined as an institutional member of the Planetary Health Alliance in April 2017. Interested faculty and staff from UNE have formed a University Planetary Health Steering Committee to explore how UNE can contribute to the field of Planetary Health and how Planetary Health concepts can be more fully integrated into our curriculum and student learning experience.
The PHA is developing a robust online repository of open-access resources for educators, including sample syllabi, learning objectives, key publications, and other classroom materials. UNE faculty are encouraged to contribute to and access these resources at the PHA website; follow the survey instructions at the bottom of the Education page, after reading the "Licensing and Fair Use Agreement."
To follow the journey and stay apprised of UNE activities with the Planetary Health Alliance, please follow and like our Facebook page. Events and collaborations will be updated regularly.
Who are the Alliance members?
UNE is in great company — alliance members include academic institutions, governmental bodies, non-profit organizations, and research institutes.
---
Resources
Howard Fumkin, Professor of Environmental and Occupational Health Sciences at the University of Washington School of Public Health, gave an address at the inaugural meeting of the Planetary Health Alliance April 28-30, 2017. His presentation provides a clear justification for the importance of addressing planetary health now.
While the Planetary Health Alliance has a wealth of resources to share with members, a small collection of resources is provided below to underscore the importance of this interdisciplinary work. To share your own developed resources, please visit the Planetary Health Education page. At the bottom of the page is the "Licensing and Fair Use Agreement" with a link to a survey that will walk you through uploading documents to share.
---
Steering Committee
Purpose
Identify and communicate opportunities for UNE community members to engage with the Planetary Health Alliance.
Share stories of UNE and Planetary Health Alliance collaboration.
COMMITTEE MEMBERS
Pam Morgan (Environmental Studies)
Jen Gunderman-King (Public Health)
Charles Tilburg (CAS Associate Dean and Marine Science)
Hywda Arafat (College of Osteopathic Medicine)
Collyn Baeder (Health, Wellness and Occupational Studies)
Zach Miller Hope (Aquaculture/Biology)
Alethea Cariddi (Sustainability)
Holly Parker (Office of Strategic Initiatives)
Bethany Woordworth (Environmental Studies)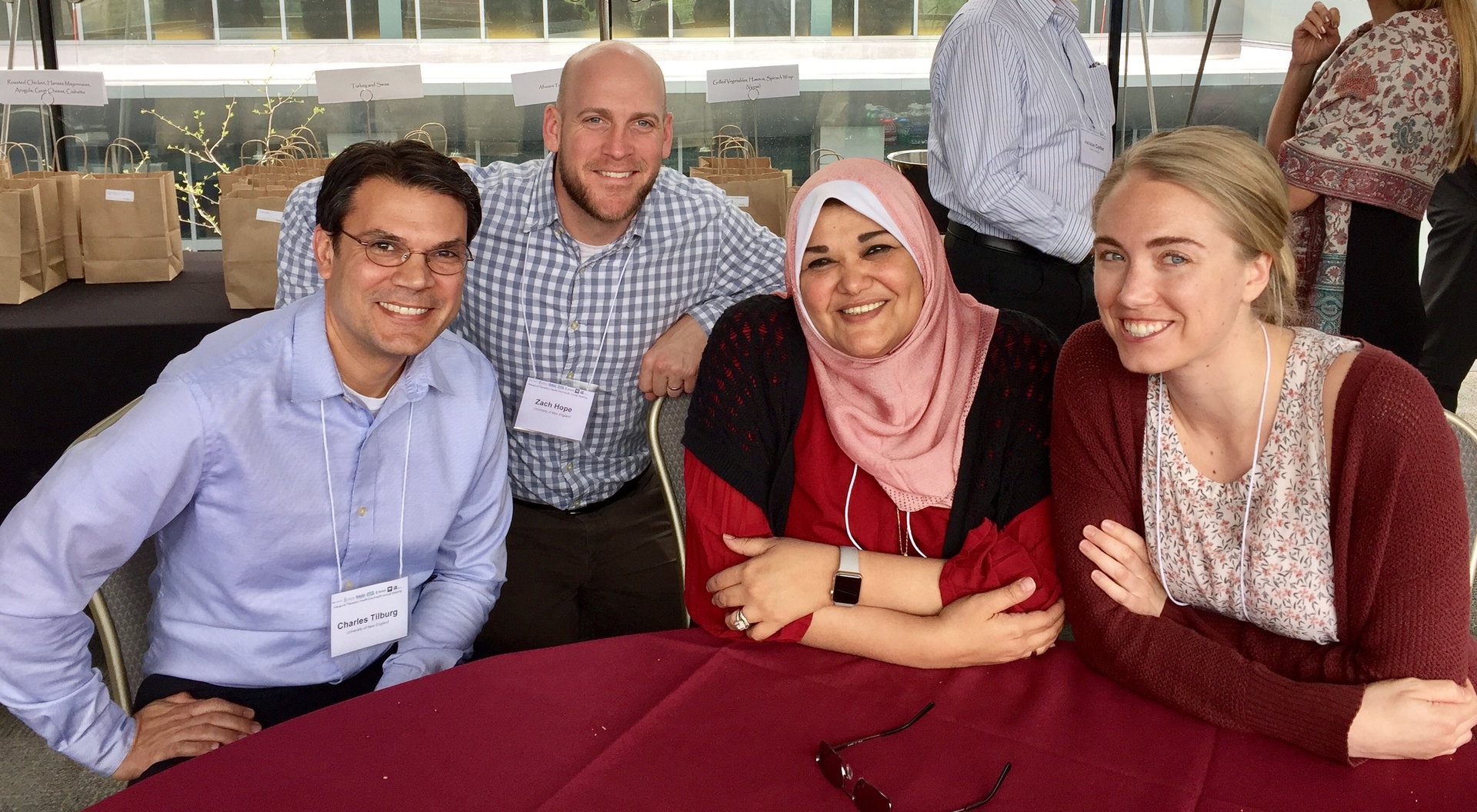 Please direct any questions, concerns, or ideas to the Steering Committee coordinators Jennifer Gunderman at jgundermanking@une.edu or Zachary Miller Hope at zhope@une.edu.