School Overview
The UNE School of Social Work is a unique, inclusive, student-centered, on-campus social work program in Southern Maine. We offer a values-based curriculum rooted in face-to-face experiences, and multiple, flexible pathways to ensure that our degrees are attainable for all who aspire to make the world a better place.
---
Greetings from the Director
Welcome to University of New England School of Social Work. Our campus-based Master of Social Work and Bachelor of Social Work programs provide you with challenging, empowering, life-changing experiences, and set you on a lifelong path of meaningful employment.
We're excited that you are interested in learning with our accomplished faculty, community partners, and the other students and faculty from the Westbrook College of Health Professions — all of whom help us realize our uniquely experiential, student-centered, interprofessional approach to social work education.
As a school, we are passionately committed to the values of community building and social justice for all human beings; to the depth and rigor of in-person, face-to-face, campus-based education; and to being flexible and responsive to individual student needs.
We know that many of our students lead busy and complicated lives — often with jobs, children and other outside commitments. You can complete our program in as little as one year on an accelerated track, two years as a traditional full-time student, or at your own pace as a part-time student. Our aim is to ensure that our programs are practical options for all those who share our values and aspire to the calling of social work.
To give you a better idea of how our program might work for you, our Programs page lists the current M.S.W. options, completion timelines, and formats. Have a look.
I also want to extend an open invitation for you to come visit us on our Portland, Maine campus, sit in on a class, connect with students and alumni, or talk with me directly to learn more about the UNE M.S.W. experience.
Get in touch! I look forward to beginning this conversation with you.
Shelley Cohen Konrad Ph.D., L.C.S.W., F.N.A.P., Director
scohenkonrad@une.edu
---
Degree Programs
---
Accreditation
UNE's Master of Social Work programs are accredited by the Council on Social Work Education's (CSWE) Commission on Accreditation. CSWE is recognized by the Council for Higher Education Accreditation as the sole accrediting agency for social work education in the United States. With curriculum aligned to CSWE standards, the Capella MSW prepares students for state licensure eligibility.
---
Student Testimonials
---
---
Beautiful locations
As a student in our School of Social Work undergraduate program, you study on UNE's scenic Biddeford Campus, where the waters of the Saco River flow into the Atlantic Ocean. Recently named the youngest city in Maine, Biddeford and its twin city, Saco, boast an up-and-coming, hip downtown offering delicious eateries, exciting social and cultural events, and more. With the transformation of the old Biddeford/Saco mills into restaurants, breweries, housing, fitness facilities, salons, and retailers, there is something for everyone to explore in downtown. Looking to try a new type of food, grab a coffee, or shop for locally-made clothes? Biddeford/Saco has it all.
While earning your Master of Social Work, you study on our historic Portland Campus. Located in a quiet neighborhood that is a 10-minute drive from downtown Portland, campus is close to major clinical sites, shopping, nightlife, cultural events, restaurants, the beaches, the harbor, walking and biking trails and much more. Named "America's Most Livable City" by Forbes and "Foodiest Small Town in America" by Bon Appetit, Portland is the city on every list. A rustic port hosts a cool cultural scene — with outdoor adventure all around.
Biddeford Campus
Portland Campus
---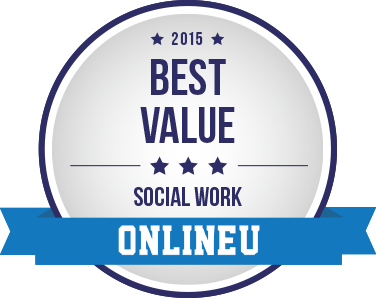 UNE's online Master of Social Work program has been named one of the top five online programs in the country by Best MSW Programs.