​

Welcome from UNE's Director of Social Work

Happy New Year! The beginning of the academic year reminds me of renewal and promise. Promise of enriching conversations, motivation and the all-important, continual struggle to help people. Helping people. That is at the core of social work practice. We are in challenging times and there is no greater need for educated and motivated social workers than now.

The School of Social Work community is pleased to welcome incoming and returning students ready to engage in fantastic, interactive, and inspiring learning. You have thoughtfully chosen a field dedicated to service; one that requires insight, determination, and passion. Social work is also a challenging profession, but we are never deterred from our historical mission — to make the world a better place for all people. As I reflect on the beginning of the new school year, I am inspired by a quote from Nelson Mandela's book, Long Walk to Freedom:

"No one is born hating another person because of the color of his skin or his background or his religion...People must learn to hate, and if they can learn to hate, they can be taught to love...For love comes more naturally to the human heart than its opposite."

This quote has been repeated by leaders around the world. Some in the context of race, others in the context of hate. In fact, a similar version of this quote is included in Rodgers and Hammerstein South Pacific musical.

Whether aiming for careers in clinical, community, or integrated practice, by the time you exit the program, you will be fully involved in activism, advocacy, and social empowerment and social inclusion with individuals, families, groups, and communities. And there is no more urgent time than now to promote social agency. The power of hate was startlingly evident in the tragedies that took place in Charlottesville and Barcelona. From Ferguson to Baton Rouge to Paris; from targeting Black youth and LGBTQ groups to taking aim at police officers, the collective losses have mounted. How indeed do we change the narratives and actions of hate?

As members of the UNE Social Work community, I ask that you take our vision statement to heart and into action:

The University of New England School of Social Work envisions a world where social workers are at the forefront of advocating with individuals and communities for human dignity and social inclusion by mobilizing efforts to end inequities, exploitation, and violence.

Here are some suggestions:
Question hate that is expressed in any form; don't let a learning moment slip away
Practice listening with openness and willingness to understand the views of others, whether they are the same or different from your own
Be curious and practice respectful inquiry
Embrace diversity in all its beauty and complexity
Consciously invite all views in the classroom, including those of your "quiet" classmates
Focus on learning for knowledge, not for grades
Be part of creating a safe space for learning
Always be kind
Seek out immediate support from faculty, staff, or administration if you have observed or personally experienced disrespect or otherwise upsetting actions
Earning an MSW is a remarkably rich experience. But you should also expect that it will be trying at times, complex, messy and challenging. The faculty is ready to make sure that frustration and reward will balance out and lead to greater learning. I assure you it's all worth it, but just in case I'm here to remind you that we are here for you every day. Let's build relationship and begin the conversation,
Best wishes for a great year,
Shelley Cohen Konrad
---
In this Issue
---
A letter from Caleb Demers, president of the SSW Student Organization
Welcome to the UNE School of Social Work. I'm Caleb Demers, current MSW student and president of the School of Social Work Student Organization (SSW-SO). Our mission is to empower MSW students through collaboration, education and personal and professional development. As students in the UNE SSW, I encourage you to be a part of our community not merely as students but as a members of the SSW-SO.
Many SSW-SO happenings that occurred last year were not directly created by the officers but by students with an idea that became reality with the help of the SSW-SO. SSW-SO is our Social Work governing body that represents the student voices. As a member of SSW-SO you actively participate in bringing student ideas to the forefront of the program. 
Last year, we were able to create and sponsor many events for community members, students and faculty. We held events promoting self-care and events bringing the University and community individuals and organizations together. Furthermore, we provided professional development opportunities for students and as social workers and citizens of the United States we created space for discourse on social inclusion and community action.
The identity of this group continues to emerge and adapt to the needs and requests of MSW students. This year we hope to create more opportunities for perspective students, develop our interprofessional collaboration with other groups and schools and continue to be agents for change and agents for action.
This past year was very successful and the SSW-SO will only continue to get better with all of you. All MSW students are welcome to come to our meetings, talk with officers and especially email me directly. I look forward to all this year has to offer and am eager to hear your concerns, ideas and stories.
Warm regards,
Caleb Z Demers
President SSWS
University of New England | Class of 2018
Master in Social Work
cdemers3@une.edu | (207) 752-0039
UNE produced Three great videos highlighting Students & their Field placements!
UNE alumna Katherine Collins, LMSW, and Laura Kroll, M.S.W. '17, discuss their experience as social workers working at Maine Medical Center (MMC) NICU. Hear about Laura's filed placement at MMC NICU and how she provides advocacy for children and families. Learn how UNE's programs have give her the insight to know where she wants to be after graduation. 
UNE student Katy Finch (Social Work '18), discusses her field placement as a social worker at Preble Street. Hear about Katy's field placement at Preble Street and how it has changed her perspective on homelessness.
UNE student Deqa Dhelac (Social Work '17), discusses her experience working as a social worker at Lyman Moore Middle School. Hear about Deqa's field placement at Lyman Moore and how she provides individualized attention to students. 
Bana Mboka in Portland: How Three Congolese artists sustain a movement
Phoenix Article by UNE Professor Thomas McLaughlin and Professional Staff Megan Webster 
David Mayestro recounts in striking detail the moment he first stood on the Maine coast. He was at the SMCC campus to inquire about English courses and decided to take a stroll along the campus boardwalk. "I saw a film unravel in my mind right there," he says, describing a scene of Congolese sapeurs strutting along the sandy beach, their vibrant dress a splash of color against the muted blue and evergreen backdrop.
Aging in Place: UNE students develop program to educate older adults
Students from the University of New England Occupational Therapy Department and School of Social Work developed a program to educate older adults about aging in place.
Nothing is More Empowering than When others see the goodness in us - BDN article by Robin Barstow
It feels good to see goodness in another person. And it feels good when the goodness in us is seen. Acknowledging this gives strength to the goodness...
UNE faculty champions interprofessional collaboration - from campus to community
This summer, faculty from nursing, social work, occupational therapy, and physical therapy collaborated on a three-part event series for 150 of their students called "Parallel Processes in IPE: from Campus to Community". These sessions were designed to provide student teams with the opportunity to learn about the core values of IPE from a team of practicing clinicians.
pioneers in social work and the arts: international social work experts applaud UNE program
Director of the University of New England School of Social Work Shelley Cohen Konrad was an invited scholar at the first international Social Work & the Arts Roundtable, held at the IslandWood Inn on Bainbridge Island, Washington.
FINDING A COMMON TONGUE: HOW IMMIGRANT WOMEN'S ORGANIZATION IN HER PRESENCE DOES THE GOOD WORK
Meg Webster of the University of New England School of Social Work wrote a story for the Portland Phoenix titled, "Finding a common tongue — how immigrant women's organization In Her Presence does the good work."
The story highlights a local Portland, Maine organization that was founded by immigrant women, for immigrant women to foster a sense of community and support empowerment. Webster interviewed the organization's founders, a volunteer who teaches English and a family who moved to Portland after escaping the violence in Iraq.
"An immigrant woman's life can be compared to that of a newborn," said In Her Presence co-founder Micky Bondo. "When she moves to a new place, she has to start everything over. She must find an identity and restructure herself. It can feel like swimming without direction, often isolated from society. Knowing that a woman is often the pilot of the family, we wanted to create a platform where they can recreate a new sense of life, confidence and leadership — for all generations."
Ending Substance Abuse before it begins - the program at UNE that could save lives
Future health care professionals across the board are learning to spot and end the signs of drug and alcohol abuse through SBIRT
In Maine, 376 people died from a drug overdose last year, according to the CDC. It's a number you may have heard before. It's a number students and staff at the University of New England are trying to change. The SBIRT program has the potential to save lives by ending substance abuse before it begins.
WATCH THE NEWS FEATURE ON WMTW
---
What's New in UNE's School of Social Work
our mission: an inspired statement from our incoming advanced standing students
The SSW is always thrilled to welcome new students to the program! Prior to orientation, all incoming advanced standing students enroll in an intensive two week course, SSW 526 Integrated Micro/Macro Practice Frameworks. This class is designed to introduce social work scholarship, values, and skills imbedded in the UNE School of Social Work Vision and Mission, as well as reacquaint students with concepts learned in their BSW education. One of the class activities this year's advanced standing students participated in was creating their own mission statement. Working collaboratively, and in the process becoming a cohesive team, they created the following mission statement:
We the MSW Advanced Standing students of UNE are working towards expanding our social work knowledge through the guidance and support of our peers and faculty toward self-discovery, service, and promoting social inclusion with the understanding that intersecitonality influences a person's place in the world. 
Well done advanced standing students, we look forward to seeing these leadership skills develop over the next year!
University of New England launches Bachelor of Social Work program
The University of New England School of Social Work, housed in the Westbrook College of Health Professions, has launched a new undergraduate degree, a Bachelor of Social Work (BSW). Through this program, undergraduate students benefit from UNE's 25 years of innovative graduate-level social work education. BSW students have the opportunity to seamlessly move into the MSW program with the ability to complete their graduate degree in one year.
The BSW program prepares students for a wide range of career options in a social service, health, mental health and community-based settings. They will graduate with the knowledge and skills needed to put their passion for helping others in motion.
In the fall of 2016, the first students to enroll in the program began their studies at UNE. In the spring of 2018, they will take their first social work course, which will be available to all UNE undergraduates. As the program develops, the School of Social Work will collaborate with other undergraduate programs in the Westbrook College of Health Professions and the College of Arts and Sciences. They have already forged a partnership and received a grant to develop simulation experiences with the Education and Health, Wellness and Occupational Studies undergraduate program. These types of experiences are a priority and clinical simulation, interprofessional education and service learning opportunities for BSW students serve as cornerstones of the program.
"We designed this program to prepare undergraduates for work in the community as well as graduate school," said Director of the School of Social Work Shelley Cohen Konrad, Ph.D., LCSW, FNAP. "With the help of our passionate and experienced faculty, undergraduate Social Work students will build a foundation that will support them in their future studies and careers."
Why UNE? Insights from New students about what sets our program apart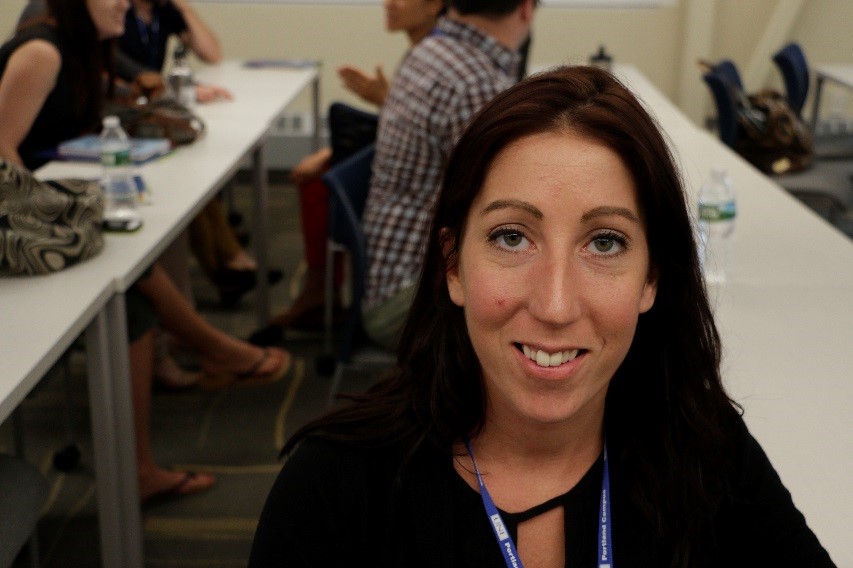 "I had done a good bit of investigating, but ultimately how I made my decision was word of mouth, taking everybody's opinions into consideration. Obviously it's more expensive than other places, but I've had friends and colleagues who are UNE alumni who just had great things to say about the program, about the faculty and the support here, also about the connections you have when you leave here in comparison to other programs — the overall experience and the connections you have when you leave here. So many alumni that I know are still very connected with the faculty, the campus and the program." —​ Jamie OJala
"What drew me to UNE over other opportunities was that the level of support and ability demonstrated by the faculty and staff – far surpasses any other program that I looked at in the country. In addition to just the wide array of professional opportunities for growth and development that not only could occur while you were here, but after you graduated and you became an alumni. The trauma informed certificate and the interprofessional collaborative also really drove me to come here and I feel like given the current climate for mental health, as I'm trying to become a clinician in Maine, having every advantage I possibly can as funding is eliminated and jobs are eliminated, will really help me secure employment in a real way. Um you know forecasting that out was my biggest decision to come to UNE to make myself as marketable as possible I decided it was the wisest choice because I was going to get the most for my money, have a supportive environment and just get a great education to be the best therapist I can be!" — Renee Scott
 ​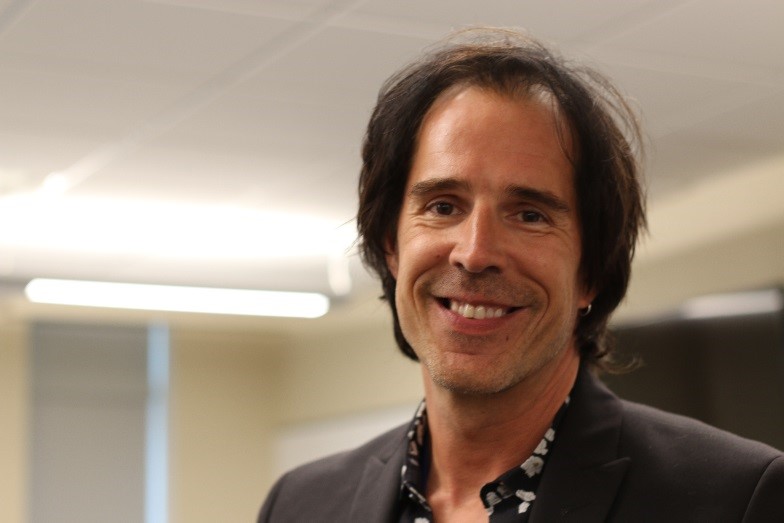 "I looked at a number of schools from in state to out of state...Considering what I was going to get with my education here, I saw more bang for my buck. Graduates of the program that I had spoken with all had positive things to say about UNE. They especially had positive things to say about staff here too. The way one person put it to me, they said, 'no matter where you are in the program, the staff is going to drag you to the finish line!'" — Glenn Simpson
"From the second I started to apply to UNE if there was information I needed to pass in, there were people calling me, they were all so helpful...and my advisors were there to help me. I didn't get that other places. Even though I applied other places, the second I started to talk to people at UNE, I knew that I wanted to come here and it was worth the extra money. [Another] reason I chose UNE is because of the Applied Arts and Social Justice certificate – I'm really interested in Art Therapy, and want to use art in my practice. Also, the social workers I've been working around in the past few years seem very well educated and prepared and they all came from UNE's program." ​– Cassidy Cleaves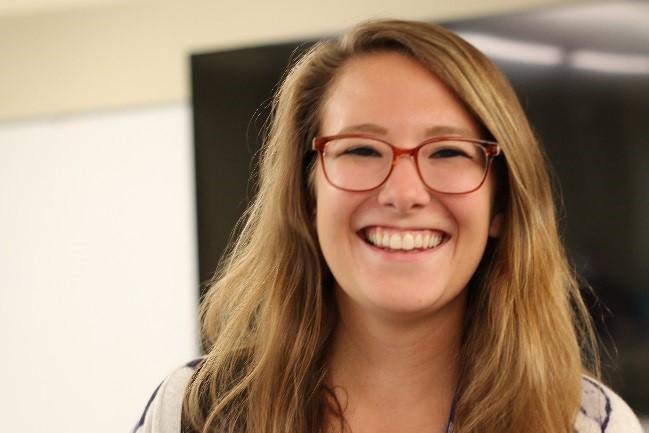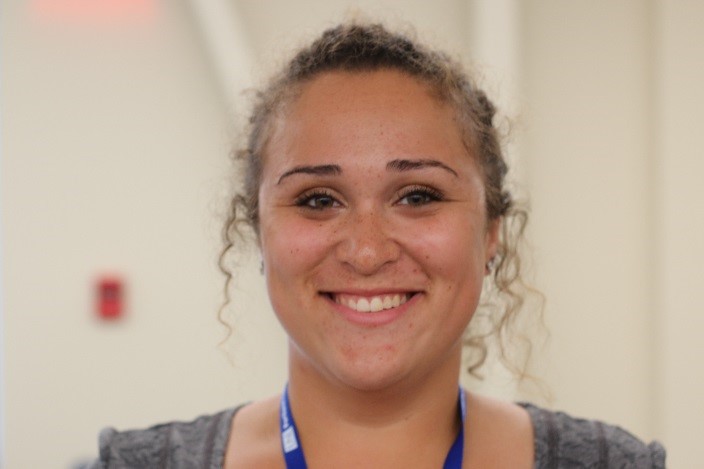 "One of the main reasons I chose to come to UNE was that my father came here. He's a very good and practiced social worker and I knew I would get the best education if I came here. I also love Maine. Maine is my home. I love the idea of being able to get a great education locally." ​– Eva Light
"The more I looked into the program, it sounded like a great program. I also really enjoy that [UNE] has hybrid courses. I live 1 hour 20 minutes away and have to commute – so that was really helpful to me!"​ – Amanda Basso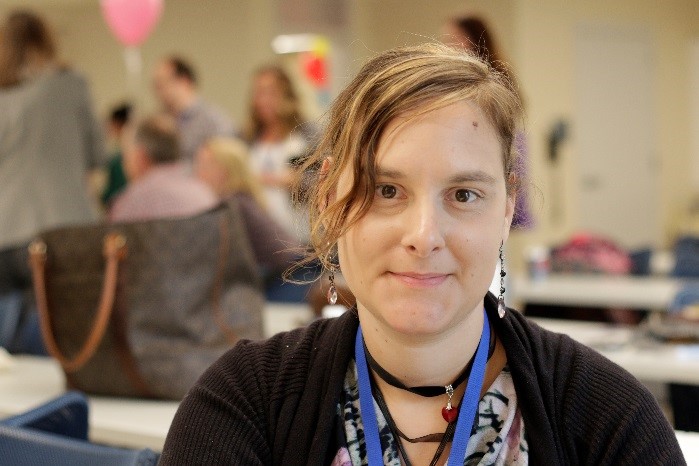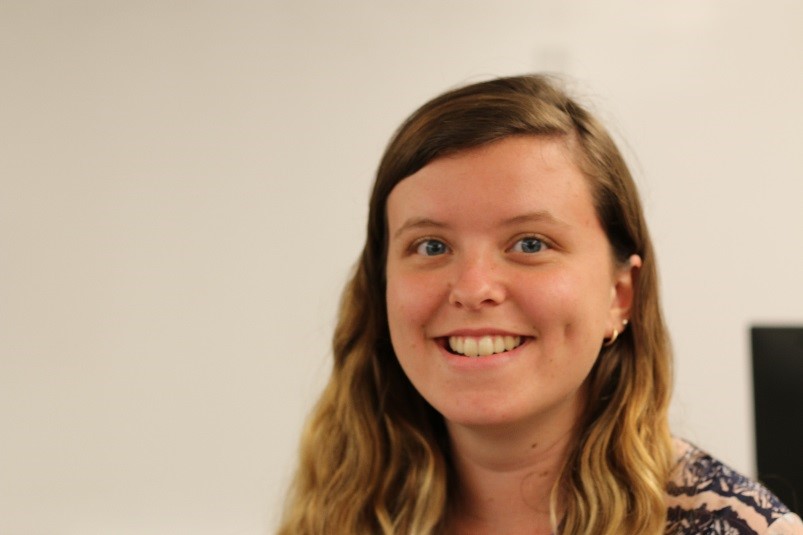 "I chose UNE because of all the internship options and placement opportunities. I'm from Vermont and there was not a lot over there. Looking here, there are a lot more diverse populations you can work with, so I could get more experience." ​– Amanda Follansbee 
"At first I chose UNE because I live only minutes from Biddeford campus which is really funny actually because none of my courses are at the Biddeford campus! But going through the application process, everyone was just so accommodating! Valerie helped me with my internship a lot and I just got going through the process I was like wow, they're really showing interest...Once UNE accepted me I was like, I'm going here!...And certainly field placements. I want to work in Southern Maine eventually, and I've just heard a lot about UNE's reputation. They have a great reputation." — Ryan Contois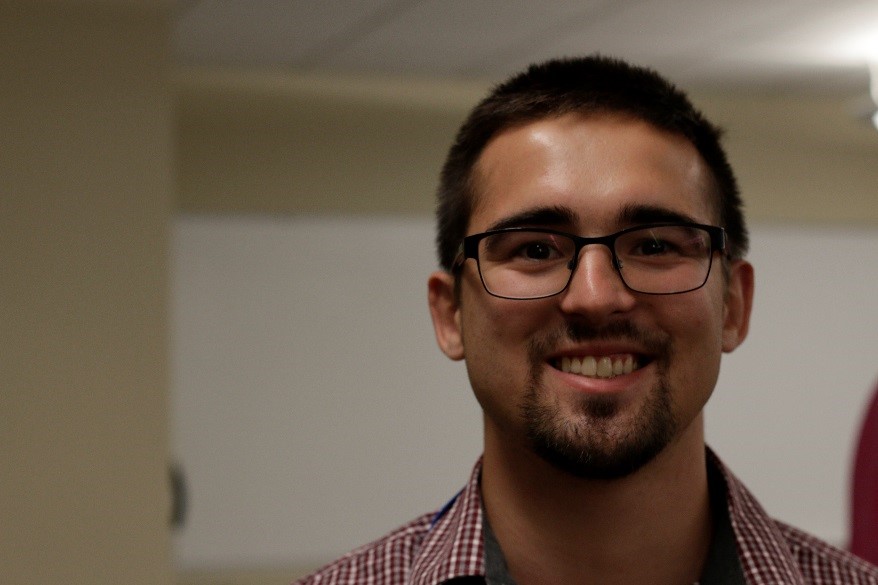 New Grant: Training in Aging & Diversity (TRIAD)
The UNE School of Social Work has been awarded its third HRSA Behavioral Health Workforce Education and Training grant, which provides advanced year students with stipends to work with Maine's underserved aging population. Training in Aging Diversity or TRIAD, a four-year grant, is creatively designed to bring classroom and clinical education to Maine's rural communities. According to PI Shelley Cohen Konrad, "We want students in training to be immersed in rural areas so that they fall in love with rural practice." Goals of TRIAD include advancing knowledge of the needs and desires of today's older adults and improving workforce understanding of what constitutes best practice behavioral health services for this population. Specific innovations include: 1. Student placements and residencies in rural Maine; 2. Core curriculum in aging and neuroscience in collaboration with UNE's Center for Excellence in Neuroscience; 3. Establishment of a TRIAD certificate program; 4. Collaboration with UNE's SBIRT grant to advance knowledge of aging and substance use disorders; and 5. TRIAD Simulation Summits in conjunction with UNE's Interprofessional Simulation and Innovation Center that bring together educators and practitioners from across professions to share knowledge in aging diversity. The TRIAD project officially begins on September 30, 2017 and is funded at $448,069 per year.
UNE'S SCHOOL OF SOCIAL WORK LEADS THE WAY IN THEIR INITIATIVE TO DESIGN AND PILOT A COURSE ON CULTURALLY-INFORMED PRACTICE IN COLLABORATION WITH MAINE IMMIGRANT LEADERS AND HEALTH CARE PROVIDERs. 
In May of 2017 UNE's School of Social Work was awarded WCHP mini-grant to design and pilot a new course for the School of Social Work focused on culturally-informed competencies in the health field. The mini-grant builds on prior findings generated by the 2012–2015 CHANNELS Project, a HRSA-funded NEPQR grant, led by Dr. Jennifer Morton, chair of UNE's Nursing Program. The CHANNELS Project developed an integrated and sustainable continuum of culturally-informed, competency-based instruction for health professions students, one that utilized community health workers from Maine's immigrant and refugee communities as educators and instructional designers for the curriculum. The mini-grant will extend this work through engagement with leaders of Maine's multicultural community with the following goals:
Establish a core team of Maine immigrant leaders and UNE social work faculty to design and pilot a course on culturally-informed practice
Evaluate the efficacy of the course in advancing students' knowledge, skills, and attitudes in: Global Knowledge; Critical Thinking; Intercultural Knowledge and Competence
Assess the experience of course designers in engagement on the curricular team and as informants to university curriculum
Follow this blog for more information and to stay abreast of course development
UNE SSW welcomes new members to its Community Advisory Group. Our Advisory Group has representatives from the following organizations:
Caring Unlimited
DHHS
Eastport Health Care
Equality Maine
In Her Presence
Kennebec Behavioral Health
Maine Indigent Defense Center
MeCASA
Mercy Hospital
Maine Medical Center
Spurwink
Sweetser 
UNE SCHOOL OF SOCIAL WORK IS NOW ON TWITTER!
Please follow us and stay updated! @UNE_Social_Work
---
une msw honor society: sigma lambda
Interested in Joining the UNE MSW Honor Society Sigma Lambda? We would love to have you as part of our organization. In order to join you need to be a current student, have a 3.5 GPA, have completed one term of classes, and you must send an email from your UNE account to Vika Johnson and send your transcripts to Jasmin Roden. There is a $30 fee that covers the cost of the certificate and pin and must be paid by cashier's check or money order only. Once the email, transcripts and money are received, members are added to the UNE MSW Honor Society Facebook page quarterly. Please feel free to post any questions on this page and we will address them.
Honor Society officers are:
We submit for new members quarterly: January, April, August, and November.
student organization meetings!
Hello fellow students, 
Your Social Work Student Organization (SWO) officers are excited for all that will unfold this year on campus and in the community. We want all SW students to come to our meetings and bring your ideas for events, resources to share with colleagues and thoughts on how to best incorporate advocacy, awareness and inclusion on our campus, in our community and in our world. As an organization we want to build a network for the students as they move through this journey. Come and join us for our biweekly meetings:
Next meeting dates: September 27 & October 11 (taking place in Alumni Hall 107 from 4:30-5:30 p.m. )
SOCIAL JUSTICE ARTWORK NEEDED!
Do you know of an artist or group whose art has a social justice theme? The art can address such themes as poverty, addiction, environment, gun violence, food security and many others! We need new art for the Hersey fourth floor hallway, and perhaps even the hallway near Parker Pavilion! If you, or an artist or group you know, would like to hang their art for a period of two or three months, please contact Lori Power, (207) 221-4493. Many thanks!
CALL TO ALUMNI: STUDENTS NEED YOUR HELP! 
If you have graduated from UNE with your MSW two or more years ago, and are interested in a volunteer opportunity that will enhance your skills as a professional social worker, we need you! Our program is full of amazing students who need field instructors for their foundation and advanced field placements. As an alum, you understand the importance of field education and the expectations of students in our MSW program. Our field instructors have flexibility in how field instruction is delivered. You may meet with your student by phone, video conference, or face-to-face. If you'd like to provide field instruction to one or more students, please contact Director of Field Education Kelli Fox. Thank you!
---
Upcoming Events
UNE SSW FRIEND RAISER IN PRESQUE ISLE, MAINE
UNE's School of Social Work Alumni Association invites alumni, friends, colleagues, and clinicians in northern Maine to a reception on Thursday, October 26, from 5-7 p.m. Join program director Shelley Cohen Konrad at Café Sopreso, owned by Judith E. Litz-Boudman MSW, UNE associate lecturer. Enjoy food, drink, and time to socialize with colleagues in the field. Connect with UNE and hear about exciting progress in current programming. 
 Tracing favorites: a portrait of Portland — An event by student Nina Williams
Dear Classmates,
I'm excited to invite you all to an interactive art exhibit in Congress Square Park that I'm co-hosting. It's called Tracing Favorites: A Portrait of Portland, and it's taking place on Wednesday, September 27, from 3–6 p.m.
This is a chance to meet your neighbors, share in storytelling, and express yourself! During the event you will be invited to tell a story of one of your favorite people, experiences, belongings — your favorite anything — and have your portrait drawn while you do. Or, create a portrait of a story teller by tracing their face while they joyfully share.
I'm also looking for volunteers to help during the event. 
Do you know of anyone who might enjoy being a part of a community art interaction? We need help collecting and hanging the completed portraits on September 27 from 2–6 p.m., as well as help with setting up the physical space from 12–1 p.m.
Please have any interested parties contact me at nwilliams8@une.edu or (908) 370-3458.
For more details, check out the Congress Square Park website, or the Facebook event page. 
Thank you so much for helping spread the word! 
Warmly, Nina
upcoming CECE events
The events developed by the Center for Excellence in Collaborative Education are geared toward students but are free and open to the public. For more IPEC events than are listed here, please check the CECE Events webpage.
Wednesday, September 14
Art Opening: Pain Chronicles
4 p.m.
Ludcke Auditorium, Portland Campus | Decary Café Chretien Function Room 1, Biddeford Campus 
Attendance at this event qualifies for the IP Honors HD/CUP A light meal is served on the Portland campus.
Wednesday, September 20
IPE Shared Learning: SBIRT Addiction Panel
12–1:30 p.m.
Ludcke Auditorium, Portland Campus | Decary Café Chretien Function Room 1, Biddeford Campus
Panelists from the substance use disorder (SUD) community speak about their interactions with healthcare. Panel includes those who are in recovery, as well as local representatives from the Portland Police, Needle Exchange and Portland Public Health.
​Wednesday, October 4
IPEC Anchor Event: Team-Based Cancer Care
12–1:30 p.m.
Ludcke Auditorium, Portland Campus | Decary Café Chretien Function Room 1, Biddeford Campus.
Student teams will participate in a case study session surrounding breast cancer survivorship, and leave being able to demonstrate assessment, critical reasoning, and clinical decision making.
​Wednesday October 18
IPEC Anchor Event: Aging Diversity Part 1: the behavioral needs of older adults
12–1:30 p.m.
Ludcke Auditorium, Portland Campus | Decary Cafe Chretien Function Room 1, Biddeford Campus
Older adults are veterans, members of the LGBT and refugee communities, and are often financially insecure. This expert panel of community elders, aging experts, and teachers will focus on the behavioral health needs of all older adults.
​Wednesday, October 25
IPE Shared Learning: IP Clinic in Ghana
12–1:30 p.m.
Ludcke Auditorium, Portland Campus | Decary Cafe Chretien Function Room 1, Biddeford Campus
UNE students from six health professions travel to Ghana to provide direct health services for patients with a wide variety of needs.
​Wednesday, November 1
IPE Shared Learning: Community Approaches to Destigmatizing Addiction
12–1:30 p.m.
Ludcke Auditorium, Portland Campus | Decary Cafe Chretien Function Room 1, Biddeford Campus
A short video about the impact of addiction in the northeast United States, followed by a panel of prevention experts and individuals in recovery to discuss stigma and prevention.
​Wednesday, November 8
IPEC Anchor Event: Portland Defending Childhood & ACES
12–1:30 p.m.
Ludcke Auditorium, Portland Campus | Decary Cafe Chretien Function Room 1, Biddeford Campus
Knowledge of Adverse Childhood Experiences (ACES) can enhance your ability to build and protect children's ability to cope with violence.
​Upcoming alumni association events
UNE's SSW Alumni Association reorganizes its mission, goals, and structure in preparation for a new year! Check out changes and upcoming events.
October 11, 2017: School of Social Work Update
8–9:30 a.m.
Cahner's Lounge, Hersey Hall, Portland Campus
Topic: Student Recruitment and Financial Support
October 26, 2017: UNE SSW Friend Raiser
5–7 p.m.
Café Sorpreso, Presque Isle, Maine
November 17, 2017: Field Instructor Seminar (Ethics Topic)
8:30 a.m.–12:30 p.m.
Ludcke Auditorium, Portland Campus
Contact Hours Certificates will be provided
*Alumni Field Instructors and possibly others as space permits
12:45 p.m. Alumni Lunch
Alexander Hall, Nor'easter Cafe