Overview of the 2018-19 Community-Based Pharmacy Residency Programs
A partnership with the University of New England, Hannaford Pharmacy and Martin's Point Health Care
Mission
Our mission is to educate residents by creating a culture of support, accountability and innovation. The programs seek to develop and refine clinical and didactic teaching skills, foster leadership and engage the resident in scholarly activity for the purpose of advancing the roles of the pharmacist in the community pharmacy setting and enhancing the profession as a whole.
Purpose statement
The PGY-1 Community Pharmacy Residency Programs build on Doctor of Pharmacy (Pharm.D.) education and outcomes to contribute to the development of clinical pharmacists responsible for medication-related care of patients with a wide range of conditions, eligible for board certification and eligible for postgraduate year two (PGY-2) pharmacy residency training. Pharmacist residency education and training in community-based practice aims to develop pharmacy leaders who are capable of improving the health of patients within the communities they serve. The primary purpose of the programs is to foster the development of community-based pharmacist practitioners who are community-focused practice leaders, serving as an access point for care and having the skillset necessary to provide quality generalist patient care services wherever health and medication needs arise.
Goals
The residency programs shall enable the resident to:
Develop the advanced knowledge, skills and attitudes needed to successfully practice in the challenging and dynamic community pharmacy setting.
Promote professional leadership through community and professional involvement and scholarly activities.
Prepare pharmacy practitioners competent to assume clinical, operational, educational and administrative responsibilities within the community practice environment.
Required Outcomes
Manage and improve the medication-use process
Provide evidence-based, patient-centered care and collaborate with other healthcare professionals to optimize patient care
Exercise leadership and practice management skills
Demonstrate project management skills
Provide medication and practice-related information, education and/or training
Utilize medical informatics
Demonstrate knowledge and skills for the successful community practice interface with the managed care or self-insured employer environment
Practice Sites
Martin's Point Health Care
Martin's Point Health Care (MPHC) offers primary care services within seven health care centers throughout Maine and Portsmouth, New Hampshire. It is a health care organization leading the way to provide better care at lower costs in the communities it serves. As a not-for-profit organization, the primary mission for MPHC, is to help patients and health plan members live healthier lives, with the promise of treating each and every one with warmth, care, and concern.
The Portland Health Care Center will serve as one of the practice sites for the resident. It is the largest of the seven MPHC centers and serves approximately 10,000 patients. The pharmacy department is comprised of both clinical pharmacists and operationally based pharmacists who work together to improve patient care experiences and health outcomes. The pharmacy team plays an integral role in the provision of comprehensive primary care services in a unique interprofessional setting.
Hannaford Pharmacy
A lot has changed since 1883 — the year Arthur Hannaford began selling high-quality fruits & vegetables from a produce cart on the Portland, Maine, waterfront. That one-horse cart became Hannaford Supermarkets, a leading grocer serving customers throughout Northern New England and New York.
Based in Scarborough, Maine, Hannaford Supermarkets operates 180 stores in Maine, New Hampshire, Vermont, New York, and Massachusetts. Within those stores, Hannaford operates 153 pharmacies that offer a variety of health services, including immunizations, medication therapy management, opioid risk assessment – naloxone prescribing and medication synchronization services. At Hannaford Pharmacies, residents will gain experience working in both community pharmacy and corporate pharmacy administration settings.
Apothecary by Design
A Special Kind of Specialty Pharmacy
Apothecary By Design is a specialty pharmacy headquartered in Portland, Maine, and licensed throughout nearly the entire United States. They are focused on the treatment of complex, chronic diseases, such as hepatitis C, HIV, and rheumatoid arthritis.
Apothecary By Design's commitment to excellence has been acknowledged in other ways. ABD is one of the few specialty pharmacies to hold national accreditations from both the Accreditation Commission for Health Care and URAC. To share—and expand—their expertise, ABD has also forged close academic affiliations, including a residency program with the University of New England College of Pharmacy.
Current and Past Residents
angela manzo
PHARM.D. '18

Resident & Clinical Instructor, 2018-2019
Practice Site: UNE-Martin's Point Health Care, Hannaford Pharmacy
Current Position: Resident and Instructor
sarah lant
PHARM.D. '18

Resident & Clinical Instructor, 2018-2019
Practice Site: CVS Pharmacy at Apothecary by Design
Current Position: Resident and Instructor
KAITLYN BERNARD
PHARM.D. '17

Resident & Clinical Instructor, 2017-2018
Practice Site: UNE-Martin's Point Health Care, Hannaford Pharmacy
Current Position: Outpatient Pharmacist, Central Maine Medical Center, Lewiston, ME
CIDNEE CARRIGAN, PHARM.D.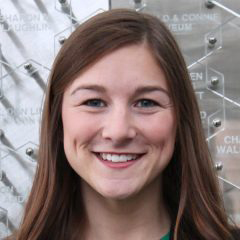 Resident & Clinical Instructor, 2017-2018
Practice Site: UNE-Apothecary by Design
Current Position: Specialty Pharmacist, Aurora Health Care, Milwaukee, WI
BROOKE COWLES, PHARM.D. '16
Resident & Clinical Instructor, 2016-17
Practice Site: UNE-Martin's Point Health Care-Hannaford Pharmacy
Current Position: Transitions of Care Pharmacist at St. Mary's Medical Center, Lewiston, Maine
STEPHANIE LEWIS, PHARM.D., BCPS
Resident & Clinical Instructor, 2015-16
Practice Site: UNE-Martin's Point Health Care-Hannaford Pharmacy
Current Position: Senior Clinical Pharmacy Specialist at Yale New Haven Hospital, New Haven, Connecticut
Learning Experiences
The residency program is designed such that 70% of the resident's time will be dedicated to patient care services, 10% to teaching, 10% to practice management and 10% to scholarly activity.
The resident will be exposed to five longitudinal and four concentrated learning experiences through their year of tenure, the main longitudinal experiences revolve around practice management and patient care services. The concentrated learning experiences comprise both didactic and experiential teaching. In addition, the resident may choose concentrated electives as part of their residency experience.
Longitudinal Experiences
Patient Care and Pharmacy Staffing at Hannaford Pharmacy
Managed Care at Martin's Point Health Care
Pharmacy Management and Leadership at Hannaford Pharmacy
Research Project
Concentrated Experiences
Orientation
Didactic Teaching at the UNE College of Pharmacy
Experiential Teaching at the UNE College of Pharmacy
Family Medicine/Geriatrics Team Rounds at Martin's Point Health Care
Concentrated Electives
Academic Leadership and Management
Interprofessional Education
Residency Benefits
Health Benefits (Available)
UNE Employee Health Insurance
Dental Plan
Vision Plan
Sick Leave, Holidays and Vacation
Paid sick leave
Paid vacation days
UNE designated holidays
Professional Leave and Assistance
Leave for professional meetings
Financial assistance for professional meetings
Computer Services
Use of laptop computer
Internet access and email account
Office Space
Office space at the UNE College of Pharmacy
Office space at Martin's Point Health Care and Hannaford Pharmacy
Recreational Facilities
UNE Campus recreational facilities
Exercise equipment and weight rooms
Scheduled fitness classes