Go "Undercover" as a Nursing Home Resident
Learning by Living Nursing Home Immersion
Want to truly know what it's like to walk in the shoes of an elder nursing home resident for two weeks?
Designed and piloted by Marilyn Gugliucci, Ph.D., the director of Geriatrics Education and Research at the UNE College of Osteopathic Medicine, the Learning By Living program provides the ultimate immersive educational experience for medical students.
Participating students receive a "diagnosis" and are "admitted" into nursing homes, where they live the life of an elder resident for up to two weeks. By flipping the usual perspective, this groundbreaking program fosters understanding and empathy, and greatly enhances students' patient-centered care skills and their ability to care for elder patients — especially as members of interprofessional care teams. Joshua Allen, COM '19, wrote about his Learning By Living experience in a 2016 op-ed for the Bangor Daily News. 
---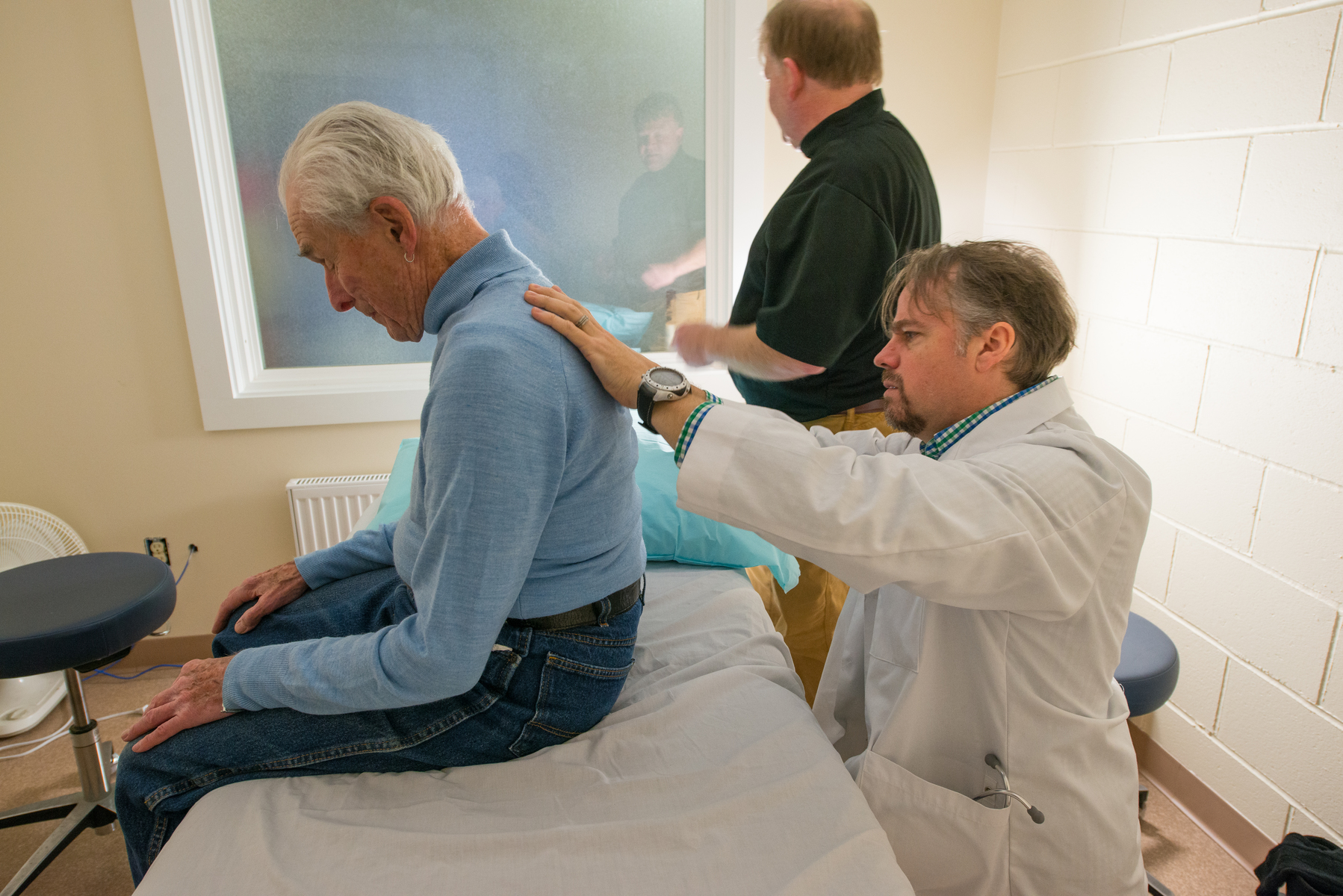 IMMERSIVE EDUCATIONAL EXPERIENCES
The UNE College of Osteopathic Medicine is dedicated to giving you a variety of unique, hands-on, immersive educational experiences, even before you begin your rotations. Our first- and second-year students have multiple opportunities to sample many aspects of medical practice, in a variety of settings.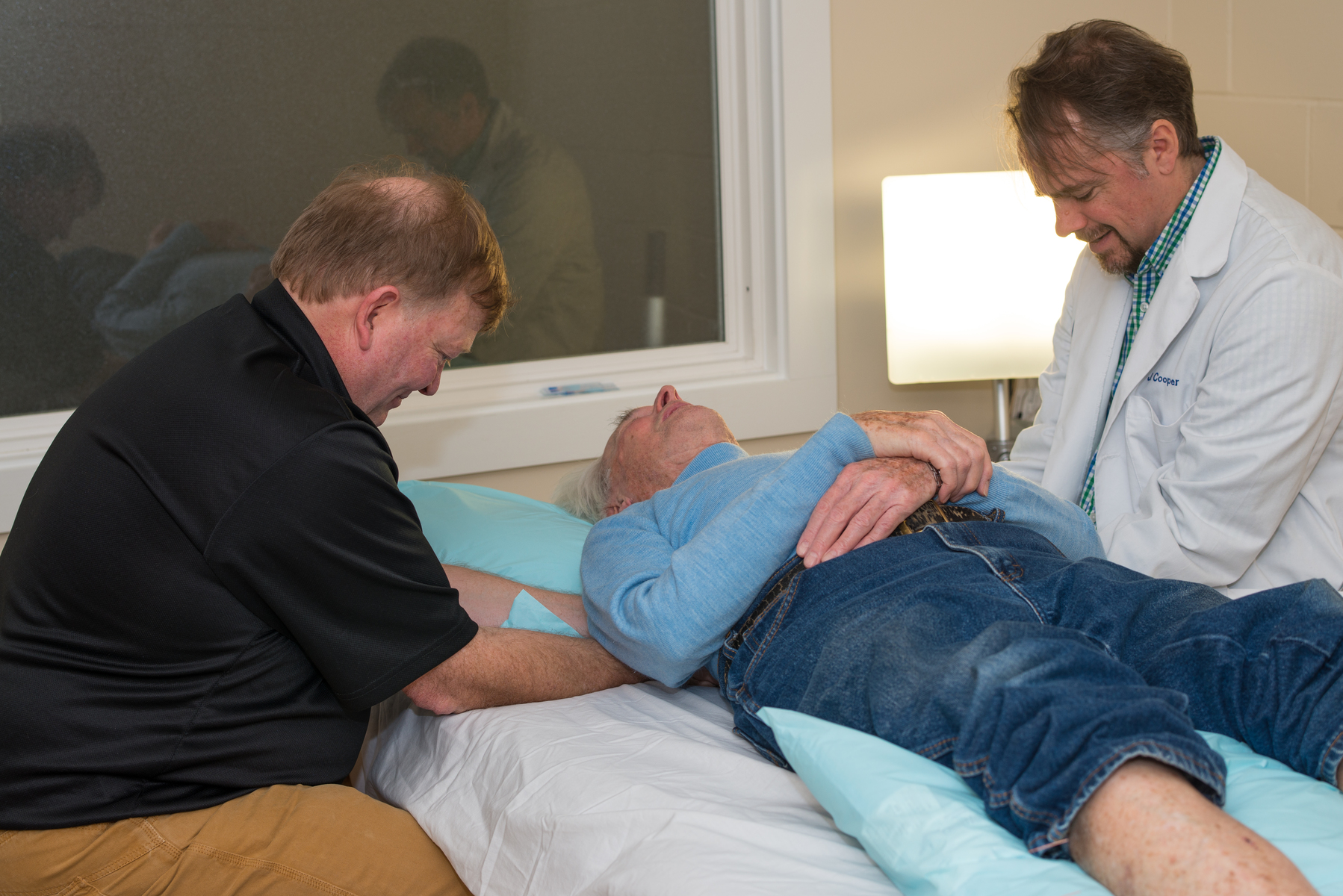 ---
What was it like living in a nursing home?
ALLEN: This is a common question that I now get after being "discharged" from St. Andres Health Care, the nursing home that I volunteered to live at for 10 days. As a participant in this project I lived the life of an elder nursing home resident complete with standard procedures of care, such as being toileted, bathed, and eating pureed foods. Due to my "stroke diagnosis" (I was not able to use my dominant right side) I had to wear a nasal cannula (oxygen tube in my nose), use a wheelchair to get around, and rely on the staff to transfer me from my bed to the chair and my chair to the toilet. So, after this total nursing home immersion, this question, although straight forward, is particularly difficult for me to answer.
So how do you answer the question?
ALLEN: To fully understand one would have to go through the same process I did and be "admitted" into St Andres Health Care. This project truly is "learning by living," and it cannot be taught in a classroom.
Was it a worthwhile experience?
ALLEN: I cannot think of another experience in my life that taught me more about the human condition and about myself. Maybe the most challenging part for me was that for a few days I had no independence; staff had to help me use the bathroom, change my clothes, shower me, and I even had to wear Depends. So many things that I took for granted were no longer available to me.
How has this experience helped you in your medical education?
ALLEN: Because of the many experiences I encountered, as a future physician I will be mindful when I write prescriptions as I truly understand what it means to eat pureed foods, take night time medications, and be restricted from moving on one's own or from going outside. I have lived this life!
Has it affected you in other ways?
ALLEN: I have emerged from this project learning it is easy to take dignity for granted — life is more fragile than you think. The nursing home community actually is quite special, age is much more abstract than I realized, and I now know to look for the person that is behind every pair of eyes, no matter how old or ill they appear. I am a happier person because of this project, as odd as that might sound. I will always be grateful for the chance to have participated in this project, and I encourage anyone presented with this opportunity to seize it.
---
For more information contact the Office of Recruitment, Student & Alumni Services at the UNE College of Osteopathic Medicine at comsa@une.edu