Program Overview
Does the human brain fascinate you? Are you interested in how people think, feel, and behave? At UNE, your options for specialization within the Psychology major are diverse. Our major in Psychology distinguishes itself by providing students with broad exposure to various areas of the field (e.g., human development, cognitive psychology, abnormal psychology, statistics, etc.), while also allowing students to specialize in a sub-discipline.
For example, perhaps you wish to pursue a career in children's counseling, in which case you may take electives such as Social and Emotional Development in Childhood. If you're intrigued by the intersection of athletics and psychology, you may choose electives such as Sports Psychology or Motivation and Emotion. Our curriculum offers the flexibility to explore different facets of the field or to concentrate in one area. And our position within a comprehensive health sciences university puts vast research resources at your fingertips.
---
Why UNE for Psychology
Experience the best of both worlds. As part of a university nationally ranked as having "High Research Activity," (Carnegie, 2019), we provide access to all the resources you would expect from a large research institution — but at UNE, you are never just a number. Our Psychology majors benefit from close working relationships with faculty and one-on-one research mentoring.
Broad exposure to the many facets of Psychology

Diverse concentration areas
Hands-on curriculum
Personal attention from faculty
Small class sizes
Diverse concentration areas
Paid summer research opportunities
Read more student testimonials >
---
Careers
With the knowledge you gain from your coursework, the critical thinking skills you develop through research, and the life skills you acquire from internships and close working relationships with faculty and peers, you will be well on your way to an exciting future in psychology.
Our graduates have pursued many fascinating careers, including:
Therapist/Mental Health Counselor
Behavior Analyst
Researcher
Marketing/Advertising Specialist
Human Resources Specialist
Teacher
Social Worker
Counselor (school, life skills, family, career, substance abuse, grief)
Whether you have a specific career goal in mind or a vague idea of the field that interests you, the Office of Career Services is here to help you plan your next step.
93%

of graduates employed or enrolled in grad school within one year of graduation (per 2016-2018 graduate surveys)
#1

in Maine for getting a job (Zippia, 2019)
---
For more information contact Jennifer Stiegler-Balfour, Ph.D. | (207) 602-2162 | jstiegler@une.edu
Meet our Faculty and Professional Staff
---
Academics
Examples of Available Courses
The following are just some examples of the exciting courses that the Psychology major offers:
Social Psychology
Developmental Psychology
Abnormal Psychology
Theories of Personality
Memory and Cognition
Biological Basis of Behavior
Theories and Practice of Counseling
Listening and Communication Skills
If you are interested in pursuing graduate education after you complete your psychology degree (e.g., a Ph.D. in clinical psychology, a Master of Social Work, or medical school), our faculty will assist you in pursuing your chosen path. Many students come to UNE with such goals and are admitted to graduate study.
To learn more about the program, see the Curriculum or visit the Catalog.
Honors Program
We offer qualified students the option of participating in our Honors Program and graduating with Honors. This includes significant research, scholarship, or creative activity under the direction of a faculty member. You should consult with your major advisor or department chair for specific criteria and requirements.
---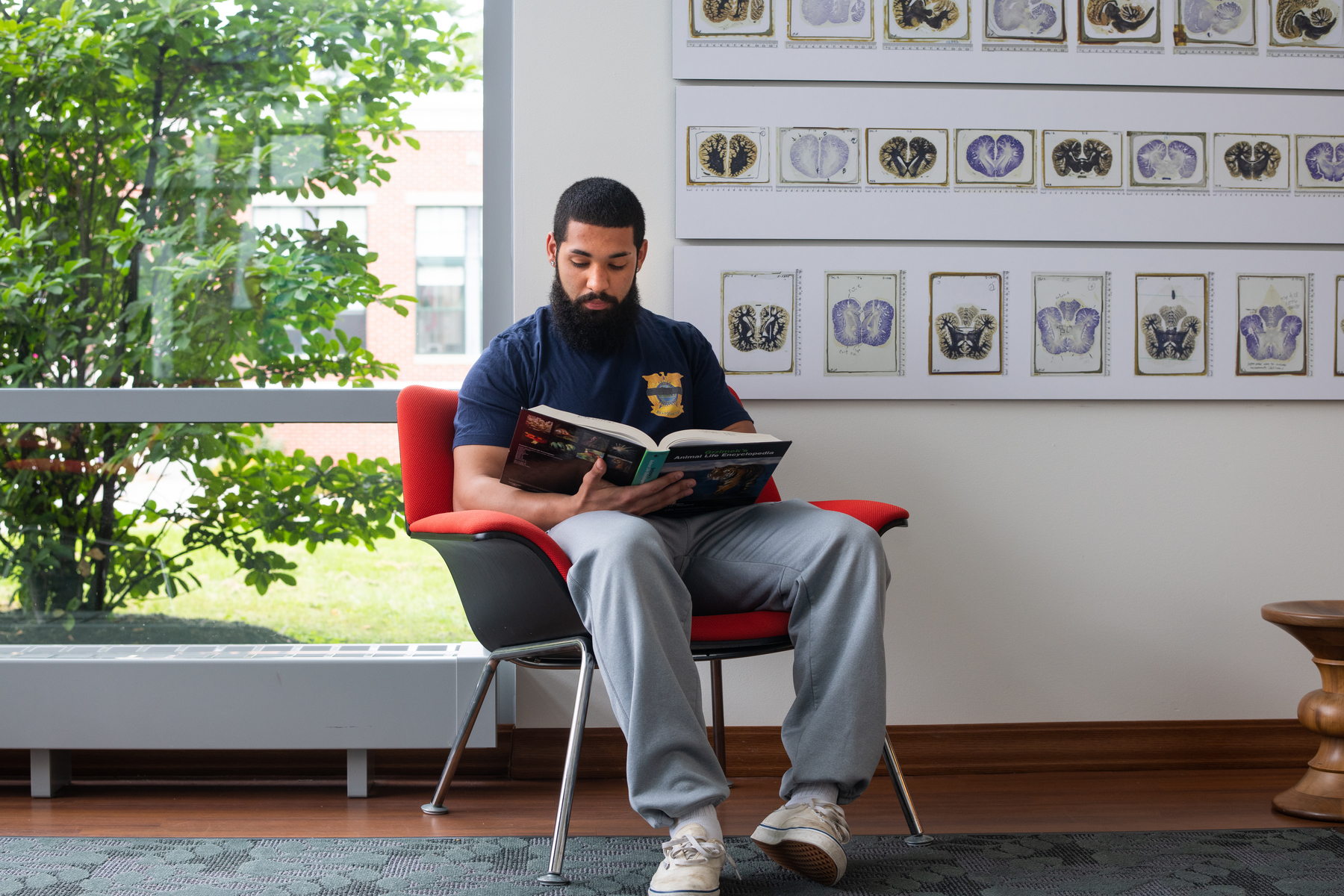 ---
Experiential Learning
Internships
Internships provide critical training and work experience. They help you explore career options and often lead to jobs after graduation.
Psychology majors complete at least one internship during the junior or senior years. Working in conjunction with your faculty advisor and the psychology internships coordinator, you identify a site, then take the theories, practices, and knowledge you've gained in the classroom out into applied settings.
We have a well-developed network of sites that have accepted our students into their organizations and work to match you to an experience that fits your interests.
Our network of internship sites includes:
Sweetser Crisis Stabilization Unit
The Center for Grieving Children
Unum
Violence No More
York County Council for the Prevention of Child Abuse and Neglect
Loranger Middle School
For more information, contact:
Linda Morrison, Ph.D.
(207) 602-2865
lmorrison@une.edu
---
See the World
Study Psychology on the other side of the world by taking part in our Global Education Programs.
How does culture affect people's thoughts, feelings, and actions? Find out firsthand by studying abroad. Spend a semester in Iceland, Spain, France, or at UNE's own global campus in Morocco. Alternatively, choose from several shorter travel courses that will take you to Mexico, Kenya, Cuba, Ireland, Italy, or many other exciting locations.
Interested in studying abroad? Make a plan with your advisor.